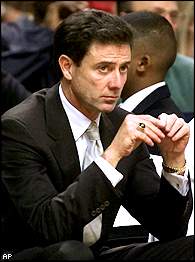 We may not get that Rick Pitino-John Calipari rivalry after all.

Yahoo! Sports is reporting that Pitino is interested in the Sacramento Kings head coaching job. The Maloofs (who own the Kings) told Yahoo! that they haven't contacted him. But the word is that Pitino may throw his hat in the ring.

Amazing. Remember that Pitino's last foray into the NBA ended with a colossal flop with the Boston Celtics. I always hate it when college coaches head to the NBA, but I understand. Much more money, no recruiting and less rules you must abide by. You coach men who you don't have to supervise 24/7.

Also remember that Pitino has been dealing with an extortion case, his son leaving Louisville for Florida and rival Kentucky landing a big fish in Calipari.

The Kings fired Reggie Theus during this past season. Theus was an assistant for Pitino at Louisville.

I hope it happens just so I can hear Pitino say, "Oscar Robertson is not walking through that door. Tiny Archibald isn't walking through that door. Doug Christie isn't coming through that door."

UPDATE: The University of Louisville has come out to say that Pitino isn't going anywhere.