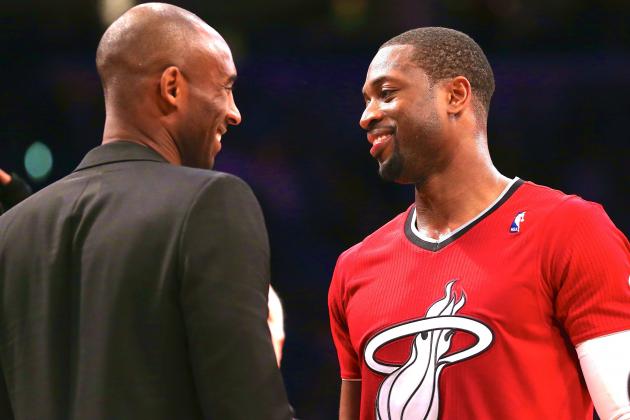 The Miami Heat would love to keep Dwyane Wade around for the rest
of his career. However, they are a bit worried committing the kind of
money it may take to do so. What if we had a 'legacy' clause that could
remedy these kinds of situations?
By now, most of you have heard about the
contract issues with Dwyane Wade and the Miami Heat
. In a general nutshell, Wade has had a great career in Miami and has taken a lot of sacrifices for the team to be able to make moves to win championships. Now he's in the latter end of his career, he's banged up, but he wants some financial security from the team.
I get that. It is one of the more difficult things in sports. When to let go. Should you let go? Do you owe a player that meant so much to your franchise even as his skills decline?
Look at the Los Angeles Lakers and Kobe Bryant. The Lakers gave Bryant a two-year deal that made him continue to be the highest paid player in the NBA. That, despite Kobe coming off two serious injuries and entering his 19th season in the League. The contract limited what the Lakers could do last offseason and the payoff was another injury-plagued season that saw the most losses in franchise history.
Miami doesn't want that to happen with Wade. Sometimes, those lifers do take smaller deals to help their teams stay competitive. Just ask Tim Duncan and Dirk Nowitzki. If you don't, you could end up with a Patrick Ewing SuperSonics jersey or a Hakeem poster when he was with the Raptors.
That's where I'd like the NBA to do something that would benefit the team. A legacy clause. If a player has been with you for ... say ... ten or 12 straight seasons, then his cap number would be half of what his salary is. So if Kobe is getting paid $25 million this season ... he only counts $12.5 million towards the cap and all the payroll tax brackets. You are able to keep your legend in house late in his career and still have more financial flexibility to make the team around him better. It would allow Dwyane Wade to earn extra money he deserves for years of signing less than max deals but allow the franchise to transition to the next era.
This isn't a big list of players, either. The names would include Kobe Bryant, Tim Duncan, Dirk Nowitzki, Wade, Tony Parker, Manu Ginobili, Udonis Haslem, Nick Collison and Anderson Varejao. Some are Hall of Famers; others are role guys. Either way, it works. A guy like Udonis Haslem could stick around Miami if the Heat's cap number for him is half his salary. A guy like Wade could finish his career with the Heat and in front of their fans. He'll get his pay and the Heat can still have some flexibility.