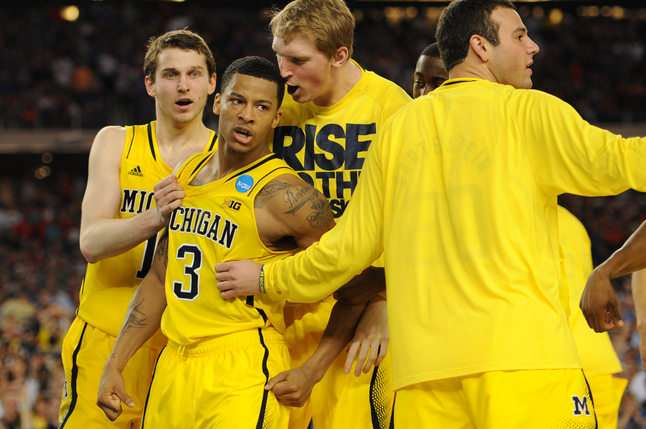 What a shot!

Just a quick recap of what I saw in my Sportz Room -- filled with TVs that I can watch both games going on at the same time.
GAME OF THE DAY: Michigan vs Kansas
. Easy pick since the other three games were pretty much blowouts. But this one had an epic ending. From Trey Burke's ridiculous three to the overtime dominated, This was a furious game with a very exciting ending.
UPSET OF THE DAY: Michigan over Kansas
. As far as seeding goes, this was the only upset. Even then, many people had the Wolverines getting past the Jayhawks here.
CONFERENCE OF THE DAY: Big Ten.
A day after Indiana was knocked out of the dance, Michigan saved a spot in the Elite 8. Ohio State will be favorites to beat Wichita on Sunday so a Michigan win would put two conference teams in the big dance.
CONFERENCE WITH A BAD DAY: Big 12.
Really, no conference deserves to be here, but Kansas was the next #1 seed to lose ... and heart wrenchingly.
DUD OF THE DAY: Florida vs Florida Gulf Coast.
For a half, this game was pretty decent. But the Cinderella story ended with about 5 minutes left in the first half. The Gators went on a 16-0 run to stop the life out of FGCU. While there are still some good stories left, the ultimate darkhorse has been knocked out.
DOMINANT PERFORMANCE OF THE DAY: Louisville.
They're the only #1 seed left now and boy do they look good. They took their foot off the gas pedal a bit against Oregon, but they just owned the Ducks. With a huge game against Duke up next, the Cardinals will try to continue to be the class of the tournament.
UNDERLYING STORYLINE OF THE DAY: Cinderella's broken slipper.
The NCAA Tournament is a great event because it means so many things at different times. The first weekend is all about those no-names that come up and bite one of the big dogs. The second week, however, usually has balance restored. Sure, there are times where you get a Butler or VCU surprising us (or even a Wichita State playing for a Final Four spot tomorrow), but usually it is those teams who believe they can win a title flexing their muscle.
FINAL THOUGHTS:
*The Elite 8 is set. We have the Big East (3), Big Ten (2), ACC (1), SEC (1) and Missouri Valley (1) conferences represented. My picks? Louisville, Ohio State, Florida and Syracuse.