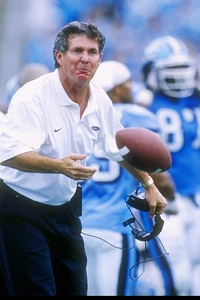 The University of North Carolina football program is in shambles. Heck, their athletic department has taken quite a hit. With hefty sanctions most likely coming down the pike, the firing of head football coach Butch Davis and the resignation/retirement of AD Dick Braddour the Tar Heels pigskin program has gone rogue.
One
rumor that has been floated around
is bringing back a coaching legend to either coach the football team or run the entire athletic department. That man: Mack Brown.
I know. I know. Why would Mack Brown ever leave Texas to go back to Carolina?
Could/would/should Brown return to North Carolina? It's a great question. Some have figured Brown eventually would become the Texas athletic director, but DeLoss Dodds just keeps going and going. No reason to think the Longhorn AD job will be open any time soon.

Now suddenly the AD job is open at Carolina, where Brown coached the Tar Heels for 10 seasons, 1988-97, including 10-win seasons his final two years. And the AD job is not only open, it's open with the opportunity for the new AD to hire a new football coach. Baddour said he will stay on the job until a new AD is hired but that he wants the new AD to name the new coach.
It is quite interesting to think about. Like the article said, Brown could receive a cushy AD job at one of the premiere universities in the country (not to mention helming one of the best athletic programs over many sports: men's and women's basketball, baseball, men's and women's soccer, lacrosse, etc). He'd get to pick his own coach, get the run the program how he wants and not have to do all that recruiting, coaching and all the other stuff that engulfs a football coach's life.
It would be tough to give up Texas. Sure, the Longhorns had a rough 2010 and 2011 isn't much more promising. But Brown brought a championship to the big dog school in a state that bleeds football. A school that all but owns the Big XII and will be launching their new television network. That's tough to pass up.
Still, any interest between Mack Brown and UNC should be mutual.