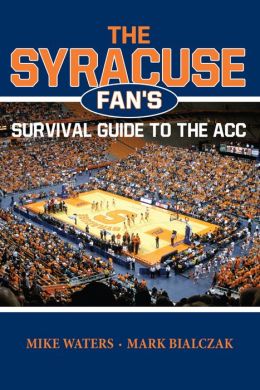 Pretty much everyone has had their Midnight Madnessessessess (which now are not only
not
held at midnight anymore but don't even signify the start of practice) so we're now staring at those exhibition games leading up to the cupcake starts to the regular season.
I love college basketball, but even I have to get a bit warmed up to the season. Unlike pretty much every other major sport (MLB, NFL, NBA, NHL, college football), there isn't any big-time launch to the season. The season just kind of ... starts ... without any real fanfare aside from the college you probably root for. With the World Series ending, the NFL and college football in midseason form, the NHL a month old and the NBA set to tip off, we may not remember all the changes happening to college hoops.
So let me take you on a trip around the country to see what has changed on the realignment landscape for this season.
ATLANTIC COAST CONFERENCE:
One of the biggest changes will be in the new-look ACC. Big East powers
Syracuse, Pittsburgh
and
Notre Dame
join this season to add to the already historically and currently strong Duke and North Carolina. This year, the focus will be on the culture war of the addition of three more (with Louisville coming next season, four more) Big East teams into the ACC. The Big East is a more coach driven, physical league. The ACC is much more offense minded and free flowing. It will be interesting to see those philosophies collide.
BIG EAST CONFERENCE
: The other huge deal is the breakup and rebirth of the Big East conference. With the ACC taking seven Big East schools over the last decade and others leaving for other conferences, the non-football schools of the Big East have formed a new version of their league.
Georgetown, Villanova, Marquette, St. John's, Providence, Seton Hall
and
DePaul
left to start the league and have added Butler, Creighton and Xavier to the mix. It will be interesting to see the culture of this league. Sure, those Big East schools have had a nice history, but you can argue that
Butler, Creighton
and
Xavier
have been more relevant recently. Butler went to consecutive NCAA Championship games and Creighton has a Player Of The Year candidate on their roster.
The Big East is also the biggest hoops conference to be down with the new Fox Sports 1 network. This will be a very interesting conference to watch this season.
AMERICAN ATHLETIC CONFERENCE:
When the Big East reformed, the AAC was also created in its wake. The AAC is comprised of schools that the "new" Big East left as well as the ones the conference added to take the place of the schools departing for the ACC and Big Ten. In all honesty, the AAC looks like the old Conference USA when it was formed nearly two decades ago.
UConn, Cincinnati
and
South Florida
were left when the "old" Big East broke up (
Louisville
and
Rutgers
are staying for this season only and will leave for the ACC and Big Ten, respectively, next summer).
Central Florida, Houston, Memphis
and
SMU
come from Conference USA while
Temple
joins after leaving the Atlantic-10. There are more moves on the horizon (more C-USA squads), but this is your lineup this season.
The attitude of this league this season will be what to watch. Louisville is a national title contender and just laying over before moving to the loaded ACC. Rutgers isn't on that level, but you know their heart isn't into this league, either. Neither is UConn or Cincinnati who have made it known that they'd love to move to the ACC as well. Temple and the other former C-USA schools thought they were joining the Big East and instead have formed this bastard league of sorts that is just a better version of the league they just left. Who knows how this will work.
CONFERENCE USA:
Speaking of the C-USA, obviously they are under a huge transition. As I just mentioned, pretty much all of their big dogs have left to form the new AAC. What is left is Marshall, Rice, Southern Miss, UAB and UTEP who will continue to be in the league while East Carolina, Tulane and Tulsa will stay this year before bolting to the AAC. Joining in is
Charlotte
(Atlantic 10),
Old Dominion
(Colonial),
Louisiana Tech
and
Texas-San Antonio
(WAC),
Florida Atlantic, Florida International, Middle Tennessee State
and
North Texas
(Sun Belt). Understand that?
C-USA gets dropped a few pegs in this race. Not only did they lose their big teams in Memphis, Houston and SMU this year, but they gain a lot of lower tier teams in the process. This will be a huge 16-team basketball league this season with virtually no history in it. Unless you went to one of these schools, you're bound not to care or even remember who is in this league.
ATLANTIC 10 CONFERENCE
: This is a conference in an interesting transition. One year ago, you could say that the A-10 was standing on a strong platform basketball wise. Not only was the league probably the best non-football conference out there, but schools like Butler, VCU and George Mason (all Final Four teams over the last decade) wanted in. Now it is a bit different. With the 'new' Big East forming and the old one turning into the AAC, the A-10 has had some big time defections. Xavier and Butler left for the Big East, Charlotte left for the Conference USA and Temple bolted to the AAC. There are also rumblings that Saint Louis, Dayton or St. Joseph's could be prime candidates for a possible Big East expansion. Instead of the A-10 being the 2nd biggest conference in the northeast ... it now may be the 4th after the Big East, AAC and the ACC now that they have Syracuse, BC and Pitt.
The A-10 isn't left in shambles, however.
George Mason
is on board now and heads a league that still has VCU, Saint Louis, Dayton and UMass as well as many of the other leftovers. Davidson will be coming next season. It does lose a lot of spark without Temple, Xavier and Butler but the league is okay and in a decent spot to add some basketball only strongholds if they can themselves hold off the Big East.
COLONIAL:
Remember a few years back when the CAA was rising and looking like they could overtake the A-10 as the top non-football hoops conference? That died down a bit and looks like ancient history with their defections. A year after VCU left, now George Mason, Old Dominion and Georgia State leave. They add
College of Charleston
, a decent program, but nothing like the ones that have left.
MISSOURI VALLEY CONFERENCE:
The MVC were also one of those elite non-football leagues. But they took a huge hit this offseason when Creighton left for the Big East. They did add
Loyola-Chicago
, which gets them into a huge metro area. I doubt that any of the current membership is of any desire to a bigger league to leave, but we'll see.
HORIZON LEAGUE:
Loyola-Chicago, mentioned above, is gone to the MVC and was replaced by
Oakland
. Alrighty then. Oakland (which is in Michigan, by the way) is a pretty good hoops program.
MOUNTAIN WEST CONFERENCE:
One of the actual winners in this whole deal is actually the MWC. Remember that the MWC were once looking at their membership bolting for other leagues? Boise State and San Diego State were heading to the Big East in football and where-the-heck-ever for hoops? Other schools were looking at merging with C-USA? Well, everyone else's problems became a great thing for the MWC as everyone decided to stay, they've added some strength and they pretty much killed off the WAC (a regional 'rival') in one swoop.
Everyone stays (TCU did leave last year for the Big 12) this season and they've added
Utah State
and
San Jose State
. Utah State has been a very good basketball program over the past several years and helps an already stout hoops conference. UNLV, San Diego State, New Mexico, Nevada and Colorado State have been very good basketball programs and make the MWC just a notch under the Pac-12 basketball wise.
WESTERN ATHLETIC CONFERENCE:
All this movement claimed one casulty -- the WAC in football. The WAC is dead in football as it disolved into various other leagues. It still survives in basketball, but isn't as impressive as it was, say, 20 years ago. New Mexico State is really the only member staying. Idaho is for this season but will be leaving for Big Sky next year and leaving all old references to the WAC to NMSU. Seattle joined last season and will remain in the league. In comes six new schools.
Cal State-Bakersfield, Chicago State, Grand Canyon University, UMKC, Texas-Pan American
and
Utah Valley
all join up. Quite a roster, eh?
It is sad. The WAC has been around for 50 years and have had some pretty good schools in its membership (Arizona, Arizona State, BYU, Utah, Air Force, UNLV, Boise State, TCU and Hawaii). Now it is a very bottom rung league that, I'm sure, will get lower. You know New Mexico State will try to bolt for any league that asks them (C-USA or MWC ... heck even the Sun Belt would be better).
SUN BELT:
The death of the WAC also helped the Sun Belt. The Sun Belt was looked at as the worst of the FBS conferences. Well, it still is, but the WAC leaving made them a bit more stable. They've had a ton of movement as well, but the league has a nice tight geographic footprint in the mid south now and is to place to be for some smaller schools wanting to make the leap in football.
Again, they lose FAU, FIU, North Texas and Middle Tennessee State to Conference USA. Joining is
Georgia State, Texas-Arlington
and
Texas State
. Not really a solid trade, but they're still here. It is one of those leagues in flux as membership will change again next year (notably Western Kentucky leaving for C-USA), but it is still living on.
The Sun Belt, like the WAC, has had a nice history and some decent programs come through it (Charlotte, South Florida, VCU, Old Dominion and UAB) but isn't what it once was.
SUMMIT
: Missouri-KC leaves for the WAC and Oakland to the Horizon. They do add
Denver
(from the WAC).
PATRIOT LEAGUE:
The Patriot actually won in this. They get
Boston University
and
Loyola-MD
(from the America East and MAAC, respectively). Two quality programs and the Patriot didn't lose anything.
MAAC:
The MAAC lost Loyola-MD above and has added
Quinnipiac
and
Monmouth
from the Northeast Conference.
AMERICA EAST:
Boston U left for the Patriot and that's a big loss.
UMass-Lowell
comes from Division II.
WEST COAST CONFERENCE:
WCC is best known as the conference that Gonzaga is a member of. Now
Pacific
is a member of that league as well making this a 10-team league (BYU joined last year).
SOUTHLAND CONFERENCE:
Usually rated one of the worst leagues, it may got even worse. They've added
Houston Baptist, New Orleans, Abilene Christian
and
Incarnate Word
. Who are these people?
Let's see. That is it! Well, a lot went down from Syracuse moving to the ACC and Incarnate Word joining the Southland Conference. But they all start in just days away from trying to make their dreams of an NCAA tournament berth a reality.