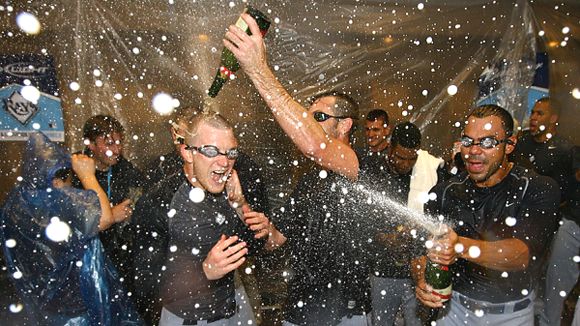 Another day in October ... another night of champagne.
Yes, baseball loves to celebrate and it usually is popping corks like it is popping foul balls. In this day of one-game wildcard playoffs and the 163rd game of the season, it seems as the sparkling wine and plastic sheeting industries are rolling in dough.
Stop it.
It used to be that this wasn't a big deal. In the pre-expansion era days, the winner of each league during the regular season was heading to the World Series. Those teams would pop champagne when they clinched and a tradition was born. No biggie, since the season is a grind and winning your league was and still is a big deal. Obviously winning the Series is a huge deal and worthy of an enormous celebration. All good.
When the division format began in the early 1960s, celebrating when clinching a playoff spot during the season continued to be the norm ... as did winning the title. But with a playoff round, winning the League Championship Series also became cause for celebration. Okay ... a third champagne blast. A little annoying, but I get it. So ... clinch playoff spot, win pennant and win Series. Not to shabby.
Then 1995 came along. Three divisions plus a wild card team in each league meant we add yet another round of playoffs. While it riled up purists, I was fine with it and it has been wildly successful. However, along with another round of playoffs came another champagne shower. Really? Seriously? I mean, jump up and down, get excited and hugs all around ... but champagne??? Do we see that happen when the Miami Heat knock out the Milwaukee Bucks in the first round of the NBA playoffs?
It has been annoying and I'm usually only reminded it when it happens. Again, I look at it as if the Heat ousted the Bucks.
Now with this one-game wildcard playoff, there is yet ANOTHER opportunity for champagne to pop. Unreal. It has gotten ridiculous.
The Tampa Bay Rays clinched a spot in a one-game playoff with the Texas Rangers on Sunday. They beat the Rangers on Monday to clinch a wild card spot. Champagne. They then beat the Cleveland Indians in the one-game wildcard game. Champagne. Say they beat the Boston Red Sox in their five-game divisional series. Yes, more champagne. Then the Rays hypothetically beat the Detroit Tigers or Oakland Athletics in the ALCS. Champagne. Deserved, but more of it. Now, if the Rays complete the deal and win the World Series? The big daddy champagne!
Soooooo the Rays could have five champagne showers in about a three week span. Unreal.
To me, here is the ranking of when champagne should be popped for baseball games:
No. 1 - WINNING THE WORLD SERIES
Of course. You are champs, you deserve the spoils.
No. 2 - CLINCHING A PLAYOFF SPOT
I normally would put this below getting to the championship series in every other sport, but in baseball it has been tradition to celebrate getting to the postseason. It isn't an easy thing to do. Only 10 of the 30 teams get in (compared to 12 of 32 NFL teams and 16 or 30 NBA/NHL teams). It is a big deal that deserves a celebration after a long, grueling 162 (or 163) game season. This isn't the NBA or NHL were mediocrity makes the postseason. Also, once you qualify for the MLB playoffs you have just as great a shot of winning the whole thing as anyone (ask the Cardinals of a few years ago).
No. 3 - WINNING THE PENNANT
Over 50 years ago, clinching a playoff spot and winning the pennant were the same thing. Now they are rounds apart. Still, winning your league and representing it in the World Series is a big deal.
After that, I don't see any other reason to pop champagne ... outside of personal acheivements like a perfect game or a record being broken or something. No wild card wins. No division round wins. I don't need to see the St. Louis Cardinals spraying 'pagne jumping around like fools wearing t-shirts and goggles because they won a divisional series. You won a World Series a couple years ago and went to the NLCS last year.
................................
In other sports, I'm even more harsh. In the NFL? Champagne after you win the NFC/AFC Championship game and after winning the Super Bowl. NBA and NHL should only pop the cork when they win their respective championships.