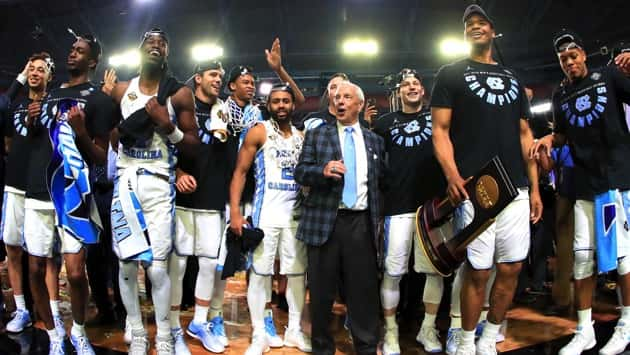 This has been an odd year for the Sportz Assassin's favorite teams. There's been some of sports best moments and some of its worst. This isn't me coming at sports as a whole but from where my teams did this year.
TAR HEELS WIN THE NATIONAL CHAMPIONSHIP
I am 42 years old and I take my Heels' losses much better than I did when I was younger. Sure, I still get pretty disgusted when we lose to Duke but I don't shy away from the world as I did when I was in, say, high school.
But I can honestly say that I've never been as nervous for the Heels' wins as I have been this year. To have the 2016 season end on that Kris Jenkins three at the buzzer was honestly a shock to the system. This team had been on its Redemption tour all season but this team felt different. In 1993, I felt Carolina had the squad to end Duke's run on national titles. It felt like a team that wasn't flashy but extremely talented and experienced. In 2005 when Carolina won the championship, this was a very talented team that ... after the Matt Doherty era ... I was just excited that we were back in the running for a title. We won that one and I gave my wife the biggest hug. In 2009, I had taken every day off from work that the tournament was on because I knew the Tar Heels were going to win the whole thing. They blasted through the tournament and it felt more like validation than anything.
To tell the truth, I've had the same feeling in 1994, 1995, 1998 and 2012 when UNC didn't win it all.
This team had a different feel. It wasn't as talented as the 1993, 2005 or 2009 team (not to mention the 1982 team that I was much too young to remember much about). They were good, sure, but lost arguably its two best and most reliable players in Marcus Paige and Brice Johnson. Joel Berry looked like he could become the leader, but he wasn't the point guard that Raymond Felton or Ty Lawson was. Justin Jackson hadn't put it all together yet. Guys like Isaiah Hicks and Kennedy Meeks were streaky at best and since they were seniors it seemed as if they wouldn't be much more than that. We love Theo Pinson but he's always hurt. Tony Bradley and Seventh Woods were nice freshman but neither had the look of taking on too much in their first season.
There were some nice wins during the season ... and even that shootout loss to Kentucky ... to make you feel like this team was going places. But then there were losses to Indiana and Georgia Tech and Miami and that horrible offensive performance against Virginia to make you think they'll throw up a stinker in the tournament and get beat. UNC would end up winning the ACC regular season crown and would beat Duke on senior night which is always icing on the cake ... but all that went out the window when less than a week later Carolina gave up a big lead and Duke spectacularly spanked them in the ACC tournament semis.
Still got that No. 1 seed but they were wobbly. Blew out Texas Southern but Berry got hurt. Then Carolina trailed Arkansas late and I remember saying to my wife that "this team spent all year talking about redemption and they're gonna lose in the second round to freakin' Arkansas. But a 12-0 run to end the game got UNC through. After blowing out Butler, UNC looked like they had Kentucky on the ropes. Kentucky would take the lead and what looked like control of the game until another 12-0 run got the lead back for the Heels. Kentucky would tie the game at 73 on a tough three by Malik Monk when ... well ... Luke Maye.
That was a great day for this Heels fan who moved to Kentucky nearly two decades ago. Great day indeed. My wife was coming home and busted through the door right after Maye hit that shot screaming in joy. She hates Kentucky more than I do, so she may have had a better day.
Then the Final Four. After doing everything they could to blow the game against Oregon, two key offensive boards on free throws sealed the deal. Then came the choppy win over Gonzaga in the championship game. That game was a microcosm of the Heels' season and especially their tournament run. It was never pretty but the team pull out all the stops late when it was time to win. They made the big shots, the big defensive plays and just the right moves to eek out their sixth championship.
I looked at my wife and hugged her. She asked if I was going to cry and I told her I was just so happy for those kids. To have last season end like that and to avenge it ... it's unbelievable. In the NCAA Tournament that just never happens, especially in the era of one and dones.
What a season.
TAR HEELS FOOTBALL LAYS AN EGG
I won't go into much detail with the Heels' football season, but it was ugly. If not for the win over Pittsburgh late in the season, this team wouldn't have won a game over any team of note this year. Heck, a kinda close loss to Miami was the best moment of the season until the Pitt game.
The team lost a ton of talent from the 2016 and didn't really replace it. Hopefully this is more of a misstep than a trend.
REDSKINS STAY REDSKIN-Y
Life in the NFC East is weird, You honestly don't know what you're gonna get. If you forced me to bet my house on who'd win the East before the season, I would've put it on the Giants. Yep, the Giants who are now 2-13 as the season ends. My point. You just don't know how the Redskins would look this year.
And they looked ... well ... Redskins-y. Right now they are 7-8 heading into their finally against the aforementioned G-men. There's been some nice wins (at the Rams, at the Seahawks, blowing apart the Raiders) and some tough losses (the choke job against the Saints comes to mind). You cannot figure this team out but that Saints loss (they were up 15 with three minutes left by lost in overtime) where they could've been 5-5 after was a killer. After beating the Giants on Thanksgiving, the Redskins looked dead against the Cowboys and they air went out of the balloon.
They have a chance to get to 8-8 and possibly tie the Cowboys for 2nd place in the division but what does the future hold? The season has had this overlying cloud of Kirk Cousins' future. Does his future tie in to Jay Gruden (who I want to remain as head coach)? What about anyone else on the team? Injuries just decimated this team and the overhauled receiving corps never worked out (Jordan Reed never plays, Terrelle Pryor was a bust). There is a nice foundation and this team has won 9, 8 and 7 or 8 games in the last three seasons. In a rollercoaster NFC East, that's not too shabby. I could be better but it could be worse.
I hope the offseason is about building and not tearing down.
LAKERS BALL
The Lakers story is like a movie saga -- what's the payoff gonna look like? This is the worst era in Lakers history but, like all Laker fans, I'm looking at 2018 to be the year it kinda turns around.
Basically, will any free agents take this money and get us back to where we feel we deserve to be?
It's a huge question and a huge if. As a Laker fan, you are accustomed to things working out your way. Kareem fell into our lap. Magic fell into our lap. Shaq left Orlando for the Lakers. Dealing for the draft rights to Kobe. Even the Pau Gasol trade was a coup. Well, it's all gone wrong since. The bad Dwight Howard and Steve Nash trades. Seeing an old Kobe fire up 40 shots a game alongside a motley crew of teammates. Watching summers go by as no big names decide to come to Los Angeles. The strange feeling when the best we could do was throwing money at Timofey Mozgov and Luol Deng in 2016.
There are some nice young players. Lonzo Ball, Brandon Ingram, Kuzma, Nance, Clarkston, Randle just to name a few. Still, the team is losing and the hopes of landing one of the biggest fish in the league next summer seemingly fades by the day.
History scares me. Not Lakers history, which all L.A. fans cling to as the hope this quickly turns around, but league history. The Celtics seemingly always were good from the late 1950s to the early 1990s. Then a nearly two decade stretch where they stunk. Same for the Bulls who languished for years after Michael Jordan retired only to have a sip of success for a moment until Derrick Rose became broken. In a league where super teams pop up all the time, it's getting harder to build a team piece by piece to become a contender. You're either a contender or a team that's wasting time.
Which brings me to Lonzo Ball. I really like him and think he's going to be a big part of the Lakers' future success. His dad needs to calm down a bit and the expectations are overblown. But he's one of the best rebounding guards in the league and near the top in assists so that's a good start to a career. If he can get his head on straight and just do his job and develop, he'll be fine and will be a huge chip to bringing a max star (or two) to the Lakers.