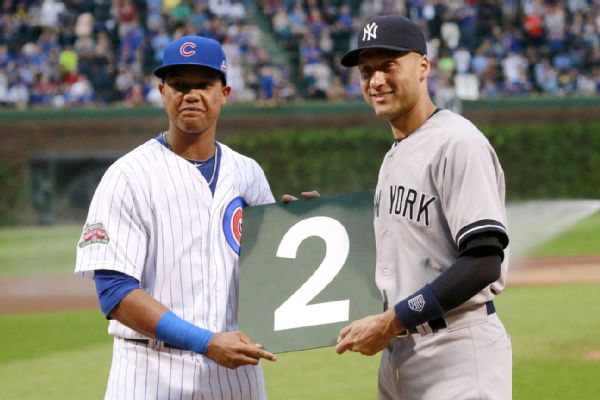 When you are rich, people just give you things
We are winding down the Derek Jeter era for the
Yankees
Major League Baseball
world and many are asking the question of whether the Love Tour is necessary. To me ... no. While Jeter is a Yankee legend and one of the better players of our time, this is much too much.
First off, the tour itself. I hate them, unless you are really one of the all-time greats. I mean GREATS. Kareem Abdul-Jabbar deserved one. So did Jeter's teammate Mo Rivera. Chipper Jones? Not so much.
That isn't to belittle those other players. Jones and Jeter are sure fire Hall of Famers. Any player that means a lot to an organization should get some special occasion during the final homestand. I'm one of those people who understands not only HOFers like Jeter and Jones are important to their teams' fans but gutty guys who won't make it into Cooperstown also can get some love. Dave Concepcion in Cincinnati? Or even a Derek Fisher in Los Angeles. Cedric Maxwell in Boston. Those guys and many others mean a lot to their franchises too.
Jeter is above those guys and I understand that but is a run of gifts really necessary? Did the Reds really need to give Jeter framed jerseys of Concepcion and Barry Larkin, the two best shortstops in Cincinnati history? Or that the Chicago Cubs gave Jeter the number 2 from their ancient hand-operated scoreboard? Especially when Jeter played about 5 games in Wrigley.
I remember when Kareem Abdul Jabbar did his tour in 1988-1989 and he came to Charlotte. The Hornets were in their inaugural season and Jabbar was making his first ever trip there ... yet the team gave him a rocking chair. Welcome to Charlotte! Sorry we didn't get to know each other better!
Unlike Keith Olbermann, I'm not going to
go into Jeter's status among the greatest of the greats
. I know he is transcendent but he isn't Jabbar, Michael Jordan, Wayne Gretzky or Walter Payton. I also know he's had a Hall Of Fame career for the biggest sports franchise in our country. I get ESPN's fawning over the tour (moving game times to televise the Yankees). I know he's important to the Yankees which means he's supposed to be important to us. Maybe not as much
as Roger Clemens sitting in George Steinbrenner's box
, but important.
Jeter is a pretty pure guy and in an era where we can't even celebrate our greatest players, I can see why people latch onto his legacy. To me, Clemens, Barry Bonds, Ricky Henderson, Ken Griffey Jr and Tony Gwynn were the best players in my time. There are others, but that was my wheelhouse. None of them got victory tours for a variety of reasons (steroids, jerks or broken down at the end of their career). So I get the need to express your admiration for a clutch player who played "the right way".
This, however, is right after Mo Rivera's victory lap ... which was deserved a bit. Again, I'm not a fan of these things but if anyone should had one, the greatest reliever in the history of baseball should be one to do so. But is this going to be a trend? I mean, Chipper Jones had his in 2012, Rivera in 2013 and Jeter in 2014. I mean, will David Ortiz get one when he retires? I mean, he was a huge part of the Red Sox winning three World Series and ending a near century long championship drought.
Let's just have a national conversation about who deserves to have these tours. I mean, Kobe Bryant will retire soon and I don't want to know what the fans in Denver will have to give to him.