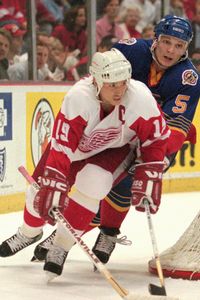 I'm not what you would call a big hockey fan. Oh, I appreciate the game, catch a few games during the season and have a pretty good grasp of what's going on. But it isn't as if I live or die with or without it.

But the Stanley Cup playoffs roll around and my head perks up. The Stanley Cup playoffs are one of the true treasures in sports. Everything is magnified, games are a lot more physical and each goal is is a triumph. And no accessory is cooler in sports than a playoff beard.

So when a Game 7 rolls around, I'm all over it.

There were two of them last night and both show why these things are great. The Carolina Hurricanes somehow scored two goals in the game's final 80 seconds to shock the Devils in New Jersey. The Devils were just a minute or so away from advancing to the next round, then a soft goal sends them packing.

Over in Washington, the New York Rangers completely owned the Capitals. However, "owned" doesn't matter unless you cash in. Despite outplaying the Caps, the Rangers only scored the one goal. Washington tied the game up with a freak goal that hit a defender's stick, then his body and then curved in. They tacked on another goal and advanced to the second round.

Game 7s in any sport are great. A World Series Game 7 has so much intensity on each pitch and in baseball, no lead is mathematically impossible to overcome. A Game 7 in the NBA Playoffs has a ton of emotion on each play as well.

But in hockey, fortunes can turn on a dime. If the game is tight down the stretch (as both games last night were), who knows what can happen. One bad pass, one bad misstep, one bad read and your season could be over. Like the Rangers, you can dominate your opponent all you want, but if you turn the puck over in your zone and give them a 2-on-1 ... you could be watching the rest of the postseason at home.

The best Game 7 I've ever seen was the Red Wings and Blues back in 1996. That game was just filled with amazing saves from both goalies. Pucks hit the cross-bars and the game was 0-0 for 81 minutes. In double overtime, Steve Yzerman just slapped a 60-foot shot to set up a shift change and the puck actually scooted by for a goal. Just like that, the Wings eliminated the Blues.

Yzerman's goal was fueled by a turnover by the Blues' Wayne Gretzky.

Unlike the NBA, NFL, MLB, college football or basketball ... you don't have time to assess what is going on before it happens. In basketball, usually a timeout is called and a play begins. You have time to step back before seeing the outcome. In baseball, you have those times between pitches. In football, there is a play clock. Hockey is fluid and game winners can happen when you least expect it.