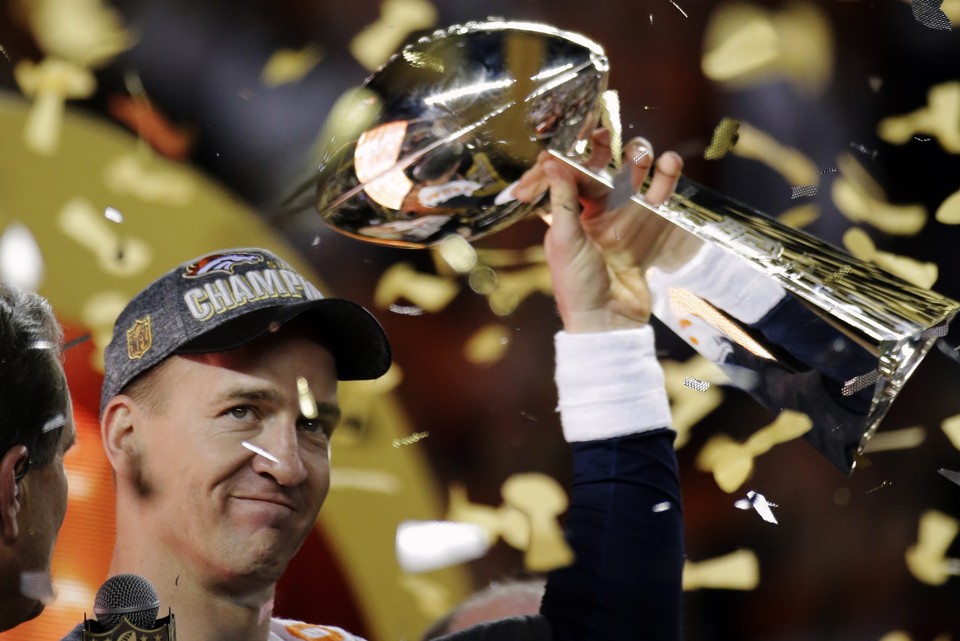 Peyton Manning and the Denver Broncos won Super Bowl 50
Super Bowl 50 ended with the Denver Broncos beating the Carolina Panthers 24-10. Here are some takes I have about the game:
-What a defense! If there was ever a defense that carried a team to a title, it was this one. When you think of great defenses, the '85 Bears or '92 Cowboys or '00 Ravens or '13 Seahawks come to mind ... but in those Super Bowls, the offenses made plays. This was a bad offensive showing for Denver (more on that later). But this bunch made Cam Newton look bad. He couldn't get a rhythm, he never looked comfortable and they did all this without anything exotic.
-That defense gave up just one touchdown to Ben Roethlisberger, Tom Brady and Cam Newton in this postseason.
-How bad was Denver's offense? They were, what, 1-of-13 on third downs? Peyton Manning's QBR was 9.9. They were the first team to win a Super Bowl with less than 200 yards of offense.
-Still, despite all of that defensive dominance, the Panthers were down 16-10 with the ball at midfield in the 4th quarter.
-The Panthers looked jittery. Not just the four turnovers but all those penalties. Carolina fans cannot cry foul as many were pre-snap penalties. It looked like the moment was too big for them (that and the Broncos had them jumpy).
-Give Peyton Manning credit. He knew he wasn't the guy who set all those records a few years ago. He knew his job was to not make mistakes. To get his offense into their plays and to not leave that defense hanging. He did that.
-Manning is also the first QB to win Super Bowl titles for two franchises. Kurt Warner nearly did it, but Manning sealed the deal.
For my
50 Stops to Super Bowl 50
, here are some notes:
-#46: The AFC is now 9-5 in February Super Bowls.
-#45: The team who scores first is now 34-16. The team with the first TD is 37-13. And the team leading at half is 37-10 (there has been three ties).
-#42: The "cat family" is now 0-4 in Super Bowls. The Bengals and Panthers are both 0-2. The Jaguars and Lions have yet to reach a Super Bowl.
-#27: The experienced QB is now 11-10 against the inexperienced QB in Super Bowls.
-#25: The favorite is now 32-18 in Super Bowls. Carolina was the favorite in this one.
-#23: The NFC has now won the coin toss in 17 of the last 19 Super Bowls.
-#22: There now has been a successful field goal in 48 or the 50 Super Bowls.
-#19: Teams wearing white jerseys have won 11 of the last 12 Super Bowls. White jerseys are 32-18 in Super Bowls.
-#5: The Broncos are now 3-1 lifetime against the Panthers.
-#3: Manning is the 12th quarterback to win multiple Super Bowls.
-#1: I still suck at picking Super Bowls.