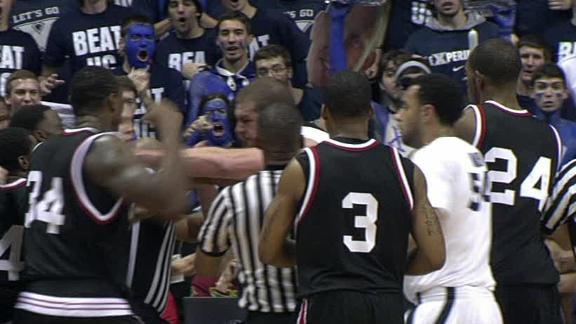 A couple weeks ago, "The Brawl" happened in Cincinnati. Crosstown rivals Xavier and Cincinnati met, as they do every year, with the Musketeers blowing out the Bearcats. At the end of the very testy game, a brawl broke out that left both teams with suspended players and bad tastes in their mouth.

Cincinnati suspended Yancy Gates, Cheikh Mbodj and Octavius Ellis six games each and Ge'Lawn Guyn for one game. Xavier suspended Dez Wells and Landen Amos for four games, Mark Lyons for two and star guard Tu Holloway for one game.

Since then, both schools have gone in different directions.

Xavier has now lost three straight games. After "The Brawl", the Muskies were a Top Ten team with an 8-0 record. Since then, they've lost to unranked Oral Roberts, Long Beach State and Hawaii. ORU gave Xavier their worst loss in the Cintas Center (22 points) and Long Beach won by ten. They have one more game (against Southern Illinois) before they are done with all of their suspensions. The first game with their full team will be against Gonzaga.

As for Cincinnati, they have won the four games played after the fight. Granted, none were against anyone spectacular (Wright State, Radford, Arkansas-Pine Bluff and Chicago State), they have won all of them in great fashion ... winning those games by an average of 33.5 points. We will find out just how good they are after their final non-conference game with Oklahoma and entering Big East play (how is Pitt, Notre Dame, St John's, Georgetown, Villanova and UConn for starters?). While I'm sure this winning streak will end during that run, at least the Bearcats seem to be getting on the same page.

Odd, isn't it? I'm sure when the season ends, Xavier will have the better record, higher ranking and more pub than the Bearcats. Sure, the Cats winning streak happened all at home and Xavier has been in Hawaii over the past week. But it is interesting to see how both teams have handled this self-inflicted adversity.

Even right after the game, you could kind of see this coming. Cincy head coach Mick Cronin chastised his players and the schools part in this mess. He honestly seemed embarrassed and very vocal that this wouldn't happen again on his watch. Xavier head coach Chris Mack wasn't as vocal and allowed his players ... including star Holloway ... to act a fool in post game interviews. I live in the Cincinnati area and that "gangstas" rant was and still is the biggest talking point after the fight.

So as we go into 2012, it will be interesting to see the focus of both these schools which will say a lot about the futures of these two progams .... and not just for the rest of the season.