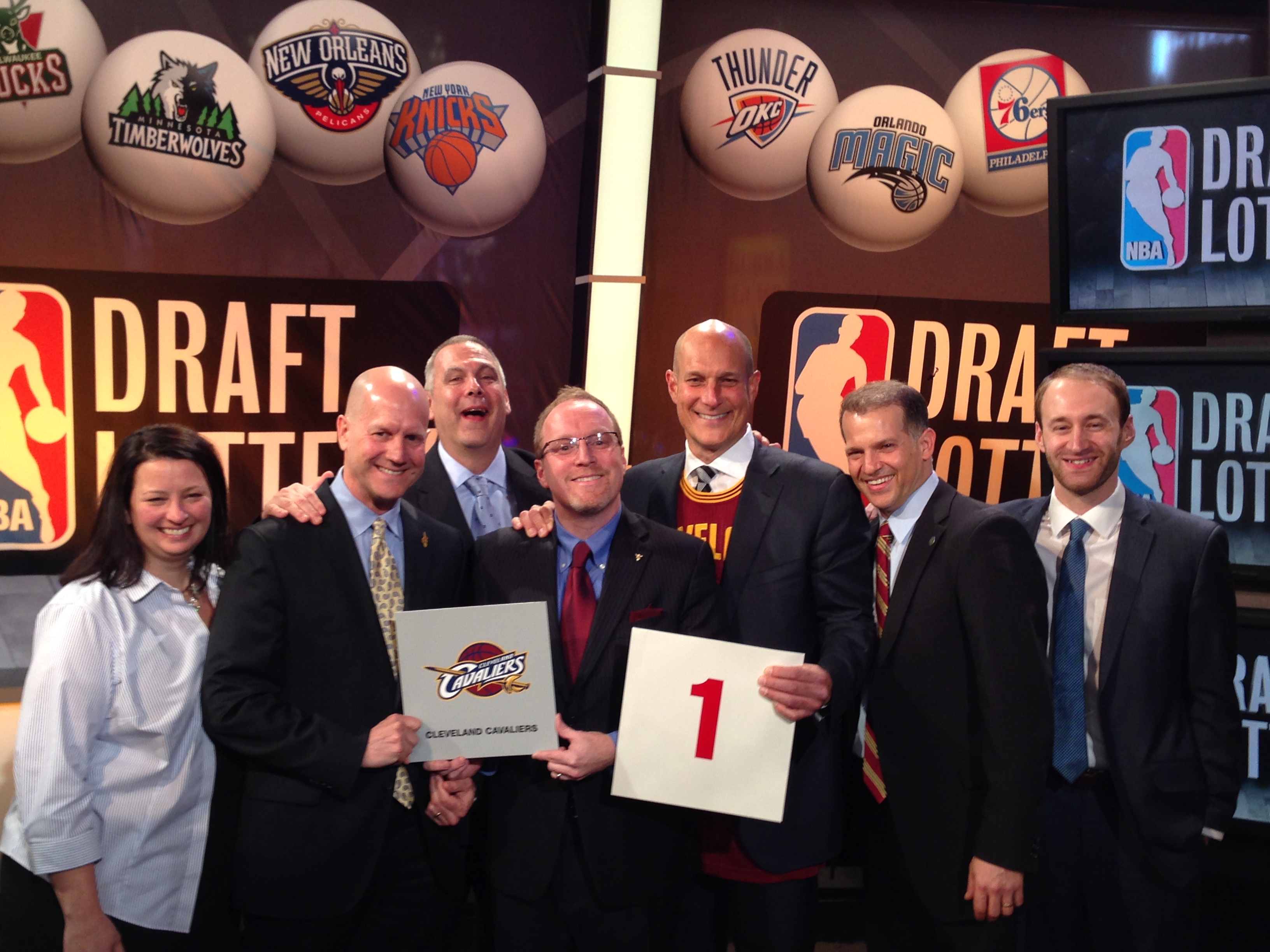 Cleveland again? Ahhh yeah! Again and again!
The Cleveland Cavaliers get the No. 1 overall pick.
Again.
Yes. For the 3rd time in 4 seasons, the Cleveland Cavaliers will have the top pick in the NBA Draft. That is amazing on so many levels. It is their 4th top pick since 2003 and their 5th top pick since 1986.
This isn't the NFL where being the worst grants you the top pick. In fact, there were 8 teams worse than the Cavaliers this past season but Cleveland won the all important draft lottery. Cleveland finished the season just five games back of the final playoff team in the Eastern Conference, the Atlanta Hawks, and now begin the offseason with the top pick.
There has been a lot said about whether the draft lottery is a good thing. If it even works. If it is fair. In the NFL, the worst team gets the top pick ... but there rarely is any talk of tanking. In the NBA, that is certainly true. In fact, there was a running storyline of who was and wasn't involved in tanking this season. From massive salary dumps in Boston to Philadelphia's 26-game losing streak to Milwaukee's complete lack of talent to the Lakers fielding a D-League team every night. You can even speculate that the Utah Jazz were trying to be bad so they could draft Duke's Jabari Parker, who also happens to be Mormon and a certain superstar in that market.
This all started talk of
possibly having a NBA Draft Wheel
down the road. The concept is that the wheel is a 30-year rotation of picks. Everyone at some point would get the No. 1 pick. Everyone at some point would get the No. 30 pick. And everyone would once get every pick in between. It is an interesting concept because it would already set the draft order and there would be no need for tanking.
At the time it was thrown out there, I had some concerns. First, it could hurt the smaller markets. If you were LeBron James coming out of high school and you knew the Sacramento Kings were set to have the No. 1 pick this year but the New York Knicks were set to have the No. 1 draft pick next year ... would you go to college or overseas for a season to keep from going to Sacto? Would trades be harder to come by due to the fact that dealing draft picks would be more of a certainty? You may not want to trade a player for future draft picks if you know those draft picks aren't very high. Plus could the wheel spin where an elite team ... say the Miami Heat this season ... happens to get the No. 1 pick and would have an embarrassing amount of talent?
Sure. But that's the nature of the beast. After all, is it fair that the Cavaliers get to have the No. 1 pick three times in four years?
Think about the draft lottery, which began in 1985. Here is the list of teams that won the draft lottery:
4-Cavaliers*
3-Clippers, Magic*
2-Spurs, Sixers*, Nets, Hornets/Pelicans, Bucks, Bulls, Wizards
1-Knicks, Kings, Warriors*, Rockets, Raptors, Trail Blazers
Notes:
*Sixers traded their pick (1986) to the Cavaliers prior to the draft
*Magic traded Chris Webber (1993) to the Warriors and he never played in Orlando.
That is 30 drafts and only 16 different franchises got the top overall pick. Thinning that out means that the Lakers, Celtics, Heat, Pistons, Mavericks, Sonics/Thunder, Pacers, Jazz, Suns, Hawks, Nuggets, Grizzlies, Wolves and Bobcats/Hornets haven't had the No. 1 overall pick in the lottery era. Of this group, only the Lakers, Celtics, Pistons and Hawks even had a No. 1 overall draft pick
prior
to the lottery era. The other 10 teams have NEVER had a top overall pick.
Of the 30 teams who had top overall picks in the lottery era, they have won a combined
FOUR
NBA Championships in seasons after they acquired their top pick. All of those four belong to the San Antonio Spurs who drafted both David Robinson (1987) and Tim Duncan (1997) and then won four titles. The Bulls six titles happened prior to them drafting Elton Brand (1999) and Derrick Rose (2008); the Rockets two titles happened before drafting Yao Ming (2002).
Of course, top overall picks did mean a lot to five of the Lakers seven titles (Magic Johnson, Kareem Abdul-Jabbar, James Worthy, Shaquille O'Neal), the Rockets two titles (Hakeem Olajawon) and two of the Heat's three titles (LeBron James) and two of the three Pistons titles (Mark Aguirre). All were either drafted prior to the lottery system or were drafted by other teams.
So it is hard to say if the lottery works or not. Only four times did the team with the worst record win the lottery and the top overall pick. Those picks were Danny Manning (1988), Derrick Coleman (1990), LeBron James (2003) and Dwight Howard (2004). None won a title with the team that drafted them, though James and Howard did take those teams to the NBA Finals.
Let's look a little deeper. Here is who the team with the worst record drafted each year:
1985-Wayman Tisdale (Pacers)
1986-Kenny Walker (Knicks)
1987-Reggie Williams (Clippers)
1988-Danny Manning (Clippers)
1989-Glen Rice (Heat)
1990-Derrick Coleman (Nets)
1991-Dikembe Mutombo (Nuggets)
1992-Christian Laettner (Wolves)
1993-Jamal Mashburn (Mavericks)
1994-Jason Kidd (Mavericks)
1995-Antonio McDyess (Clippers)
1996-Shareef Abdur-Rahim (Grizzlies)
1997-Antonio Daniels (Grizzlies)
1998-Raef LaFrentz (Nuggets)
1999-Steve Francis (Grizzlies)
2000-Darrius Miles (Clippers)
2001-Eddy Curry (Bulls)
2002-Mike Dunleavy Jr (Warriors)
2003-LeBron James (Cavaliers)
2004-Dwight Howard (Magic)
2005-Marvin Williams (Hawks)
2006-Tyrus Thomas (Blazers)
2007-Mike Conley (Grizzlies)
2008-Michael Beasley (Heat)
2009-Tyreke Evans (Kings)
2010-Derrick Favors (Nets)
2011-Derrick Williams (Wolves)
2012-Michael Kidd Gilchrist (Bobcats)
2013-Victor Oladipo (Magic)
2014-(Bucks)
Some years it actually worked out. The Heat did better with Glen Rice than the Bullets did with 1989 top pick Pervis Ellison. Jason Kidd had a more significant career than Glen Robinson (1994). You can certainly argue that the "worst team" made out better with Michael Conley, Steve Francis and Dikembe Mutombo. Or course, you have to feel for the Minnesota Timberwolves in 1992 who missed out of Shaquille O'Neal and Alonzo Mourning and got stuck with Christian Laettner. The Sacramento Kings sure would have loved to see Blake Griffin in a purple and black uniform. Imagine Derrick Rose in a Miami Heat uniform. The Bobcats would rather have seen John Calipari hand over Anthony Davis to them than Michael Kidd-Gilchrist. Chris Webber in Dallas? David Robinson a Clipper? Patrick Ewing a Pacer?
You think Yao Ming in Houston was huge? How big do you think he would have been had he been a Golden State Warrior? That would have happened had there been no lottery system.
Maybe the Grizzlies would still be in Vancouver if they had Tim Duncan? They may not have even gotten a chance to draft him had they been able to draft Allen Iverson the prior season.
When you look at it that way, the lottery seems rather unfair. But it is what it is.