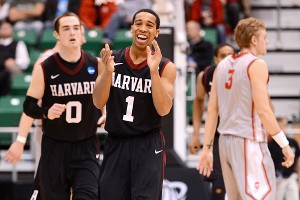 Just a quick recap of what I saw in my Sportz Room -- filled with TVs that I can watch all four games going on at the same time.
GAME OF THE DAY: Marquette vs Davidson.
This is the one game that held my interest the most. The first half was back and forth after Davidson jumped out to a lead. Then the Wildcats owned the second half until a late ... and I mean
late
... flurry by Marquette ending on the only NCAA tournament game in the last two years that saw a team take the lead on a shot in the final 10 seconds.
UPSET OF THE DAY: Harvard over New Mexico.
I was convinced that this was the one non-#1 vs #16 game that was in the bag. Harvard isn't the same team they were last year when they went dancing ... and I don't mean that in a good way. Not to mention that people all over are mad as ESPN and other sports outlets whose "experts" kept preaching to us how legit this New Mexico squad was.
CONFERENCE OF THE DAY: Pac-12.
The Pac-12 was thoroughly disrespected in the seeding of this tournament. Oregon won the Pac-12 tournament and got a #12 seed. So did California. Yet both beat their opponents pretty handily. Arizona also won their game to advance. The A-10 gets an honorable mention with Saint Louis, VCU and Butler all winning, but they all were the better seed so the Pac-12 gets the nod.
CONFERENCE WITH A BAD DAY: Mountain West.
The MWC was on a roll. They got five teams in the tournament and were out to show that they belonged with the power leagues. Well, they are 1-3 so far with only Colorado State advancing. Boise State lost in their First Four game while UNLV and New Mexico were soundly upset. San Diego State begins play on Friday.
DUD OF THE DAY: Michigan vs South Dakota State.
All I heard this week was how SD State's Nate Wolters was going to be so exciting to watch. On this blog, I even hyped that up. He is quite an impressive player, but he didn't have his Wally Sczerbiak or Steph Curry moment against Michigan. Wolters scored just 10 points on 3-of-14 shooting. Even the hyped matchup with the Wolverines' Trey Burke was a dud as Burke struggled to score (2-of-12).
DOMINANT PERFORMANCE OF THE DAY: Syracuse.
The Orange not only blew out Montana, they did so by allowing an amazing 34 points. The Grizzlies leading scorer had FIVE POINTS! They shot 20%. Just 5 assists to 17 turnovers. Ouch!
UNDERLYING STORYLINE OF THE DAY: Western hoops.
Thursday was all about the Westsiiiide. Western hoops isn't given the respect of the eastern side due to coverage and overall star power. But we got quite a glimpse of what's going on with Gonzaga struggling against Southern, New Mexico losing to Harvard. But Arizona took care of a lot of people's upset pick Belmont. St. Mary's nearly pulled off a stunning comeback on Memphis. Colorado State did their thing against a confusing Missouri team. And of course Oregon and California pulled off those #12-vs-#5 upsets (which also shows UNLV's weakness). It was a mixed bag to say the least.
FINAL THOUGHTS:
*I can't believe how bad Pittsburgh looked against Wichita State. I thought Pitt was vastly underseeded. Shows how much I know.
*VCU looked very impressive against an Akron team that lacked a point guard. Now they get Michigan in what could be the game of the day on Saturday.
*That Butler-Bucknell game ... especially the first half ... was hard to watch. Ugh.
*The ACC is the only conference to have multiple teams in the tournament (four) to not have appeared on Thursday. Miami, Duke, North Carolina and NC State are all in action on Friday.
*Verne Lundquist may need to hang it up. I've always enjoyed his announcing but the last few years have been grating. His guffaws over anything Bill Raftery says, continues to get names and calls wrong ("and the ball goes out of bounds" ... long pause ... "OH! There was a foul called."). It is getting Pat Summerall-esque right now.