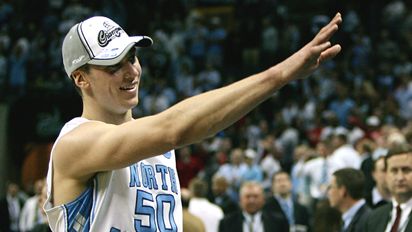 This isn't your typical Tar Heels tournament team. Maybe
we should embrace this ... for once.
I am a North Carolina Tar Heels fan and have been one my entire life. So this post is to my fellow Heels lovers:
Please just enjoy this tournament. Enjoy one for once.
North Carolina is seeded 8th and face Villanova in the
first
second round. After that, they'd most likely get top seeded Kansas in Kansas City ... the 2nd straight year they'd play the Jayhawks in Missouri. While every Carolina fan will be rooting the Heels on for a victory, we all know that's probably not going to happen.
Still, let's enjoy that feeling for once. That nothing-is-expected-from-us feeling. That "house money" everyone talks about. No pressure. For once. No pressure.
See, the Heels aren't used to being an 8th seed (more on that later). The last 7 NCAA tournaments the Heels have participated in, they've been a #1 seed five times, a #2 once and a #3 once. Only the #3 seeded Heels (the 2006 edition) didn't have Championship pressure on them ... but that Heels surprised many and were a trendy pick to get to the Final Four after Tyler Hansbrough's magical freshman season.
The year was 2004 -- that's the last time a Heels team came into the NCAA tournament with little fanfare. That was the first Roy Williams helmed team and came after a woeful 8-20 season in 2002 and an NIT appearance in 2003. Anything was great. But even that team had some pressure on it since that high ranked recruiting class (Sean May, Raymond Felton, Rashad McCants) were supposed to turn around the Heels' misfortunes. Carolina was a 6th seed and lost in the Round of 32 to Texas that year.
One year later, they were National Champs.
That year began all the expectations. The 2005 team was highly ranked all season long and ran to a title game with Illinois. The Heels won, giving Ol' Roy his first title. 2006 was supposed to be a down season, but Tyler Hansbrough caught UNC's fans by storm and the Heels captured that 3-seed and those aforementioned buzz.
From there, Carolina has been a "title or bust" program. The 2007 team added a killer recruiting class (Ty Lawson, Wayne Ellington, Brandan Wright) to that overacheiving 2006 team and got a #1 seed. The Heels got to the Elite 8 and lost, in overtime, to Georgetown (the Heels let a late lead slip away and were blitzed in overtime). Same deal in 2008, except the Heels made it to the Final Four before getting blitzed by Kansas. In 2009, the Heels were a #1 seed for the third straight year and 4th out of 5 seasons. That one, they cashed in for another championship.
The 2010 season was a major hiccup that saw the Heels miss the tournament and go to the N.I.T. As far as tournament pressure, there was really none because they weren't in it. The 2011 team got back into the dance and a #2 seed and a loss to Kentucky in the Elite 8. Last year, aka 2012, the Heels were the favorite to win another title. But injuries to John Henson and Kendall Marshall derailed the #1 seeded Heels in another Elite 8 defeat.
This year, the Heels weren't the N.I.T. disappointment of 2010 ... nor are they the buzz-worthy team of 2006. This is a team deserving of their 8th seed. They haven't been able to beat the teams better than them but do fairly well against the teams they are supposed to beat. No Heels fan has delusions of a sixth championship ... though we will cheer for one and be upset when we get eliminated ... so we really are playing with house money for the first time in years.
And I mean YEARS. In the 1990s, North Carolina was a #1 seed five times, a #2 seed once, a #3 seed once and a #4 once. They were a #8 in 1990 (see below) and a #6 in 1996 ... also known as the freshman seasons of Antawn Jamison and Vince Carter.
No, I don't like it. I rather be one of those teams who has that kind of pressure on it. The kind where you feel like the regular season is holding you back because you want the tournament to start immediately. But it is what it is. The 2013 North Carolina Tar Heels are an average tournament team ... so let's just enjoy that for once and see if we can get a few upsets.
*The Heels are an 8th seed for just the third time. The other two times saw the Heels upset the top seeded team in their region in their second game. In 1990, it was Rick Fox's shot that brought down a strong Oklahoma squad. In 2000, it was Stanford that saw Carolina's wrath. That 2000 Heels team continued that magic by riding Joseph Forte, Brandan Haywood and Julius Peppers to a Final Four appearance.
*The last two times the Heels have played Villanova in the tournament, they went on to win the National Championship (2005, 2009).
*The Heels have won their last 3 tournament games against Big East schools. Villanova is from the Big East.