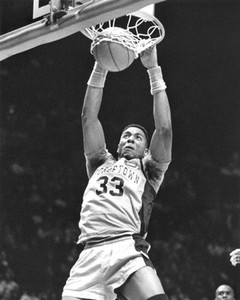 Can Georgetown ... or the Big East as a whole
... recapture the glory of the 1980s
It has been said. It has been settled.
The new Big East will be a 10-member league for the upcoming 2013-2014 season and the old Big East as we knew it is dead. The "Catholic 7" will add Xavier, Butler and Creighton to their newly formed league and will begin play this July 1.
So let's look at this new league:
Butler, Creighton, DePaul, Georgetown, Marquette, Providence, Seton Hall, St. John's, Villanova and Xavier. A nice league that has schools in New York City, Chicago, Philadelphia, Washington, Milwaukee, Indianapolis, Cincinnati, Providence and Omaha. Seton Hall is across the river from New York City in New Jersey. Major cities, major markets. A nice pull for a new league.
There are some nice arenas in this league. NBA arenas like Madison Square Garden, Verizon Center (G'town), Bradley Center (Marquette) and the Wells Fargo Center (Nova) are used. Nice sized arenas are in each other school ... including Butler's historic Hinkel Fieldhouse.
But let's talk basketball. This conference is awesome. It has history as well as good programs today. However, this Big East will have the gift and the curse of the 1980s. Georgetown and Villanova won titles in the 80s (Marquette won theirs in 1977) with Providence, Seton Hall and St. John's reaching the Final Four in that decade. The Big East schools that have done damage since then won't be in this league. No UConn or Syracuse (the two Big East schools to win National Championships since Villanova did in 1985). No Louisville or West Virginia, teams who've held the Big East flag when making Final Four appearances of late.
In fact, since the 1980s the only times these member schools even reached the Final Four was 2003 (Marquette), 2007 (G'town), 2009 (Nova), 2010 (Butler) and 2011 (Butler). Only Butler reached the NCAA Championship game (in both 2010 and 2011). Marquette was in the Conference USA and Butler in the Horizon League when they made their appearances. So while the names and cities are big in this league, ultimate success has eluded them all.
Heck, those teams have struggled to win the Big East tournament. Georgetown (2007) is the last new Big East school to win that tournament. The last time before that? St. John's in 2000. Yes, since 1995 only two of these NEW Big East members have won the OLD Big East tournment. The rest were won by schools leaving or have already left for the ACC or Big 12 or UConn, who will be left behind in the American 12/Metropolitan League/Whatever.
Butler won the Horizon tournament three times since 2008 and seven times in the last 16 years (a runner-up five more times) and are doing well in their first Atlantic 10 tournment. Speaking of the A-10, Xavier has won that four times but none since 2006. Creighton won 12 Missouri Valley titles -- most in conference history -- including the last two and 8 since 1999. Those teams have tasted success, but not Big East success and not at MSG against those schools.
Still, this will be a quality league and hopefully will have that feel of the 1980s ... when football wasn't part of the picture. It isn't anymore, either, which should help these programs have the same tight knit feel and brotherhood they had when their original incarnation started in 1979.