The NBA Draft Lottery is an interesting thing. It was designed to keep teams from tanking the rest of their seasons so they could gain the right to the #1 pick in the draft. In 1985, the NBA started the lottery as just placing envelopes of the 7 NBA teams that missed the playoffs....then picking each one to make the order. The Knicks got the top pick.
After Orlando won the lottery in 1992 and 1993, even though they were the best lottery team in 1993, the NBA started the weighted lottery system....giving better odds to the worst teams. Still, the lottery usually isn't won by the NBA's worst team [see: the Raptors this year].
The NBA Draft in the 1990s was a time of change. In the 80s, we saw people leaving college after their junior years. In the 1990s, players were starting to leave after their sophomore years. Then, in 1995, Kevin Garnett pushed the envelope into the first high school player in two decades to declare for the draft. Since that moment, the draft hasn't been the same.
But, we will always remember the #1 overall picks in the draft. We can run them off like we run off the list of champions. And what an odd mix it is. Only three of these guys are NBA Champions.
So here is my rankings of each of the top picks in the draft during the lottery era.
#21-Kwame Brown [2001-Wizards]. Right now, Kwame is working on his bust status. True, in Washington, Brown has a huge disappointment. But, he was the first ever high school player to be picked #1 overall, was the top pick in a fairly unstarry draft, and shouldn't have been made a top pick anyways. MJ screwed that one up. You could say that he's playing much better in LA. Well, he still scored under his low career average and shot from the FT line the worst of his career. He is still salvagable...but there isn't much time left to fool with him. Stats: 7.6 ppg, 5.7 rpg
#20-Michael Olowokandi [1998-Clippers]. He was a project when he was drafted...but it just didn't pan out. As a Clipper, he was routinely outshined in LA by some other center that shares the same arena. He did develop into a 12 ppg scorer...but then left ClipperLand for Minnesota where he's posting the worst numbers of his career. And that is saying something. Now he's a problem guy who's having run-ins with the cops. Stats: 8.6 ppg, 7.1 rpg
#19-Andrew Bogut [2005-Bucks] Bogut has the shortest career of any of these guys....just one season. But, it was a pretty good season and it netted his Bucks a playoff berth. Stats: 9.4 ppg, 7 rpg
#18-Pervis Ellison [1989-Kings]. Ellison played just one year in Sacramento before being shipped to Washington, DC. He did have a pretty good three year stretch with the Bullets...including the 1992 season where he averaged 20 pts and 11 rbs and achieved career highs in nearly every category [he was also the NBA's most improved player]. But injuries kept him from coming anywhere near that status. He limped along until 2001 acting as a victory cigar. Stats: 9.5 ppg, 6.7 rpg
#17-Joe Smith [1995-Warriors]. Not your average Joe has made his way around the NBA. Playing only three years in Golden State, he's been to Philly, Minnesota, Detroit and now Milwaukee. What makes this pick look worse is the fact that McDyess, Stackhouse, Sheed and Garnett were picked directly after him. He will probably be best known for having a "winkwink" agreement with Minnesota that he'd sign low short term and the team would hook him up long term. That action cost the Wolves 4 first round draft picks. He has the EXACT same birthday as me. Stats: 12.4 ppg, 7.1 rpg
#16-Danny Manning [1988-Clippers]. Another example of injuries killing a career. Manning was off to a pretty good start until he shredding his knee in his rookie season. Still, he averaged in double digits for his first 10 seasons...including four seasons in which he averaged at least 19 pts. His last several seasons saw him as a backup, mainly. Stats: 14.0 ppg, 5.2 rpg, 2.3 apg.
#15-Dwight Howard [2004-Magic]. Sure, Howard is still young. He just finished his 2nd season and he's still not old enough to drink. But he's been near the top of the NBA in rebounding each season. He hasn't missed a game yet....and has started 163 of his career 164 games. Impressive for a guy so young. Personally, I feel he has a tremedous upside and should have a rapid rise in this ranking before his career is done. Stats: 13.9 ppg, 11.3 rpg, 52% FG
#14-Kenyon Martin [2000-Nets]. K-Mart splashed on the scene as a Tech Magnet. Since then, and with the arrival of Jason Kidd in Jersey, Martin became one of the top up and coming players. A deal to Denver has stalled his career a bit...and injuries are slowing him down more. Stats: 14.9 ppg, 7.4 rpg, 1.2 bpg
#13-Larry Johnson [1991-Hornets]. LJ brought excitement and attention to Charlotte. Once Grandmama put on the teal...the franchise went from expansion to legit. A back injury and a big contract forced him up to New York where he played on the 1999 Eastern Conference Championship team. His 4-pt play is legendary in playoff lore [mainly because he wasn't touched]. One of only two players on this list who were drafted after 1989 that are now retired, his 10 year career ended in 2001. Stats: 16.2 ppg, 7.5 rpg
#12-Glen Robinson [1994-Bucks]. He is the 2nd leading scorer in Milwaukee Bucks history. He went to the 2000 and 2001 All Star Games. One of the better scorers in the league...he averaged at least 20 pts in 8 of his first 9 seasons. Stats: 20.7 ppg, 6.1 rpg, 82% FT
#11-Yao Ming [2002-Rockets]. There are two ways to view Yao's impact. On the court, Yao is becoming one of the elite centers in the NBA. He still has issues of being "soft", but this past season saw him move more toward having a chip on his shoulder. Off the court, Yao is the ultimate success. He's the first international top pick and his following in east Asia is rock star like. Stats: 17.5 ppg, 8.8 rpg, 1.8 bpg, 52% FG
#10-Derrick Coleman [1990-Nets] Drafted by the Nets, but starred for the Sixers and Hornets, Coleman is the classic example of potential never fully realized. Many people foresaw him as the forward that would change the game. We saw glimpses of it in Jersey and at times in his other stops...but he spent most of his career injured. He started only one All Star Game [1994]. Stats: 16.5 ppg, 9.3 rpg
#9-Elton Brand [1999-Bulls]. Brand has now smelled the postseason and had an MVP-esque career. In 2002, became the first Clipper since 1994 [Manning] to make the All Star team. He is charging his way up this list. Stats: 20.3 ppg, 10.4 rpg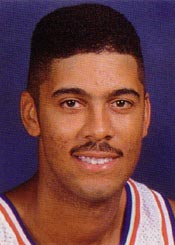 #8-Brad Daugherty [1986-Cavaliers]. Daugherty had just an 8-year career....it was cut short due to back issues. But Brad never had a bad season. During the recent golden age of centers, he was known as the best passing one. That period was also the golden age of Cavs basketball. And who else on this list had a 17 pt, 10 rb average in their final season? Stats: 19.0 ppg, 9.5 rpg, 53% FG
#7-Chris Webber [1993-Magic/Warriors]. Originally drafted by Golden State, Webber was dealt to the Warriors for Penny Hardaway moments later. C-Webb's career on the Bay was short, but he helped get the Washington Bullets to the playoffs and was the centerpiece in getting the Kings into the playoffs as well.He led the NBA in rebounding in 1999 and was one of the NBA's leading scorers in 2001. Stats: 21.6 ppg, 10.1 rpg, 4.4 apg
#6-Patrick Ewing [1985-Knicks]. Ewing brought excitement back to the Garden. In his first 13 seasons, he averaged at least 20 ppg in every season. But his legecy takes a hit with no titles and only one true Finals appearance [he has dinged up in 1999]. Eleven time All Star. Stats: 21.0 ppg, 9.8 rpg, 2.4 bpg
#5-LeBron James [2003-Cavaliers]. Look, we all know that he is good enough to be #1 or #2 on this list. The thing is that he hasn't done enough yet to get there. But, on his current pace...and with a title or two....he'll be right at the top of the list. He has the ultimate all around game. Stats: 26.5 ppg, 6.6 rpg, 6.6 apg.
#4-Allen Iverson [1996-Sixers]. Like him or hate him...he's one of the NBA's best players. A 6-foot tall wrecking ball...Iverson gives max effort every single game. He's won the scoring title four times now...something only Wilt, Jordan and the Ice Man ever did. He is currently tied with Elgin Baylor for 3rd all-time in points-per-game. He has an MVP award...and one of only a hand full of players on this list who've played their entire career with one team. Stats: 28.0 ppg, 6.1 apg, 2.4 spg
#3-David Robinson [1987-Spurs]. The Admiral was a force in this league. He entered the NBA two years late due to a Naval commitment...but still averaged 24 a night when he got to the Spurs. He's the rare guy that can win the NBA MVP award and win the defensive award in different years. He led the NBA in scoring in 1994. Led the NBA in rebounds in 1991. Led the NBA in blocks in 1991 and 1992. He won two NBA Championships with the Spurs. Stats: 21.1 ppg, 10.6 rpg, 3 bpg
#2-Tim Duncan [1997-Spurs]. Three NBA titles, three Finals MVP awards and two regular season MVP awards sit in his trophy case. The Admiral'sinjury brought Duncan to San Antonio, but his leadership is what lifted the former ABA franchise to rings. He's been named to the first team All NBA team in each of his first 8 seasons. Stats: 22.1 ppg, 12.0 rpg, 2.4 blks
#1-Shaquille O'Neal [1992-Magic]. The Most Dominant Ever has 3 NBA championships....3 NBA Finals MVP awards and 1 regular season MVP award. He lifted the Orlando Magic to elite status and brought back the Lakers franchise to the elite. He has 13 All Star appearances. He's led the NBA in scoring twice....and been 2nd in scoring another four times. He's led the NBA in FG% nine times...making him 3rd all time in that stat. Stats: 26.3 ppg, 11.8 rpg, 58% FG, 53% FT