The AFC South is a collection of the Colts and everyone else. The division is so bad that the Jaguars were 12-4 last year and earned zero respect from anyone. In fact, the Jags and Colts were a combined 26-6 during the regular season and a combined 0-2 in the playoffs. Add to that fact that the Texans had the worst record in the NFL and the Titans tied for the 2nd worst record in the AFC.
1-INDIANAPOLIS COLTS
COACH'S STATE: Until he gets to the Super Bowl, Tony Dungy will continue to have a huge monkey on his back. In Tampa, he had the premiere defense in the NFC and a decent offense. He could get close...but no cigar. He leaves and the Buccs go on to win the Super Bowl the very next year. Are the Colts in the same boat? The Colts have been 48-16 over the past four years [the NFL's best] yet have just one AFC Championship game appearance to show for it. Will Dungy finally feel some heat if this happens again?
BIGGEST ADDITION: Hard to think that a kicker can make that big a difference...but Adam Vinatieri may be that guy. For a team that is known for choking...adding one of the clutch kickers in NFL history is huge. He does replace Mike Vanderjagt, who is the all-time accuracy leader...but Vinatieri has performed in the clutch...in the cold. What can he do in a dome?? Oh, yeah...he kicked two Super Bowl winning kicks in domes.
BIGGEST SUBTRACTION: Losing Edgerrin James will be noticed....at least early on. James was the Colts all time rushing leader and was leaned on heavily when the passing game stalled [read: the first quarter of last season]. The Colts have replacements in backup Dominic Rhodes and rookie Joseph Addai but neither have performed near the level that James did.
PLAYER THAT NEEDS TO SHOW UP: Well, whomever is the running back....either Dominic Rhodes or Joseph Addai. They won't getback all of James' production, but they can be effective enough to keep teams from thinking pass all of the time. If the running game isn't there...the Colts will be very one-dimentional. And while they are the NFL's best in that dimention...name the last team that only passed that won the whole thing.
OFFENSE: I pretty much said it already. The passing game is all back. Peyton Manning, Marvin Harrison, Reggie Wayne, Brandon Stokley and Dallas Clark. However, past those guys...there is nothing. Health has to be the key again. The line is back which can be a good thing or a bad thing.
DEFENSE: Their defensive line is their strength. The right side of Corey Simon and Dwight Freeney are beasts and put pressure on the QB which allows the cover-two defense to excel. So does a decent secondary, led by Bob Sanders and Mike Doss as those cover two safeties. The weakness is at linebacker where there is no depth and no big playmakers [Cato June could be an exception, however]
SCHEDULE: The Colts may have the same benefit they had last year with a cakewalk skeddie off the bat. Well, they do the Giants in New York on the NBC Sunday Night opener [a battle of Mannings]. After that...well, the get the Texans, Jags, at Jets and Titans before their bye week. That could get that new running game a chance to get off the ground early.
OUTLOOK: Again, the Colts have the talent to win the Super Bowl. They have the offense, the defense and the special teams to make it happen. But this team isn't as good as last year's team and that team couldn't win in the playoffs. Many people stomp on the Colts because of their choking ways...but I still have to put them in the Super Bowl.
2-JACKSONVILLE JAGUARS
COACH'S STATE: Jack Del Rio did a great job at getting this team to the playoffs again. No one gave this team respect...and maybe rightfullyso. They have a decent defense with a steady offense. They won 8 of their final 9 games of the season [the only loss was to the Colts] before getting blown out at New England in the playoffs. Granted, in those 8 games they won...NONE were against playoff teams. None. But, they did beat Seattle, Cincinnati and Pittsburgh earlier in the year...so maybe we should've given Del Rio's squad a little props.
BIGGEST ADDITION: New corner Brian Williams will be a big asset to the defense. He's a great run defender for a CB...and is fast enough to keep up with the best WRs in the league. He also could come up big since Rashean Mathis has turned into a premiere corner on the other side.
BIGGEST SUBTRACTION: Jimmy Smith will be really missed. Not only was he the long time veteran who was around during the Jags' "glory days"...he was still Jacksonville's top receiver. With him gone, the Jags have unproven guys like Ernest Wilford and Reggie Williams vying for that #1 role. If not him, then converted QB Matt Jones could be that guy. But it isn't good when you have no real big threat at the receiver spot.
PLAYER THAT NEEDS TO SHOW UP: I guess you have to put RB Fred Taylor in this spot every year. I mean, his "Fragile Fred" nickname is almost a household term. Even the Jags don't trust him. They've drafted a back in the first three rounds in the last four drafts....including 2nd round pick Maurice Drew this year. With a WR corps so untested...a big time running game will be needed to have a decent season. Taylor's got to perform and stay on the field.
OFFENSE: This will be a very conservative offense. As I stated before, they need a receiver to take the reigns as a #1 option. But who? And with Taylor's history of injuries...it is hard to fathom relying on him to carry the load. Speaking of injuries, QB Byron Leftwich has a hard time staying on the field and the fact that the Jags keep David Garrad around means that they really don't have a full belief in Leftwich's ability. Pretty grim, huh?
DEFENSE: The defense will be relied on heavily again. They are aggressive and tough...and, with Del Rio's defensive background, very detailed. It isn't a defense filled with stars...or any stars, really. They play as a unit and play physical. Only three times during the season did they allow more than 20 points.
SCHEDULE: It starts horrid [Dallas, Pittsburgh, at Indy, at Washington]....gets easy [Jets, at Houston, Tennessee, Houston, at Buffalo]...and ends rough [at Miami, Indy, New England, at KC].
OUTLOOK: With that schedule and their offensive woes...this could be a tough year in Jacksonville. Remember, it took 10 wins to make the playoffs last year...and it's hard to find 10 wins on that schedule. Which means they are gonna have to pull a few upsets...including a couple early. If they do that and stay afloat, the middle portion of the sked could get them on another roll that may get them into the playoffs. Otherwise, they will be a mediocre team at best.
3-TENNESSEE TITANS
COACH'S STATE: Go around the NFL and ask people about the top coaches in the NFL...and you tend to forget Jeff Fisher. Fisher, remember, has been there when they were the Houston Oilers and thru the move to Memphis and Nashville. During that time, he's had to call home at four different stadiums [Astrodome, Liberty Bowl, Vanderbilt and now The Coliseum]. He's also had to helm the transition of two of the most popular players in Titans history...Eddie George and Steve McNair...in ugly exits. Yes, he's on the hot seat...but he should be given some slack as this is a very young team who is reassembling it's offense.
BIGGEST ADDITION: The biggest acquisition is the drafting of Vince Young...but he won't see the field as much [if he does, the Titans season was over]. David Givens is the most important one for this season. Givens stretches the field and forces defenses to stay honest. He's a key red zone threat as well. He also comes from New England...so his experience and winning ways should bring some leadership to a very young lockerroom.
BIGGEST SUBTRACTION: Steve McNair is Titans football. Sure, he spent the past few years teetering between the trainer's room and the field...but he still was a very good QB. The good people of Tennessee don't know a Titans team without #9...so it could mean an emotional void there. But, the Titans did the right thing. McNair was expensive and they have a capable holdover [Billy Volek] while Young learns the ropes.
PLAYER THAT NEEDS TO SHOW UP: It has to be Billy Volek. The talent of offense is decent. He's got Givens as a deep threat and good options in Drew Bennett and Tyrone Calico. Erron Kenney and Ben Troupe are also good TE options. And with a stable of pretty good backs [Chris Brown, Travis Henry, LenDale White] Volek won't have to throw the ball constantly. So Volek must step up his game or the whole thing falls apart. Volek won't be loved in Tennesse...as he is McNair's replacement and the seat-warmer for Young. He knows that his future isn't in Tennesse...but a good showing this year means he'd be first in line for other QB openings across the NFL next year.
OFFENSE: It is up to Volek to make this work. There is talent at the skill positions on offense. The line is so-so...which doesn't help Volek [who has injury issues] that much. But, and I have said this many times, if we see Vince Young taking snaps this year...it is a bad year for the Titans.
DEFENSE: This is a pretty good defense despite being so young. Their front seven has some legit stars emerging....led by Keith Bulluck [who isn't so young] and Kyle Vanden Bosch. The line is disruptive...the linebackers are tough but thin. It is the secondary that needs the work. They started two rookies last year who made some big mistakes that cost them. Sure, it means they will be experienced this season...but it also means that there isn't anyone else to put out there. That's still the case.
SCHEDULE: The Titans have a horrible road schedule they must go to San Diego, Miami, Indy, Washington, Jacksonville, Philly, Houston and Buffalo. Nearly all those teams have very tough defenses. With Indy in their division and matching up with the NFC and AFC East this year...it will be a difficult schedule.
OUTLOOK: Look, they are still rebuilding. The defense is still young [especially the secondary]; they are breaking in some newbies on offense; and they are at least a year away from allowing Vince Young to be trusted with the offense. This is one of those teams who could scare some of the better teams on their schedule...but could also be beaten by any of the scrubs they have. They aren't a playoff team....but they should show improvement. I believe once the season is a lost cause [around Week 10] that we will see Vince Young more involved.
4-HOUSTON TEXANS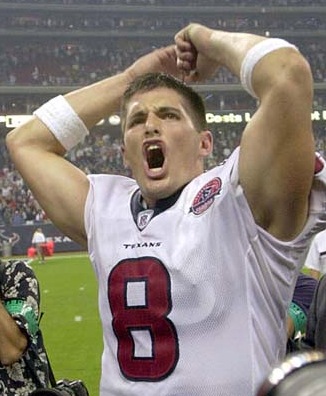 COACH'S STATE: Gary Kubiak finally gets his shot. He essentially brings back the same offense that Dom Capers left...but will change their playbook. Kubiak was a QB and a former offensive coordinator for the Broncos...so look for his impact to be felt first with David Carr. By showing faith in Carr could be a key to confidence. It also could be the biggest decision in Kubiak's career. By passing on Reggie Bush, Vince Young and Matt Leinart...he essentially is stating that he can fix the offense as it was. If he can't, well he could be out the door quicker than expected.
BIGGEST ADDITION: The Texans added Eric Moulds who should break open the passing game. Moulds will free up Andre Johnson on the other side...as offenses can't just hone in on him. It will also free up the flats and the middle of the field for Domanick Davis and Mark Breuner. You can look at Moulds production and be a bit skeptikal...but remember the guys who were throwing it to him recently in Buffalo.
BIGGEST SUBTRACTION: He never played for the Texans or never was on their roster, but Reggie Bush is the biggest name in Houston that isn't in their camp. The team didn't really lose anything as far as their own players...so Bush gets the nod here. Domanick Davis will be measured to what Bush does in New Orleans. So will DE Mario Williams, who the Texans did take with that top pick. No Reggie also led to GM Charley Casserly's exit and will be prominantly displayed around Kubiak's aura for years to come.
PLAYER THAT NEEDS TO SHOW UP: There are three main guys. Carr, Davis and Williams. Davis has performed in the past and should continue. Williams should do okay...but he's a rookie so he gets a pass. But it is David Carr that must show up. Carr was the first pick of this franchise and the one that's apparantly moving it forward still. He has no excuses. There are better options around him and the offensive line is getting better. Also, with the West Coast offense being installed...the quick passing game means that bad protection shouldn't be as big of a deal.
OFFENSE: The Texans showed a lot of faith in David Carr and Domanick Davis but not selecting Reggie Bush, Vince Young or Matt Leinart with the #1 pick. So, they must perform. The offensive line will be doing zone blocking this year which should help the offense move a bit faster and keep Carr off his backside. Domanick Davis should have a pretty big year, provided he stays healthy.
DEFENSE: Despite Dom Capers being a defensive coach, he left this unit in shambles. They were the 2nd worst defense in the league who couldn't stop the run at all last year. New defensive coordinator Richard Smith [who's a rookie at this] will try to get the team more aggressive. Hence the reason the Texans picked up Mario Williams with the #1 pick. Of all the guys there...he filled a need. If he pans out immediately, he will really help the defensive rush. Fellow draft pick DeMeco Ryans could find himself as a starting linebacker before too long. The entire starting secondary is back...which usually is a good thing when trying to resurrect a defense.
SCHEDULE: They have a beast of an opening schedule. Philly, at Indy, Washington, Miami, at Dallas. They also have a three game road trip...which opens a stretch of 5 of 6 away from Reliant Stadium. They do close at home for three of the last four and their final 7 games of the season feature five teams who were at the bottom of the league last year.
OUTLOOK: This was a 2-14 team last year...so you cannot expect miracles. There is some promise on this team. If you remember, a lot of people had this team as a sleeper in their 2005 previews. Bad times just snowballed into apathy. A new regime is here and one that is energetic and a bit patient. Instead of revamping everything...they are trying to develop what's already around. That could pay off in 2007, so write this season off as a training period.