Major League Baseball is going around asking who the best players are for each franchise in their history. Quite a task. I mean, who is the greatest Yankee among all the greats they've had?? And, at the same point, who is the greatest Devil Ray?? Intriguing to say the least.
So, I am going to do my part....in a 3-part look at the greatest of each franchise in the MLB, NFL and NBA. I'm sure that my picks could be controversial....but it is me talking. I am not a fan of each of these franchises...so I'm not going to fret if fans of those teams call me crazy for certain picks.
The NBA has a very tough manner to. I mean, try picking the greatest Boston Celtic of all time [my pick may surprise you]. Try picking the greatest Laker. And then try picking the greatest Bobcat and Grizzly. Tough.
Either way....here is Part Two....the NBA.
BOBCATS: Emeka Okafor. Not really, fair...since the team has been in existence for just two seasons. Okafor gets the nod since he won the rookie of the year award in 2005 and is the best player, when healthy, on this team.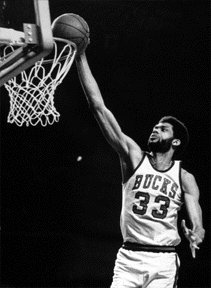 BUCKS: Kareem Abdul Jabbar: Kareem took the Bucks from a young expansion team to an NBA Champion. He averaged at least 28 ppg and at least 14 rpg in each of his 6 seasons in Milwaukee. He won MVP awards in half of those seasons [1971, 1972, 1974]
BULLS: Michael Jordan. How can it not be Jordan? All those MVPs, all those scoring titles, the six NBA titles [which he was the Finals MVP in each one]. Arguably the greatest player in the history of the game.
CAVALIERS: Brad Daugherty. Yeah, LeBron James will pass him up in the not so distant future. But Big Brad is the Cavs' all time leading scorer, all time leading rebounder, all time FTs made, and 5th all time in assists.
CELTICS: John Havlicek. Surprised?? Me too. I was researching between Larry Bird and Bill Russell [I was leaning toward Russell...then toward Bird] when I found out that Havlicek lead the Boston franchise in nearly every statistical category. Now, Bird topped the ppg slot and no one in Boston will touch Russell's rebounding stats [but rebounding was a different thing back then]....but no one is close to Havlicek in total scoring and he was a shade under Bob Cousy for assists. I told you this one would be controversial. In my mind, Bird is the top Celtic....but sometimes stats lay out the picture.
CLIPPERS: Bob McAdoo. Sure, he was a Boston Brave....but it counts. He was an NBA MVP, a Hall of Famer, and led the Clippers/Braves to their most sucessful season ever.
GRIZZLIES: Shareef Abdur Rahim. Reef was mired on one of the worst franchises ever. Yet he stayed classy. As guys like Steve Francis wanted out and Mike Bibby were quickly dealt....Reef just did his thing. Sure, Pau Gasol could take this spot soon....but not yet.
HAWKS: Bob Pettit. He trails just Bill Russell and Wilt Chamberlain in rebounds per game for his career. He led the Hawks to four straight NBA Finals....and the Hawks lone NBA title in 1958. When he retired, he was the NBA's all time leading scorer....and trails just Michael Jordan, Chamberlain, Allen Iverson, Elgin Baylor, Jerry West and Shaquille O'Neal in career points per game.
HEAT: Alonzo Mourning. Give it a few more years, and it will be Dwayne Wade. But, remember that Zo took that Heat team thru the Eastern Conference wars of the 1990s....when Chicago, New York and Indiana were really great teams. His defense and intesity were unrivaled for a time....before his kidneys forced him to sit for several seasons. And if not for that, remember, Wade wouldn't be a member of the Heat right now.
HORNETS: Larry Johnson. When LJ came aboard, it legitimized the franchise. He, along with Alonzo Mourning, were the nucleus of the Hornets during the height of their popularity. Maybe not as popular as Muggsy Bogues...and maybe not there as long as Dell Curry...but LJ was the start of it all.
JAZZ: Karl Malone. It could either be Stockton or Malone [well, it could be Maravich]. Still, Malone may be the greatest power forward ever. He was built out of granite, and was one of the best "junk shooters" of all time [meaning, he got a lot of "and-ones" during his career since he was creative with his layups]. He is the 2nd all time scoring leader....and that pick and roll with Stockton was never stopped.
KINGS: Oscar Robertson. Red Auerbach called The Big O the greatest basketball player of all time. In 1962, he averaged a triple double for a season. Unreal! And nearly did it again in 1964....coming just shy in the rebounding department [he averaged just 9.9 boards that year]. What LeBron James is doing now.....Oscar was doing 40 years ago.
KNICKS: Patrick Ewing. No, he never won a title for New York, but he was the center of their renessance. He is the Knicks all time leader in scoring, rebounds, steals, blocks and games. Ewing's Knicks ran into Jordan's Bulls, Hakeem's Rockets, Reggie's Pacers and The Admiral's Spurs in those title-less postseasons.
LAKERS: Magic Johnson. There are so many great players that can fit here. Kareem. Wilt. Shaq. West. Baylor. But Magic is in a class by himself. Not only was he the straw that stirred the Lakers' drink in the 1980s....he, along with Larry Bird, carried the NBA into relevance.
MAGIC: Shaquille O'Neal. Shaq was only in Orlando for 4 years...but he put the franchise on the map. When he was drafted in 1992, it didn't take the franchise long to reach the NBA Finals. I mean, he assaulted the league when he came in. And when he left....the team hasn't recovered since.
MAVERICKS: Rolando Blackmon. Tough one. Brad Davis was their first....Dirk Nowitzki is their latest [and may end up being their greatest], but Rolando Blackmon is the Mavericks. During their climb from expansion to contenders, Blackmon led the Mavericks in all time scoring. And while the Tarpleys were getting suspended and the Perkinses and Schrempfs were being dealt away....Ro was always there.
NETS: Jason Kidd. It isno coincidence that once Kidd arrived in New Jersey, once a laughingstock of the Eastern Conference, they went to two consecutive NBA Finals. He is the greatest "role player" ever. Dr J should get a voice in this....as his Nets exploits help lead to the ABA-NBA merger. But I just want to count NBA efforts here.
NUGGETS: Alex English. One of the most underrated players in the past 25 years, English was as pure a scorer as you can get. Sure, Dan Issel may have been the heart and soul of the franchise...but English was the man. He's 11th on the NBA's scoring list and actually is the Nuggs all time assist leader.
PACERS: Reggie Miller. Reggie owns pretty much every record the Indiana franchise has. He is one of the greatest clutch shooters in NBA history and the star of the Pacers' greatest era of the late 1990s to early 2000s.
PISTONS: Isiah Thomas. People in New York may hate him....but Zeke is the top Piston of all time. He was the leader of the Bad Boy Pistons that won NBA titles in 1989 and 1990....and went to a 3rd Finals in 1988. His legendary performance in Game 6 of that 1988 Finals...just awes me to this day....not to mention his duel with Benard King a few years earlier. He is Detroit's top scorer and assist man.
RAPTORS: Vince Carter. Vince-anity took over the NBA in 2000...and may have kept basketball in Canada. And before he pouted out of Toronto, he was pretty clutch for them for a period in there. Even still, he made the Dinos popular for a short period of time.
ROCKETS: Hakeem Olajawon. The Dream was the best player in the non-Jordan years of 1994 and 1995 and was nearly impossible to guard. In the last "big man era" in the early/mid 1990s. He was about as complete as any of the other centers then.
SIXERS: Julius Erving. Iverson may be the scoring king and Chamberlain may have done some time as a Sixer [including that great 1967 season] and Barkley may have been the mouth of the team, but the Dr J Sixers had a great run. His first year ended in the NBA Finals...and were there in 1977, 1980, 1982 and 1983. From 1977-1982, they lost to the eventual NBA champions in the playoffs all but one season [1979]. He won the 1981 MVP award.
SONICS: Gary Payton. Payton is one of the best defensive players the NBA has ever known. And he was a "combo guard" before they became popular again in the 1990s. Despite playing second fiddle to Shawn Kemp during the 1990s, it was Payton who not only was the glue, but the guy who was key in the clutch. He's the Sonics' all time scorer and assist man.
SPURS: David Robinson. Apologies to Tim Duncan, who has 2 MVP awards and three Finals MVPs....but The Admiral is better. When he came into the league, he came in as a great offensive and defensive player off the bat. If not for an injury that kept him out of most of 1996-1997, Duncan wouldn't have been a Spur.
SUNS: Charles Barkley. What a tough one. Is it Charles Barkley...who won an MVP award in 1993 and took the Suns to the Finals? Is it Steve Nash...who has 2 MVP awards. Is it Walter Davis...the Suns top scorer and dude who rolled over on his teammates during the Suns cocaine scandal in the 1980s? I will go with Barkley, who sent this team towards its best run.
TIMBERWOLVES: Kevin Garnett. Say what you want about him as far as not getting in done, but the Wolves never got it done until he got there. Once he did, Minnesota were playoff regulars and even went to the 2004 Western Conference Finals. He has an MVP award and a consistent All Star.
TRAILBLAZERS: Bill Walton. The 1977 Blazers team was as magical a run as you could imaging. Led by Walton, who was playing his first, full, injury free season, Portland made the playoffs for the first time ever...and rode that to an NBA Championship. The next season, the Blazers won 50 of their first 60 games before Walton broke his foot. He still was named MVP in 1978. This was a close call, since I had Clyde Drexler right on his heels.
WARRIORS: Wilt Chamberlain. How can it not be?? Sure, he spent just three years as a Warrior [so, sorry Rick Barry], but one of those years was that 50 ppg season. His three seasons in Philly were as dominant as a three seasons as we've seen in basketball.
WIZARDS: Elvin Hayes. The Big E is the Wizards/Bullets all time leading scorer and was one of the NBA's beasts. He had one of the NBA's best signature moves...and only Kareem, Karl Malone, Jordan, Wilt and Moses Malone scored more points in NBA history. He's also 4th in rebounding.