One thing has been a constant...me playing video games.
There is a tad over a month until my 30th birthday, but one of my b-day wishes it to get some video games. I've outgrown the Marios and Sonics. Don't really care about those fighting games I loved so much [Street Figher 2, Mortal Kombat]. Can't really get into those Grand Theft Auto games of now. But I will always play sports games. And for quite some time, I only buy from EA Sports.
Back in the day...I played Bases Loaded. RBI Baseball. Double Dribble. Tecmo Bowl. John Elway Quarterback. NBA Jam. Arch Rivals. Then, along came John Madden and his football game. And games like Bulls vs Blazers...which turned into NBA Showdown...which turned into NBA Live. The baseball games were called Triple Play. The games were fun...had real players in it [well, no Jordan] and were semi-realistic. Year after year...they'd improve something. Whether it was adding more than just playoff teams. Or changing the starting lineups around. Or trading players. Or actually playing a season. Or realistic ballparks. Or online gaming. Every year...the look and feel would improve a notch.
Right now, MVP Baseball 2005 is getting the most play in my PS2. In this game, I am the Cincinnati Reds playing in a league started with a fantasy draft. With my mid-market payroll...I've had to build a cheap winner and add on payroll as the season wears on. Right now, my starting lineup includes Pujols, Utley, Uribe, Mora, Sheffield, Posednick, Taguchi, Ramon Hernandez and pitchers Jake Peavy and Omar Daal.
That is a picture of Fenway Park in the game. A decade ago, every ballpark in the game was the same. Heck, everyone's batting stance was the same.
MVP Baseball kicked out one of my most devoted titles in NBA Live 2005. LikeI said, I had Bulls vs Blazers...and I've bought the new title every year since. Back in the day, I could send the center down the lane and make a nifty layup everytime. Now, you can send a player down the lane with a cross-over and then throw down some funky dunk. And when you land...you can gesture to the crowd.
And that is what has made this title better in recent years. Players play like their real-life selves. You will see Shaq's patented dunks. You'll see Tim Duncan banking jumpers. Heck, in last year's game...Karl Malone's 15-footer looked like it was really him. Back in the day...it was "is that Robert Parrish or Brad Daugherty"? Now you can see all of Iverson's tatts.
Of course, the biggest horse in the stable is Madden 2006. Madden joins Tiger Woods as the only person to have his name as the games itself. Madden is probably played more than all other football games combined. I love to play Madden too, but nothing beats the GM mode, where you can scout and draft players; negotiate contracts; make cap cuts; and evaluate talent. Nothing is more satisfying that taking a bad team [Redskins] and wheeling a dealing back into the playoffs.
Of course, NCAA Football 2006 debuts a month earlier. I will jump on this game, since all of the conference movement has come to a head. The one thing that sucks about the NCAA games is that the players don't have names. However, a little time and some creativity can make your team into guys not named "WR #80". I tend to put friend's names onto their favorite teams.
Some people say "football is football". Why have both games? Well, anyone who knows football knows that the college and pro games are different. I mean, how fun is it to run an option team? Back in the day, we all played College Football '95 on Sega Genesis at my apartment. We were Nebraska playing against Syracuse [hey, they used to be good]. We Husked our way with options all game long. Then, with the game on the line....me and my teammate huddled up and ran a trick play. Making it look like an option, I ran down the line, THEN flipped up my passing icons and tossed the game winning pass into a wide open receiver's hands.
That, and the atmosphere make that game. You are in Tallahasse...and you will hear the Seminole War Chant. If you are in Notre Dame, the tradition and school song are played magnicifently! Cheeleaders cheer! Mascots roam the endzones. Great stuff!
It is still so amazing what games have come from: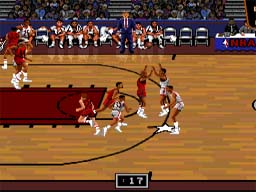 "Bulls vs Blazers"
"Madden '93"