Again, let me just say that this draft is a complete crapshoot. Who the heck knows what will happen. Well, here is my best guess. If I get 10 of these correct, I'll be happy.
1-TORONTO: Andrea Bargnani [PF-Italy]: Not since Kwame Brown went #1 to the Wiz back in 2001 have we had no idea who the top pick would be this close to the draft. Right now, with a gun to my head, I'd say Andrea Bargnani....just because Bargnani's former GM was just hired by the Raptors and that Brian Colangelo, their new main man, has been following Bargnani for quite some time. OR IT MIGHT BE: LaMarcus Aldridge.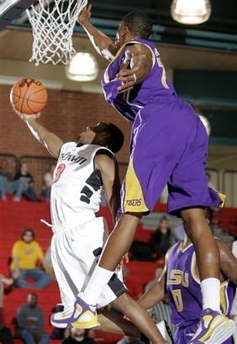 2-CHICAGO [from NY]: Tyrus Thomas [F-LSU] Yeah, the recent rumors have Aldridge going here. I'm not gonna waver. I think this pick will be Tyrus Thomas no matter what [well, unless the Raptors get him first]. The rumor mills have been speculating about the Bulls love for Thomas' workouts and such. OR IT MIGHT BE: Aldridge.
3-CHARLOTTE: Adam Morrison [SF-Gonzaga] This pick will show who's really running things in the Queen City. Charlotte would like Adam Morrison's instant ability to bring some interest and scoring in. Bernie Bickerstaff loves him. But new honcho Michael Jordan wants Rudy Gay. Who'll be the winner!?!? I think Bernie wins one last one. OR IT MIGHT BE: Rudy Gay.
4-PORTLAND: LaMarcus Aldridge [C/PF-Texas] I think they'll go with LaMarcus Aldridge. Morrison is probably the most ready to come in an contribute...and the Blazers have invested their last, what, 5 first round picks on high schoolers. But Aldridge is the kind of big man they could use as a fixture down low for a while. With Zach Randolph possibly out or Portland via trade and the fact the Blazers have invested in perimeter players in recent drafts....I think L.A. goes here. OR IT MIGHT BE: Thomas, if Chicago does bite on Aldridge.
5-ATLANTA: Brandon Roy [SG-Washington] Well, every freakin' rumor site has the Hawks giving Sheldon Williams a guarantee. And no one in the top four wants him. If, for some reason, Aldridge is available....they could take him instead. They don't need another forward and they don't need Brandon Roy [a kind of Joe Johnson player] though there are big rumors saying that Atlanta will take Roy here and then deal him to Houston for Sheldon Williams [who the Rockets would take with the #8 pick]. Right now, I think Atlanta selects Roy...then deals him away. Still, the Hawks could be scared that someone behind may steal away Williams and snag him now. Especially now that Portland got the #7 pick. However, if Aldridge is taken at #4, then the deal may still be on. OR IT MIGHT BE: Sheldon Williams
6-MINNESOTA: Randy Foye [PG-Villanova]: Minnesota needs size and backcourt help. Foye brings that scoring point guard ability to the Wolves who need someone in the backcourt to do something. If the Hawks-Rockets deal is off...Brandon Roy might slide here and the Wolves definetly will jump all over that. Especially if the Rockets still wanted him that badly that they'd deal Luther Head and their pick for him. OR IT MIGHT BE: Rudy Gay
7-BOSTON: Rudy Gay [SF-UConn] Boston dealt this pick today to Portland...but after the official deadline so the C's will be drafting for the Blazers....and if the Blazers get either Aldridge or Thomas with the #4 pick...then Gay would be the man here. If Morrison or Roy was used with the #4 pick....maybe a guard goes here. Either way, Portland can mix and match with their two picks. Gay would be the ideal player to pick here...as they could then deal away Darius Miles with less of a worry. And less value. OR IT MIGHT BE: Sheldon Williams
8-HOUSTON: Sheldon Williams [C/PF-Duke] Go back to Atlanta. See that deal. Houston selects Sheldon Williams here....then deals him for Brandon Roy. If, for some reason Atlanta gets cold feet....that meant Roy slides to Minnesota at #6 and Houston may be willing to deal with them there. OR IT MIGHT BE: Marcus Williams
9-GOLDEN STATE: Patrick O'Bryant [C-Bradley]: If something goes complete weird, then maybe one of those top guys would slip here. Before the C's-Blazers trade, I had Rudy Gay here. Not now. So, it is back to the original plan of Patrick O'Bryant. The Warriors need a scoring postplayer more than anything...and O'Bryant could be that. O'Bryant has made a name for himself via the NCAA tournament where he got his Bradley team to the Sweet 16 with some tough play. And, as we all know, finding a good big man is tough in today's NBA. OR IT MIGHT BE: Cedric Simmons
10-SEATTLE: Cedric Simmons [C/PF-NC State] The Sonics need some toughness and Cedric Simmons can give it to them. He could be Danny Fortson without the crap. If, for some reason, Sheldon Williams fall back....he'd be a good pick here too. So could Hilton Armstrong. The only twist is that the Sonics have drafted Johan Petroand Robert Swift in recent drafts too. OR IT COULD BE: Hilton Armstrong.
11-ORLANDO: Rodney Carney [SG/SF-Memphis]: It is just a matter of time before Grant Hill goes bye-bye...so Rodney Carney should be the pick here. An exciting athletic swingman to run along with Jameer Nelson and Dwight Howard. OR IT COULD BE: JJ Redick.
12-NEW ORLEANS: Hilton Armstrong [C-UConn] I think they have to take Hilton Armstrong here. Armstrong would give the Hornets a big defensive presence in the middle and a guy who could develop a little offensive game. With PJ Brown getting older and their two previous centers gone via trade and drug abuse...this makes the most sense. OR IT MIGHT BE: Alexander Johnson.
13-PHILADELPHIA: Shawne Williams [SF-Memphis] Word is that Philly loves Williams....so that's the only reason I have him slotted here. I think they could trade back and still nab him. OR IT MIGHT BE: Rajon Rondo.
14-UTAH: JJ Redick [SG-Duke] I think that JJ Redick actually fits perfect here. Okay, not just the "white boy in Utah" thing. Utah can't shoot a lick....and Redick can do that. And that's all he'll be asked to do. Still, I don't think he's anything more than Steve Kerr. But that's not an entirely bad thing. OR IT MIGHT BE: Saer Sene.
15-NEW ORLEANS [from MIL]: Ronnie Brewer [SG-Arkansas] Brewer could end up being their guy. He can handle the rock, plays defense, good athletic ability and an NBA pedigree [his dad played several years in the NBA]. And gives the Hornets an out for dealing JR Smith. OR IT MIGHT BE: Sene.
16-CHICAGO: Saer Sene [C-Senegal] Even if they nab Thomas with the #2 pick, I think they will still go big here. But maybe a project. Say, Saer Sene?? He won't give you any offense but can be a defensive stopper if given the right training. OR IT MIGHT BE: Marcus Williams.
17-INDIANA: Marcus Williams [PG-UConn] It's one of those things were someone's athletic ability seems to drag them down. Well, his past too. Williams could be a very good point guard in this league...but his selling stolen laptops and his bad rap as a unathletic player hurts him. OR IT MIGHT BE: Rajon Rondo
18-WASHINGTON: Rajon Rondo [PG-Kentucky] Rondo would give the Wiz a true point guard who can get that team into it's running attack. He also would allow Arenas to move to the shooting guard spot. OR IT MIGHT BE: Olexsiy Pecherov
19-SACRAMENTO: Sergio Rodriguez [PG-Spain]: How can it not be Sergio Rodriguez? A balls-out quick point guard, Sergio could be a nice addition to the run-and-gun Kings. He'd be a nice backup to Mike Bibby. Of course, with Muss as the new coach....his lack of defense could be a concern. OR IT MIGHT BE: Johnson.
20-NEW YORK [from DEN]: Thabo Sefolosha [SF-Switzerland] Hey, say what you want about Zeke, but he'd done a pretty decent job drafting. A few things. The Knicks have lots of stuff but it doesn't amount to anything. I think this pick depends on Isiah's confidence in his tenure. There is no immediate help at this slot. If not [my vote], he will take a foreign player. They already have a ton of contracts filling up theroster. Here's hoping Sefolosha can stay in Europe and develop some more before coming to America. OR IT MIGHT BE: Joel Freeland
21-PHOENIX [from LAL]: Maurice Ager [SG-Michigan State] Let's see. Ager is a big time athlete who is explosive and runs the floor well. Sounds like a match to me! Maurice Ager would be another excellent athlete and shooter into the fold. OR IT MIGHT BE: Kyle Lowry
22-NEW JERSEY [from LAC]: Kyle Lowry [PG-Villanova]
23-NEW JERSEY : Alexander Johnson [PF-Florida State] The Nets have consecutive picks, so they don't have to just sit and choose. Take two! I think Kyle Lowry is one pick. He would be a good backup for Jason Kidd and can get the Nets running again. The other could be Johnson, who adds an athletic frontcourt player...something they really need. Or course, the Nets could trade one of the picks to, say, Portland and get the #30 and #31 picks. OR IT MIGHT BE: Pecherov
24-MEMPHIS: Jordan Farmar [PG-UCLA]: They want a center...but they'll all be gone. Jordan Farmar could be a good fit. He's more of a distributor...which would be nice with this team. They need some point guard help [Damon Stoudamire was hurt and Chucky Atkins was the starter]. OR IT MIGHT BE: Shannon Brown.
25-CLEVELAND: Shannon Brown [G-Michigan State] I think that Shannon Brown could be a good fit in Cleveland. Not a traditional point guard....but with LeBron there, you don't need one. He is a shooter who can defend....and can create his own shot. A good pick here. OR IT MIGHT BE: Mardy Collins
26-LA LAKERS [from MIA]: Mardy Collins [SG-Temple] The last of the Shaq deal....and the Lakers will get: Mardy Collins. Not spectacular....but effective. He can shoot a bit, plays tough Temple defense, durable, can handle the rock and is willing to defer the scoring. OR IT MIGHT BE: Quincy Douby
27-PHOENIX: Oleksiy Pecherov [PF-Ukraine]: Pecherov may not be around for a year or so. He is a good shooting big man who can run up and down the floor. Again, a Suns type of player. OR IT MIGHT BE: Guillermo Diaz
28-DALLAS: Marcus Vinicius [SF-Brazil] A very good offensive talent...but lacks defensive ability right now. Still, he's the kind of guy that the Mavs can leave in international play and come get later when they need him. OR IT MIGHT BE: Freeland.
29-NEW YORK [from SA]: Josh Boone. Another big man with questionable work ethic. But rampant rumors are that the Knicks kept Boone in the draft witha promise here. OR IT MIGHT BE: Freeland
30-PORTLAND [from DET]: Joel Freeland [C/F-England] The ultimate project, Freeland has only been playing hoops for three years. Still, the Blazers don't need rookies right now....so leaving him in Europe [or even the D-league] wouldn't be a bad idea.
SECOND ROUND
31-PORTLAND: Kevin Pittsnogle, C-West Virginia. A veteran big man with range
32-HOUSTON [from NY]: Dee Brown, PG-Illinois. Quick point guard who will help if Luther Head is out the door
33-ATLANTA: Quincy Douby, G-Rutgers. This is where Head may be heading, but Hawks still need some ball handlers
34-LA CLIPPERS [from Cha]: PJ Tucker, SG-Texas. Adds depth to the backcourt
35-TORONTO: Paul Davis, C-Michigan State. They still needed a center and Davis is a capable one
36-MINNESOTA: Daniel Gibson, PG-Texas. Some more point guard help
37-MINNESOTA [from Bos]: Denham Brown, SG-UConn. Some more backcourt help
38-GOLDEN STATE: Steve Novak, SF-Marquette. Again, they need some shooters
39-MILWAUKEE [from Hou]: James White, SG-Cincinnati. They need depth, and White is just an athletic freak who can always help out
40-SEATTLE: Guillermo Diaz, G-Miami. Diaz takes over that ol' Flip Murray role.
41-ORLANDO: Mike Gansy, SG-West Virginia. Good shooter who can come in and hit shots for Magic
42-CLEVELAND [from Phil]: Allan Ray, PG-Villanova. A "point guard" that has NBA range. Good to play alongside LeBron.
43-NEW ORLEANS: Will Blaylock, PG-Iowa State. Could be a nice backup to Chris Paul
44-ORLANDO [from Mil]: Leon Powe, PF-Cal. I love Powe, and he could be a nice workman under the basket alongside Dwight Howard.
45-INDIANA: Eric Williams, PF-Wake Forest. A physical big man.
46-UTAH [from Chi]: Gerry McNamara, PG-Syracuse. Why not?
47-UTAH: Brandon Bowman, SF-Georgetown. An unselfish athlete that fits Utah's system.
48-WASHINGTON: Ryan Hollins, C-UCLA. Needs to put some weight on.
49-DENVER: Pops Mensah-Bonsu, PF-G Washington. A guy who can do some dirty work under the basket
50-CHARLOTTE [from Sac]: David Noel SF/SG-North Carolina Why not do the UNC thing again [after last year's Felton and May haul]? Besides, he's rated the best athlete in the draft.
51-LA LAKERS: Bobby Jones, SG-Washington. A defensive hawk who the Lakers could use to help lock down opponent's swingmen.
52-LA CLIPPERS: Craig Smith, PF-Boston College. NBA body who works well offensively around the basket
53-SEATTLE [from Mem]: Hasan Adams, SG-Arizona. A tad too small, but a freak athlete.
54-NEW JERSEY: DariusWashington, PG-Memphis. A guy with heart that would fill in as Kidd's reserve.
55-CLEVELAND: Renaldo Balkman, F-So Carolina. He can defend all over the place and works hard on the glass.
56-TORONTO [from Mia]: Louis Admunson, F-UNLV. Big time rebounder.
57-MINNESOTA [from Phx]: Taj Gray, F-Oklahoma. The next Gary Trent??
58-DALLAS: James Augustine, C-Illinois. Not that great, but serviceable.
59-SAN ANTONIO: Yotam Holperin, SG-Israel. What did you expect??
60-DETROIT: Justin Williams, C-Wyoming. A freak shot blocker.