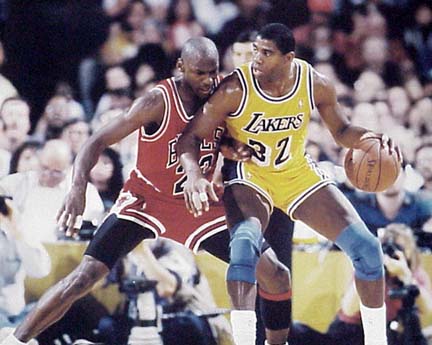 With the NBA Finals currently deadlocked....and now a best-of-three series....it could have a great finish to it. Could.
And that gets me to thinking....what are my favorite NBA Finals?? In MY history....not all time.
I am but 30 years old [just 5 weeks from 31] so I haven't seen all of the Finals. My first Finals experience was 1984....Lakers v Celtics. Yeah, the C's won that series...but the Lakers won my heart and the NBA gained a lifetime fan.
Since that year, the Lakers won SIX NBA Championships and were in a total of TEN NBA Finals....so, obviously the Lakers series will mean a bit more to me. But my best Finals memory isn't a Laker title.
So, below is my rankings of the 22 NBA Finals that I have watched in my lifetime.
22-Celtics def Rockets 1986: Of all the Finals in this 22 year span...I probably remember the least about this one. I was a young NBA fan, moving to a new place [Charlotte] and for the first time since I've watched the NBA, my Lakers weren't in the dance.
21-Pistons def Lakers 1989: Magic and Byron Scott were hurt. The Laker "threepeat" never got off the ground. It became Kareem's swan song and an ugly sweep. The only good thing to come from this series is that death of the Pontiac Silverdome as host to NBA basketball. The Palace of Auburn Hills was opened in the fall.
20-Pistons def Blazers 1990: Two teams I hated. The Pistons ended the Lakers championship run....and the Blazers surplanted them as Western Conference and Pacific Division champions. Then the Pistons went ahead and backended the Lakers' repeat with their own.
19-Spurs def Knicks 1999: Let's see. A strike shortened season. An 8th seed wins the East. The Spurs got Tim Duncan by having a great David Robinson Spurs team tank after he was injured. Sorry, I hated this series. Only TWICE did any team break the 90 pt barrier. In fact, in Game 4, neither team could break the 80 point barrier. It was a snore to watch.
18-Spurs def Nets 2003: This was the worst championship basketball I think I have ever watched.
17-Pistons def Lakers 2004: A very hard series to watch. Going in, the Lakers were widely regarded as being able to dominate the Pistons. Only, it didn't happen that way. If not for a Kobe Bryant effort in Game 2....this was a sweep. And not the kind of sweep that the games were kinda close. The Lakers got their butts spanked. And then, the wheels fell off. This series, to all Laker fans, marked the end of everything. Shaq demanded out. Phil walked off. Kobe's trial was starting...and he was a free agent. Everything sucked. Heck, there were even rumors of Coach K of my hated Dook coming aboard to coach the team. Just bad times, man. Bad times.
16-Bulls def Jazz 1997: Honestly, I don't remember much of this series anymore. 1997 was such a bad year for me. I think that I watched most of this series in a bowling alley.
15-Bulls def Blazers 1992: Only thing I remember from this series?? Well, I was at a billiards tournament during the series [at an FOP] and watched the series on a little old TV that was embedded near the ceiling. I remember watching Jordan nailing all those threes and knowing that this wasn't a series.
14-Bulls def Sonics 1996: This was that Great Bulls team and they beat up those darn Sonics. A buddy of mine was a huuuuuuuuuuge Shawn Kemp fan, so I had no one to root for, since I feel obligated to root against my friends.
13-Rockets def Knicks 1994: The thing I remember the most about this series is that I just got my first real job [one that had a paycheck and not just cash in an envelope] and as the new guy, was ashamed to be rooting for Houston while everybody else was a Knicks fan. Oh, and John Starks' bad Game 7. Oh, and some car chase involving a white Bronco.
12-Rockets def Magic 1995: I had just moved into my first apartment the week of these Finals....and we didn't have cable hooked up yet. So me and my roomate went out and bought an antenna just to watch these Finals. I recently watched Game 1 of that series on ESPN Classic which brought me back to watching that series in 1995 with a snowy reception.
11-Bulls def Suns 1993: I watched much of this series at a Hooters resteraunt...that doesn't exist anymore [the one on Independence near Idewild]. Sure, that Game 6 was a great game....but it was the epic Game 3 in Chicago that went into three overtimes that I will always remember. The Suns won that Game 129-121...which kept them in that series [they had lost Games 1 and 2 at home].
10-Lakers def Nets 2002: Sorry, but even though it was a Lakers title....it wasn't great to watch. The Lakers weren't very dominant [aside from Game 2] and it had the feel of a regular season game in December.
9-Spurs def Pistons 2005: Not a "great" series...but pretty darn good. It was the first time since...well the first time I watched the NBA finals in the mid-1980s that the Finals featured a matchup of teams who had won titles previously. A 2-2 series that had a Game 5 like this series had is special. Robert Horry found the fountain of youth for about a 30 minutesof real time that night. Then Detroit goes into San Antonio and wins Game 6! The great thing was that Game 7 was tied heading into the final quarter. Excellent drama.
8-Bulls def Jazz 1998: A horrible series, actually. I mean, one game ended 96-54. GEEZ! Only TWICE in this series did anyone break past 88 points [Bulls in Game 2 and 3]. It did end on a beautiful shot. I watched this series at a BW3s across town. A buddy named Andre and I went over there to chill with some wings and some hoops. That was my final Finals in Charlotte.
7-Bulls def Lakers 1991: Sure, LA was overmatched in this series, but the fact that they got there was unbelievable. Though we didn't know it at the time, this would be Magic's final run in the NBA [his short comeback, nonwithstanding]. I had no expectation of the Lakers winning this series....until Sam Perkins nailed a 3-pt shot to win Game 1. And that was about as close as we got. Three moments stand out. Perkins shot. Jordan's "spectacular move". Vlade cowering to Magic after a great play. This series truly ended the Showtime Era for the Lakers.
6-Lakers def Sixers 2001: Iverson had a great series...and a super Game 1. That was the only game the Lakers lost in those playoffs.
5-Lakers def Celtics 1987: In retrospect, this series has many memories. It was the final Magic-Bird Finals. Heck, it's the last time the Celtics have been in the NBA Finals. And it contains my favorite Finals moment.....Magic's junior hook to beat the C's in the Gah-den.
4-Lakers def Celtics 1985: My first taste of NBA title. See why at the #1 spot.
3-Lakers def Pacers 2000: This was great. The return of the Lakers. Shaq got his title and Kobe Bryant really began his legend. That effort in Game 4 was unbelievable. But, if you can ever find the highlights of this series....watch it. This was Shaq at his greatest and it's hard to believe that any center has been better at any time in NBA history.
2-Lakers def Pistons 1988: I watched every second of this series like my life depended on it. My uncle died during these Finals. We went to Nashville for his funeral....and my sister and I had to stay at another aunt and uncle's house during Games 6 and 7 of that series. You have to remember....it had been nearly 20 years since the last NBA team repeated as champions. And in that playoffs....the Lakers had to win TWO Game 7s just to get to these Finals. Games 6 and 7 were classics.
1-Celtics def Lakers 1984: Again, as I said, this was the series that brought me to the NBA. I had no preferences to any NBA thing out there. The Finals were on, and I was just into basketball. In fact, I remember asking "where do the UNC players go once they leave college?" Apparantly to LA. That 1984 Laker team had THREE Tar Heels on their roster. Bob McAdoo, Mitch Kupchak and James Worthy. Now, I knew Worthy. He was the man of the 1982 Heels title team....so I rooted for the Lakers in that series. But it was watching Magic Johnson that solidified my Laker fandom. I was in awe of him.....I wanted to be him. And I remember being nervous watching Game 7 of that series....as if I had been a Laker fan for 25 years. The Lakers lost that game...I was upset, angry and sad. But 23 years later...I am here...a NBA fan to the core....thanks to that series.