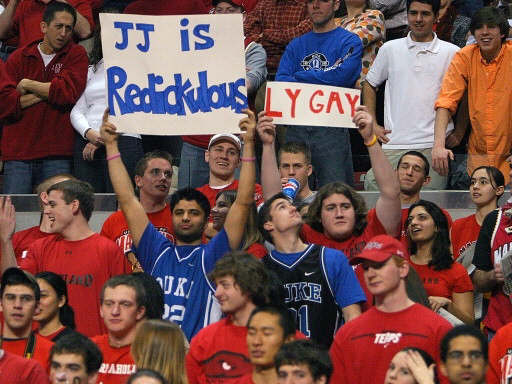 The above picture is the best thing to come out of Maryland since Steve Francis.
Ahhhhhh. It never fails. No matter how "great" the Dookie is [with the exception of Elton Brand] he is doomed to screw himself over once he leaves Coach K's nursery....
Here ya go, from ESPN.com
JJ Redick, a likely first-round pick in this month's NBA draft, was arrested for driving while impaired early Tuesday and has was released on $1,000 bond, a Raleigh-Durham, N.C., television station reported.
WTVD, citing a police report, said that Redick was arrested at 1:03 a.m. in Durham, N.C., after the former Duke star made an illegal U-turn to avoid a police checkpoint.
The television station reported that Redick is scheduled to appear in a Durham court on July 17.
The NBA draft is scheduled June 28 in New York City. How an arrest will affect Redick's draft status is unclear.
"I think that these things hurt anybody's draft status," an Eastern Conference GM, who wanted to remain anonymous, told ESPN.com's Andy Katz. "They do in my eyes. I take these things seriously. That's too bad."
Redick had previously pulled out of scheduled workouts with Orlando and Boston this week. Previously, he had worked out for Golden State, Utah, Houston and Seattle.
Among the teams reportedly interested in Redick is Houston, which has the No. 8 pick.
Redick, who won the 2006 Wooden Award as the nation's top college player, shot 47 percent from the field, 42 percent from 3-point range and 85 percent from the free throw line in leading Duke to a 32-4 record. He finished his career with 2,769 points and 457 3-pointers.