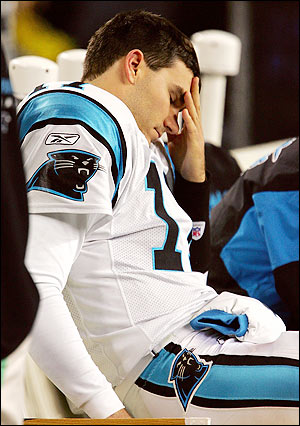 Some things are difficult to believe.

Coming into Saturday, we knew that the Tennessee Titans had the NFL's best regular season record and that the Carolina Panthers were one of the buzz teams to win the Super Bowl. Both were favorites heading into the day, got a coveted (and rare) home playoff game and fully expected to survive to the conference championship games.

Nope.

You can go anywhere to break the individual games down, but the fact that both the Titans and Panthers looked so bad can be attributed to turnovers. Carolina's Jake Delhomme threw FIVE interceptions and fumbled the ball away another time. You cannot have your quarterback cough up the ball six times and expect anything but a loss.

This was just an embarrassing day all around for the Panthers. Since the NFL expanded the playoffs in 1990, this is the worst beating a No. 2 seed has received on their home turf. And by an Arizona team that had been 0-5 in the Eastern Time Zone this season. Oh, and the Panthers were the only NFL team to have not suffered a home loss this season.

Arizona 33-13. Amazing.

As for the Ravens beating the Titans, at least Tennessee can go to bed dreaming about all the chances they had that were squandered away. Like being down three in the 4th quarter and fumbling away the ball inside the Ravens' five yard line. That was one of three turnovers the Titans gave up deep inside Baltimore territory.

Still, it was tied 10-10 when B-more's Joe Flacco completed a deep pass to Todd Heap that gave the Ravens a chance to line up the game-winning kick. And like that *poof* the Titans are gone.

So the Giants and Steelers ... the favorites to get to the Super Bowl when the playoffs started ... have to be a bit stunned by what's going on around them. Who the hell knows? We could have an AFC Championship game in San Diego and an NFC title tilt in Arizona.