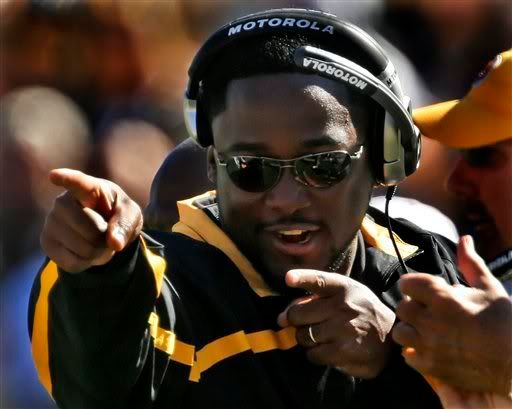 The "43 Stops to Super Bowl XLIII" is a series that will feature stories, stats and interesting trivia that you can use to act smart as you prepare for Super Bowl XLIII. I've done this on SPORTZASSASSIN.COM for Super Bowls XL and XLI and for AOL's FanHouse for Super Bowl XLII.
#36-AFC LOVES FEBRUARY:
The Super Bowl will be held on February 1st. Since the first February Super Bowl in 2002, the AFC is 5-1 in those games ... but the NFC has won the last one.
Super Bowl XXXVI: Patriots beat Rams on February 3, 2002
Super Bowl XXXVIII: Patriots beat Panthers on February 1, 2004
Super Bowl XXXIX: Patriots beat Eagles on February 6, 2005
Super Bowl XL: Steelers beat Seahawks on February 5, 2006
Super Bowl XLI: Colts beat Bears on February 4, 2007
Super Bowl XLII: Giants beat Patriots on February 3, 2008
#37-STEELERS EAT NFC WEST FOR DINNER:
Here is a rather interesting tidbit: Of the four NFC West teams, Pittsburgh will have faced three of them. The Steelers beat the Rams in Super Bowl XIV and beat the Seahawks in Super Bowl XL. Now they will face the Cardinals. Oddly enough, the only NFC West team they haven't faced is the San Francisco 49ers. The Niners, along with the Steelers and Cowboys, have won more Super Bowls than anyone else.
#38-SCORE EARLY AND OFTEN:
The team who scores first in a Super Bowl is 27-15. However, the team who has scored first has lost five of the last seven Super Bowls.
*Teams who score at least 30 points are 21-1.
*Teams that score the first TD are 30-12.
*Teams leading at the half are 32-8 (there have been two ties)
#39-THERE IS AN EXTRA VINCE LOMBARDI TROPHY OUT THERE:
Excuse this one taken from my
FanHouse post
but it is rather interesting:
There have been 41 Super Bowls to date ... yet there are 42 Vince Lombardi Trophies (given to the Super Bowl winning team) out and about. How is that?
Well, that little ditty comes to light after the recent passing of Rams owner Georgia Frontiere. Frontiere's husband, former-Colts and Rams owner Carroll Rosenbloom, is the reason
behind the story
:
However, when Colts owner Carroll Rosenbloom, Frontiere's late husband, traded the Colts for the Rams in a franchise swap in 1972, he decided he wanted to keep the Lombardi Trophy the Colts won in Super Bowl V. When Super Bowl VII took place in Los Angeles, Rosenbloom told the Colts he was going to put on a display of Super Bowl trophies and asked them to bring it to the West Coast. They did. There was no display, and Rosenbloom never returned the trophy. After the Colts complained to the league office, former NFL Commissioner Pete Rozelle had a duplicate made for the Colts, which remains in Baltimore (it was originally shipped to Indianapolis when the team moved but a deal was struck and it was returned to Maryland). The original Super Bowl V trophy? It presumably was in Frontiere's possession and now belongs to her heirs.
So, there are two Vince Lombardi trophies awarded for Super Bowl V ... yet neither are with the franchise that won it. The original was in St. Louis with Frontiere with the other in Baltimore, the Colts old digs. Meanwhile, Indianapolis can only show off the trophy they won two years ago.