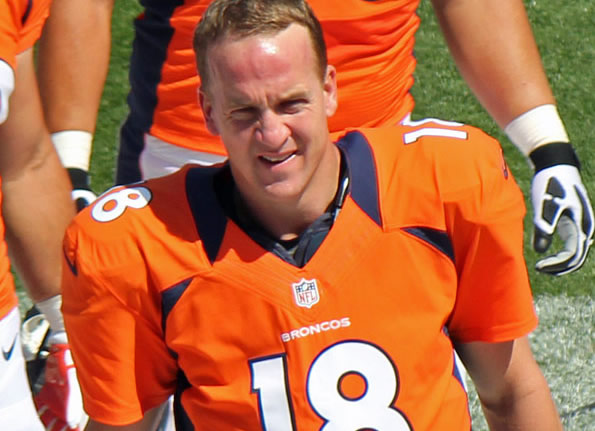 It is Super Bowl week, so tons of media has descended upon New York to break down every little angle of the game. That's fine. That's how it goes.
But one of the the angles that seems to be getting a lot of play is the "if the Broncos win, should Peyton Manning retire" one. In a simple word: No.
First off, Peyton in contracted to get a physical every off season to check his neck and everything else in order to keep his huge contract. If the doctors say he shouldn't play or even if Manning doesn't want to say, then he should retire. Outside of that, there is no debate.
Manning says he wants to play. He should play.
Why do we do this? Why do we have that John Elway syndrome? Elway famously won back-to-back Super Bowls and then retired. We loved when Michael Jordan hit the shot over Bryon Russell to win the 1998 NBA Championship and then retired. And then hated it when he came back a Washington Wizard. Why do we need our star athletes to go out on our time frame and not their own?
I know that we have seen some bad stuff. We've seen guys like Willie Mays limp around the Mets outfield. We saw Deion Sanders scoot around as a Baltimore Raven. Remember Hakeem Olajawon as a Toronto Raptor? Patrick Ewing as a SuperSonic? Or even Shaquille O'Neal wonder around the NBA trying to latch on to another championship run? Once dominant players who cobble together whatever deteriorated skills they have left and keep pushing on.
We don't like that. Maybe for their "legacy", they shouldn't want that. But many of these athletes are the greatest competitors created and want to keep on playing as long as possible. Who am I ... a fan ... to tell them to stop? Yeah, I did just blog about wanting Alex Rodriguez to retire, but that certainly had little to do with what goes on in the field of play.
I am a year older than Peyton Manning. To sit and think and tell someone that they need to stop doing the one thing they love for the rest of their lives because it would be neat to go out on top is pretty selfish. As we saw with Michael Jordan or Muhammad Ali or Brett Favre or even Gordie Howe is that the greats usually don't like to turn off their competitive streak because they won a championship. Maybe if you really don't feel like pressing on and are setting up for that last shot like Tony Gonzalez just did and Elway once did, you do so no matter what. To think that a guy like Peyton Manning, if healthy, would win a Super Bowl and then walk away with that team is nuts.
If that was true, he should be able to retire whenever he wants. He won a Super Bowl already. Why does he keep playing? I mean, c'mon already!!!
Why would he? He'd be returning much of his record setting offense. The Broncos have gotten to the Super Bowl despite a ton of injuries on both sides of the ball. They could be better next season. He is coming off an MVP season filled with passing records. Assuming they win it (that will be an assumption we will make for this entire article since it is the premise of the question), he'd enter next season one Super Bowl victory shy of rival Tom Brady. And, really, other than Brady ... who in the AFC has a good shot at knocking him off another Super Bowl road? Cincinnati lost both coordinators. San Diego? Pittsburgh? Kansas City? Baltimore? Maybe, but the Broncos would be the favorite.
You are right. He should give up a chance at a 3rd Super Bowl. A chance to keep playing at the highest of levels. A chance to keep doing something nearly all of us would kill for a shot to do. He should just stop all of that so we can feel great about how he retired.
We should all do that. Reach the top of our profession and just quit.