With the decade just weeks away from ending, let's take a look back at the sports incidents that the leagues rather us not dwell on. What are the ten worst moments in sports over the past decade?
Now, forgive me if I missed a thing or two. Also, this list isn't ranked in order of which was the worst action but by the impact that it had on sports as we enjoy them today. Obviously, someone losing their life is much more heartbreaking than any scandal but, again, it is the impact that these events made that define the list.
Enjoy.
10-"WARDROBE MALFUNCTION":
While this is mild compared to the rest of this list, it still has had sweeping ramifications in both sports coverage or any live event. When Justin
Timberlake
peeled back the pasty and revealed Janet Jackson's breast, it set off a chain reaction that led to hefty fines and a crackdown on anything that was deemed
obsene
on television. Most networks that broadcast live events ... either on TV or radio ... use a several second delay to cover up anything that may slip onto the microphones. Yes, it was grossly overblown but you know as well as I that live TV has never been the same.
9-NHL CANCELS SEASON:
While many people may not have cared that the NHL suspended the 2004-2005 before it began due to a lockout, it had quite the effect on the hockey world. Everything from the salary structure to eliminating ties to rule changes came in to play due to the league's attempts to keep several franchises afloat. It's worked, basically. But canceling an entire season just doesn't happen -- especially not now.
8-TIM

DONAGHY

:
This is still an ongoing story, but former NBA referee
Donaghy
was linked to fixing NBA games for gamblers. While a lot of the information is still somewhat sketchy (who do you believe?), the PR hit the NBA took was quite stiff. The League already was under fire by conspiracy theorists that are convinced that the NBA favors certain teams and players and that the League office actually orchestrates outcomes of games and playoff series. When news of this broke, it put all refs under a microscope and the league in a horrible position of defending it authenticity.
7-SEAN TAYLOR'S MURDER:
Players have lost their lives before, but this one was particularly troubling. Taylor was asleep with his wife and kids in their family home in Miami when intruders broke into the house (thinking the
Taylors
weren't there) to burglarize the residence. When they came upon Taylor ready to defend his home, an intruder shot and killed him. Four teenagers and a 20-year old man were charged with involvement in the murder. This incident set up mass paranoia in the athlete community as they came to the realization that no one is safe anywhere.
6-MALICE IN THE PALACE:
Any sports worst nightmare came to pass in a seemingly innocent night in Detroit. Ben Wallace took exception to a hard foul by Ron
Artest
and then one of the worst brawls in American sports took place. The Malice put everyone on notice that fans shouldn't be part of the action on the floor and that athletes cannot go into the stands to settle problems. It was a horrible problem for the image
conscious
NBA. Nine players were suspended while five players and five fans were charged with assault. The fan who threw a cup of soda at Ron
Artest
has been banned from Pistons home games. While it isn't the first or last example of player-fan altercations, it may be the most memorable.
5-MICHAEL VICK:
If you thought the Brawl was savagery at its worst, along comes Michael Vick. Because of Vick, we are all enlightened about the underground world of dog fighting. Vick was found guilty of financing the dog fighting business and ended up in prison. When all this broke, there were steady updates about the cruelty Vick and his friends were capable of. I don't mind Vick being in the NFL, but forgive me if I can still get sick looking at him because of what he did to those dogs.
4-DALE EARNHARDT DIES:
I remember where I was when I heard the news. My wife and I were driving back home from a visit to Charlotte when she called her brother up and he told her what happened. I couldn't believe it. I'm not a
NASCAR
guy by any means, but when you grow up in Charlotte, Earnhardt is a legend. He was everything that a driver should be. To imagine that a man so skilled, so legendary, so intimidating would die in what looked like nothing more than a fender bender is unfathomable. But it did happen and racing is still looking for that bad boy renegade to dominate the sports like only car No. 3 could.
3-TODD

BERTUZZI

SUCKER PUNCH:
Back in 2004,
Canucks
forward Todd
Bertuzzi
punched Avalanche center Steve Moore from behind and then drove his head -- face first -- into the ice. This nearly instigated a brawl between the teams and coaches. Moore suffered three fracture
vertabrae
in his neck, a concussion and ligament damage near his spine. Moore has never suited up for another NHL game.
Bertuzzi
was suspended for 20 games, lost about half a million dollars in pay, lost numerous endorsement deals and was charged with assault. To this day, there are still several lawsuits pending between Moore,
Bertuzzi
,
Canucks
coach Marc Crawford and the Vancouver organization. This may be the nastiest athlete-on-athlete altercation of the decade.
2-DAVE BLISS SCANDAL:
This is one of the most disturbing events of the last decade. Back in 2003, Baylor basketball coach Dave Bliss attempted to cover up the murder of one of his players, Patrick
Dennehy
, by former player Carlton Dotson. Bliss tried to frame
Dennehy
posthumously as a drug dealer in order to provide cover for himself. Once all this broke, numerous other violations made by Bliss and his staff surfaced and he was forced to resign. The NCAA has all but banned him from coaching for ten years. The fact that a man that was trusted to take care of these young men could extort, tamper and obstruct justice like this is quite alarming.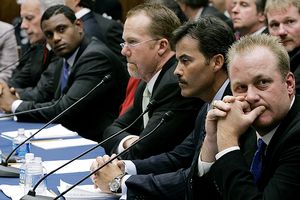 1-BASEBALL ON CAPITOL HILL:
This was the day where baseball changed. Several current and former baseball players went before Congress to discuss the use of steroids in the sport. Mark
McGwire
disappointed many by refusing to talk about his past (where there were rumblings that he
roided
up) and all but admitting that he took that stuff. Sammy Sosa suddenly forgot how to speak English. And Raphael
Palmeiro
looked into the faces of the committee, pointed his finger and lie about not using steroids. Also remember that the Congressional hearing was done during the first day of the NCAA Tournament.
The aftermath was messy. Fans as well as baseball itself finally came to the realization that steroids and
PEDs
were much more commonplace in
MLB
and that many of the statistics from that time are tainted.