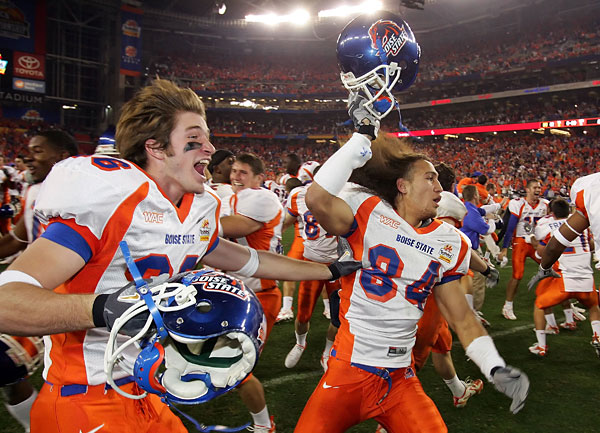 In the new year, we will get to see the undefeated TCU Horned Frogs take on the undefeated Boise State Broncos. With Texas, Alabama and Cincinnati also undefeated, there was no real way for either TCU or Boise State to get to the National Championship game.

That sucks!

I think that both the Mountain West Conference (which TCU is a member of) and the Western Athletic Conference (where Boise resides) have shown that they can produce conference champions capable of doing damage in the BCS. Of the "BCS Busters", the MWC has seen Utah win twice and Hawaii get blown off the field ... while the WAC has seen Boise beat Oklahoma in one of the most thrilling bowl games you'll ever see. These guys deserve a chance.

With conference championship games being the rage, why not stage a game between the champs of these two conferences? Why not have TCU battle Boise State for the right to get into a BCS bowl? Yeah, both are in the BCS this year but the fact that they haven't beaten anyone of note in months keeps them out of the national title picture.

We would all love to see TCU and Boise battle to see who the best in the west is and we know the winner will remain unbeaten. But how can these BCS busters prove their worth as a legit contender if you don't allow them to face the best of the best of the BCS conferences?

Why isn't TCU playing Florida? Why isn't Boise State playing Ohio State, Oregon or Cincinnati? Instead, the BCS people thumb their noses down at these two schools by forcing them to play each other. The winner of the game will get a BCS win ... but it will come with the comment that they did it against another non-BCS school. Unfair.

Imagine if Boise State and TCU faced off a couple of weeks ago in the "MWC-WAC Challenge" game. The loser may not have gotten into the BCS but the winner would have quite the resume to be taken seriously for a title berth. I mean, after TCU just bowled through the Mountain West and made them look bad, a win over Boise State would look really good to the bowl people.

I love the idea. Call it the "MWC-WAC Challenge" and hold the game in Las Vegas. That is pretty even for all members of both conferences (unless UNLV makes it there which would be a miracle) and exciting enough for fans of both schools to take a trip there. Plus there is history. Remember that the Mountain West Conference was formed when eight schools from the WAC left. From 1996 to 1998, the WAC held a conference title tilt ... and all three of those games were played in Vegas.