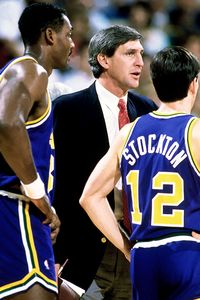 With Jerry Sloan and Jeff Fisher both stepping down from their longest-tenured positions in their respective leagues, it got me thinking about who are the top coaches in the major American sports to have never taken their teams to a championship.

I'm sure I missed a few names in there, but please feel free to add them in the comments.

GENE MAUCH (MLB): Mauch is by far the winningest MLB manager to never take a team to the World Series (he has nearly 1,000 more wins than 2nd place). He presided over the Phillies remarkable last season collapse in 1964, saw his Angels take a 2-0 lead in the best-of-five ALCS against the Brewers in 1982 and were swept the rest of the way, and the 1986 Angels team that was one out from getting to the World Series before the Red Sox made a comeback. "Great" is subjective since he actually has a losing career record.

BO SCHEMBECHLER (College football): The Michigan legend never won a college football championship in his 21 years with the school. Only Joe Paterno and Tom Osborne won 200 games quicker than Bo.

BUD GRANT (NFL): Only Don Shula and George Halas have more NFL wins that Grant. But Grant never won a championship. His Vikings were 0-4 in Super Bowls during his 18 seasons in Minnesota. He did win 4 Grey Cup Championships in the Canadian Football League.

DON NELSON (NBA): He's won more games than any coach in history. But he's never been to an NBA Finals ... let alone won an NBA Championship.

JERRY SLOAN (NBA): He's a Hall Of Fame coach who took the Utah Jazz to two NBA Finals -- losing both to Michael Jordan's Bulls. While he'll always be remembered for having John Stockton and Karl Malone, the fact that he seemed to always have Utah in the playoff hunt despite not being a very desirable place for free agents is quite impressive.

EDDIE SUTTON (NCAA hoops): Sutton has taken four programs to the NCAA Tournament ... getting to a Final Four with Arkansas and two with Oklahoma State. Controversy followed Sutton at both Kentucky and Okie State.

MARV LEVY (NFL): Levy took his Buffalo Bills to four consecutive Super Bowls. But he lost all four to NFC East teams. Levy also won a Grey Cup.

DAN REEVES (NFL): Reeves had John Elways in his prime and couldn't cash in on three Super Bowl appearances. He also took the Falcons to a Super Bowl where they were blown out by ... John Elway and the Broncos.

MARTY SCHOTTENHEIMER (NFL): Marty Ball works. His teams usually win: in 21 seasons he had just two losing campaigns. But he never got to the Super Bowl. No coach has won more games in the Super Bowl era that hasn't made it to the big game than Schottenheimer.

GEORGE ALLEN (NFL): The former Rams and Redskins head coach took Washington to the 1972 Super Bowl. He finished with a 116-47-5 record during the regular season. He took his teams to 7 playoff appearances in his 12 NFL seasons.

JEFF FISHER (NFL): Coached the Houston Oilers/Tennessee Oilers/Tennessee Titans for 17 seasons. Went to one Super Bowl and lost to the Greatest Show On Turf Rams.

JOHN CALIPARI (NCAA hoops): Coach Cal gets some really good recruits ... even if it seems there is some shady business going on. But he has yet to cash that in for an NCAA Championship. He took his UMass squad to the Final Four (since vacated) and Memphis was within a miracle shot from winning one in 2008 (their Final Four appearance since vacated).