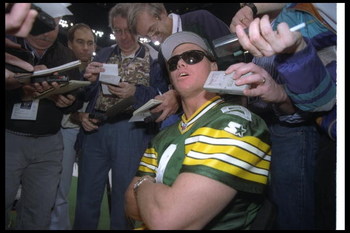 Not every great quarterback wins a Super Bowl. Even less win two. This year, Ben Roethlisberger is going after his 3rd ring, which would place him in some elite class.

Right now, we know of 10 quarterbacks that has won multiple Super Bowls.

Terry Bradshaw and Joe Montana lead the pack with four apiece. Troy Aikman and Tom Brady have each won three. Roethlisberger, John Elway, Bob Griese, Jim Plunkett, Roger Staubach and Bart Starr each won two.

But there are four forgotten QBs that have also won at least two Super Bowls. We tend to forget about them since they didn't start in all of them.

STEVE YOUNG: The most obvious on this list is Young. Young won three Super Bowls with the San Francisco 49ers. It his first Super Bowl (XXIII), he didn't see the field against the Bengals. He did the next year (XXIV) at the end of the Niners blowout of the Broncos. Of course, the one he's known the most for is Super Bowl XXIX when he led San Fran to a blowout win over the Chargers.

JIM MCMAHON: We always will remember Super Bowl XX and those Chicago Bears pummelling the Patriots. But remember that he also beat the Patriots in their second appearance in the Super Bowl ... again in New Orleans. In Super Bowl XXXI, McMahon was Brett Favre's backup on the Green Bay Packers win over New England. Though he didn't play, it was his final game as an NFL player.

PHIL SIMMS: Simms may have had the most efficient game a QB has ever had in the New York Giants Super Bowl XXI win over the Broncos. For Super Bowl XXV, however, Simms had to sit on the sidelines with a broken foot as Jeff Hostetler took the Giants to a victory over the Bills. Simms broke his foot, ironically, against the Bills in the regular season (the Giants were 11-3 when he went down).

EARL MORRALL: Who? Hey, this cat has won three Super Bowl championships ... though he won zero as a starter. Morrall did lead the Baltimore Colts to Super Bowl III but lost the game to the Jets. Two years later, Morrall took over when Johnny Unitas was injured in Super Bowl V and led the Colts to a victory over the Cowboys. Morrall moved on to Miami with the Dolphins and enjoyed their Super Bowl VII and VIII wins. Remember that in 1972, Morrall started in 12 of the Dolphins 17 wins that year in their undefeated season as Griese was injured. Morrall started the Phins first playoff game but struggled and was pulled in Miami's AFC Championship win over the Steelers. Griese started Super Bowl VII and won with Morrall on the bench.