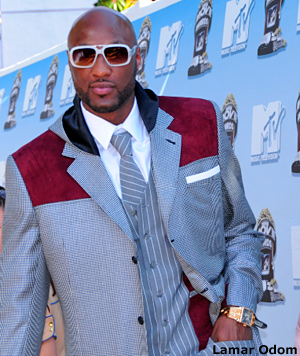 I'm not liking the way these Lamar Odom talks have gone for the Lakers. After reaching an agreement on the yearly salary for Odom, talks fell apart over the length. LA wants to give three years; Odom wants five. Now comes word that owner Dr. Jerry Buss has pulled the offer from the table.
Now, I've been cool with the negotiations thus far. Both sides to feel they have leverage. Odom has said that he wants to stay in L.A., he just one a title there, he's one of the team's most popular players and he actually has the perfect role for his comfort level. L.A. knows they really need Odom back because he's part of their deadly trio of big men that bring pain to everyone else. He also could be a terrific buffer in case Ron Artest has any dust-ups.
As a fan, I say that the Lakers should give in to Odom and at least offer him a fourth year. I think Odom has deserved that. Of course, it isn't my money we are spending so I understand the reluctance to do it. This may be essentially the same team as last year, but mostly everyone's salary went up. Andrew Bynum's huge extention kicks in, Shannon Brown signed a nice raise. Ron Artest may make as much as Trevor Ariza does now, but it is twice as much as what Ariza made last year.
I hope it works out. However, the rest of the league ... who all stayed away because they didn't really think he'd leave the Lakers ... now smells blood and are searching for ways to bring in the talented Odom.