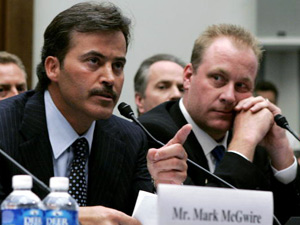 My buddy Johnnysee [yeah, folks, he is alive and well] asked why people that lie tend to point their finger when doing so. Bill Clinton did it during the "I did not have sexual relations with that woman" blurb several years back....and Raphael Palmeiro did it 5 months ago in a Congressional hearing.
Both were lying thru their teeth.
Turns out that Palmeiro has been busted with the roids after all....since MLB has suspended him 10 games after violating the league's policy.
His stoic finger point and "I have never used steroids. Period" statement in that Congressional hearing was one of the top moments in a rather shaky day for Major League Baseball. I was very impressed with him. While Canseco looked like a loan shark....McGwire was dodging questions.... and Sosa looked like that kid that will say whatever everyone else is saying to stay outta trouble...Palmeiro gave hope to those who really want to believe that there are guys that are legit. Some numbers do matter. That it is just a few spoiling it for the rest. Doesn't seem like that now.
Since then, McGwire [MLB's golden boy] has been nowhere to be seen. Sosa moved to #5 on the all-time Home Run list, passing Frank Robinson....and nobody noticed. Barry Bonds hasn't played a game since last fall.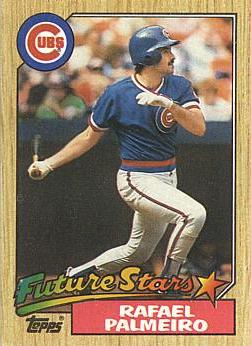 To me, baseball has officially become a farce. A joke. I cannot trust it. True...cheating has been going on in baseball since forever. But almost everything that made me love baseball seems to be gone in my heart.
THE ROID RAGE. Major League Baseball has turned into the WWF. I was one of the guys that didn't really care about the steroid issue because I didn't really think it was that prevalent in baseball. Uh, I'm guessing I am wrong. Seeing Mark McGwire squirm in front of Congress had a huge affect on me. McGwire's hunt for Roger Maris in 1998 is one of the biggest sporting moments of my lifetime. I was a freaking Cardinals fan that summer....as was most of the country. Then, a few years later, Barry Bonds topped it and became the first black man to hold the single season HR record. Turns out that both were on the roids [okay, not proven in either case, but c'mon]. The third member of this, Sammy Sosa, was caught with a corked bat a few years ago. His "uh, how did my corked batting practice bat get in there" explaination showed me that he was willing to spread manure around the press room. So anything he said after that point was met with suspicion.
Baseball has no credibility with me. The sport I loved so much as a child [and the first sport I ever played] has really fallen out of my life. I just don't care. How do I know?? I don't watch it. I don't know when the last time I watched an entire regular season game. I tend not to even bother watching the highlights anymore.
Below are just some nitpicking from me....nothing life threatening...just stuff that bothers me. You can kill me on all of this if you like...it is fine....it is just my opinion on why I just don't care about baseball anymore.
MY TEAM SUCKS. I am a Reds fan...and it seems that there is nothing that can happen to make the Reds matter anymore. In baseball....teams like the Yanks, BoSox, Braves, etc expect to make the playoffs EVERY YEAR. For the small and mid-market teams....you just hope you have a chance in July to make a run. Sure, teams like Oakland and Minnesota can make it work...but there are many more that can't. The Reds are one. Sure...they were on the cusp of getting the wild card a few years back....but that is a "magical" season, not a steady upswing.
It is a shame since I really think that Cincinnati is a great baseball town and that the Reds are a great baseball franchise. But if the rules that are inplace now were used back in the 1970s....could the Reds have had the Big Red Machine?? Probably not. They'd all be expensive and the team would have to let a few go elsewhere [which happened later in the decade anyway]. Heck, I haven't even bothered to touch my Reds blog in months.
VIDEO KILLED THE EXPERIENCE. I am 30 years old...so baseball has always been on TV to me. Thru my entire life...I've believed that baseball, like hockey, is much better live. And in some ways it is. TV cannot cover the whole field at once...while the NBA and NFL action is usually caught in screen. Seeing a fly ball hit in the air always gets a jump out of you no matter how hard it was actually hit. On TV, all you see is where the outfielder does...and you know immediately what's going to happen. Other than that...it is boring. When I was a kid...going to the game really was exciting. Now I tend to complain about how much money I've spent to watch a crappy team play someone else in a 4-2 game. Or how hot it is. I usually only spend about 3 innings in the actual seat I paid for. The other 6 innings are either checking out the sites inside the park, standing in line at the concession stands, or just sitting in other parts of the park.
Going to an NBA game is like watching theatre. Everyone is inside a building fixated on a timed event...with an intermission about a hour or so in. Going to an NFL game is the most primal thing to do in sports. Going to a baseball game is like chillin'.
BALLPARKS. Now, I know I am hypocritical when I say this...but I am not a fan of these ballparks anymore. Sure, when Camden Yards opened I was in love with the old school charm encasing a modern purpose. But everyone has that now. Almost everyone has that "beautiful park to picnic in that also has a baseball game going on." Yankee Stadium, Wrigley Field and Fenway Park aren't exactly beautiful [okay, Wrigley is] but they have built-in-charm. That "it-looks-old-because-it-is-old" charm. Yeah, that sucks in some ways...but those stadiums are always bumpin'. They don't care if the seats are facing the wrong way...they are standing up cheering. They don't care if they have an amusement park in the outfield stands....they are there to watch the game.
And, here it is with the hypocrisy, I don't like the names of the stadiums anymore. Sure, the NFL and NBA are guilty of this...but I rarely have any care for their monikers. Let's see...Ameriquest Field, Comerica Park, Rogers Centre, Safeco Field, US Cellular Field, Bank One Ballpark, Citizens Bank Park, Coors Field, Minute Maid Park, PNC Park, SBC Park? Sure, Wrigley Field isn't exactly sponsor proof...but "Minute Maid Park"??? When I grew up, there was Riverfront Stadium, Jack Murphy Stadium, Three Rivers Stadium, Fulton County Stadium, Arlington Stadium, Tiger Stadium, Veterans Stadium, Astrodome, Kingdome, Candlestick Park and Comisky Park. A bunch of Memorial Stadiums. Sure, some are real eyesores...but there really wasn't that corporate feel to it.
IT HAS BECOME DULL, YET ANNOYING. Let's see....everyone knows what is going to happen. Guy on first...no outs...8th inning...um, he's gonna bunt. Ah, a lefty comes up to bat next....um, left handed reliever coming in. We all know it. Baseball has become a battle of who screws up the worst. Who makes the boneheaded play. Who gives up a fat pitch. Which manager makes the wrong decision. That is it.
Believe me...this isn't coming from someone that never liked baseball. Far from it. I loved this game. When I grew up...I KNEW I was to play major league baseball. I played when a was a wee lad in pee wee leagues and on into Little League. My uncle was a former player, coach and manager in the Major Leagues. I loved it! I still think it is the most facinating game we've ever developed. It is a sport that isn't so much about size as it is about smarts and effort.
Well, that is until the roids got involved.