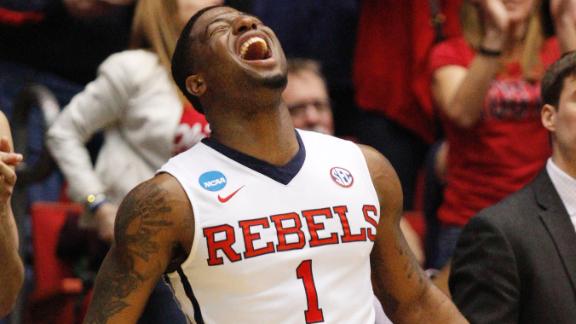 Just a quick recap of what I saw in my Sportz Room -- filled with TVs that I can watch all four games going on at the same time.
GAME OF THE DAY: Ole Miss vs BYU.
This was a season where everyone has complained about the lack of scoring and the boring pace of play. Well, this was a game where we had 184 points scored ... and that was in regulation! These two teams just went at it, hitting shot after shot and making big plays. Just a super game.
UPSET OF THE DAY: Hampton over Manhattan.
Not a huge upset (that's hard in the First Four), but Hampton was a sub-.500 team and got a tournament win. Shame that Quentin Chievous turned his ankle late, but hopefully he'll be healthy enough to take on Kentucky in their next one.
CONFERENCE OF THE DAY: SEC.
Ole Miss was a very bubbly team heading into Selection Sunday and BYU was one of the buzz teams for a Cinderella. Despite falling behind by 17, the Rebels looked outstanding in coming back to win that game. Even though it doesn't really count towards this page, the SEC also looked pretty good in the NIT as Texas A&M, Vanderbilt and Alabama won their first round games.
CONFERENCE WITH A BAD DAY: Atlantic Sun.
North Florida was the lone team playing in the First Four that won a regular season title and they couldn't beat a team that finished 3 games back in the Northeast Conference.
DUD OF THE DAY: Hampton vs Manhattan.
In a round filled with nailbiters, the game that is decided by 10 points is the boring one.
DOMINANT PERFORMANCE OF THE DAY: Ole Miss.
I know that it was a close game, but did you see them in the second half against BYU? Ole Miss scored 62 points ... in the second half. They also shot 60% in the 2nd half and turned the ball over just three times. That second half performance alone would've beaten Dayton or Boise State and nearly would've beaten Manhattan.
UNDERLYING STORYLINE OF THE DAY: Dayton in Dayton.
This was a sketchy situation that really looked bad. I know Doug Gottlieb touched on this during the broadcast, but it really isn't fair for Dayton to be playing an NCAA tournament game on their home court. I know, I know. Kentucky gets to play in Louisville, Duke plays in Charlotte and we have had schools playing virtual home games. But they aren't playing on their actual home floor. To me, the NCAA might want to find a neutral site for the First Four. A gym that no Division I school calls home. Maybe Kansas City's Sprint Center? Or Cincinnati's US Bank Arena. Dallas' American Airlines Center. Or why not just have these games played in the pod city anyway (like the Hampton-Manhattan game just being played in Louisville).