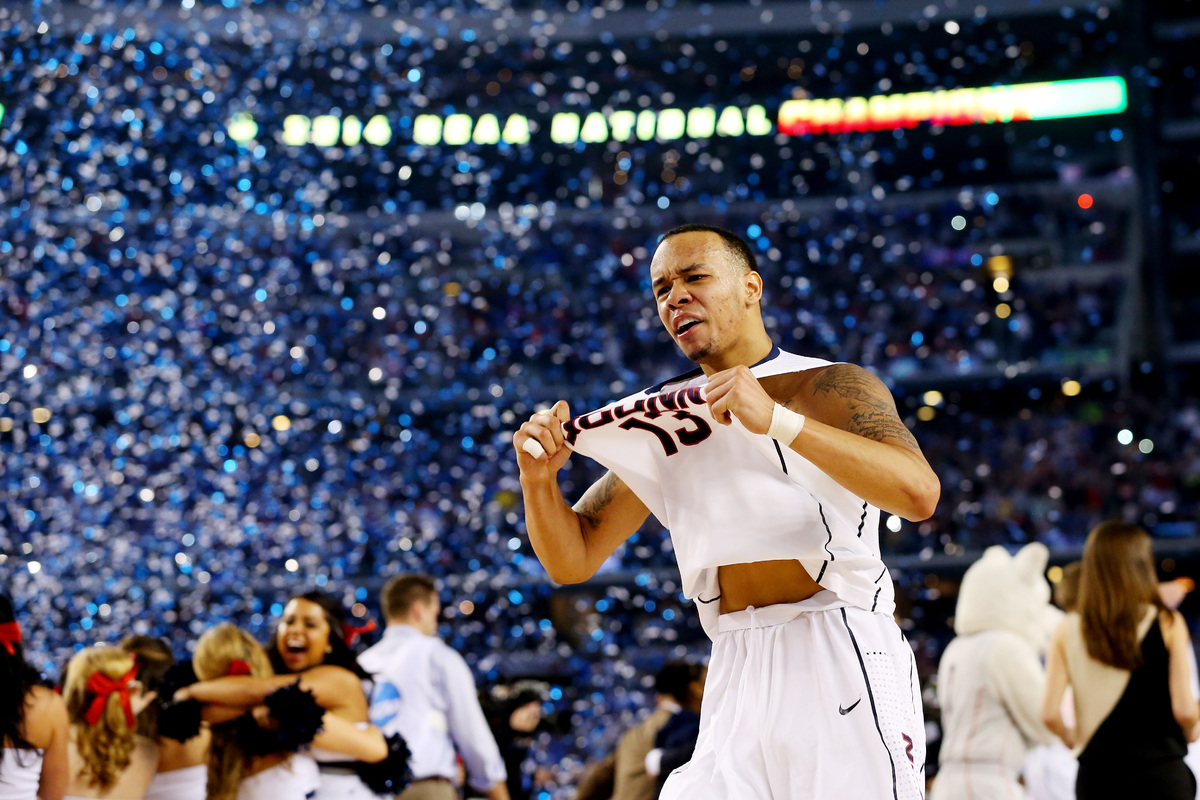 Shabazz Napier was the MOP of the 2014 NCAA
tournament. Does that mean he will have the same
success in the NBA?
The NCAA Tournament is in full swing and that means guys will be making big plays and having big games to help his team advance to a title. Sometimes it is the gutsy upperclassman. Sometimes it is a hot hand. Very few times it is a big time NBA prospect.
It used to be the MOP turned into quite the NBA player. Kareem Abdul-Jabbar won it three times. Bill Walton won it twice. David Thompson, Magic Johnson, Isiah Thomas, James Worthy, Hakeem Olajawon and Patrick Ewing all won it and are now Hall Of Famers.
No, the tournament's Most Outstanding Player tends to peak during their basketball career that final weekend of the college basketball season. Don't believe me? Well, let's look at and rank the last 22 MOPs according to their NBA careers.
22-LUKE HANCOCK (Louisville 2013):
Hancock is in his first professional season. He bounced around the NBA's summer league and training camp but didn't find a suitor. Currently he plays in the Greek League.
21-DONALD WILLIAMS (North Carolina 1993):
Had a hot hand for Dean Smith's final NCAA title team. Williams never sniffed the NBA, but had a nice overseas career all around the world.
20-JEFF SHEPPARD (Kentucky 1998):
Many people forget that on a team filled with NBA studs, it was Sheppard who won the MOP. Sheppard played in just 18 games in his NBA career.
19-MILES SIMON (Arizona 1997):
Simon played in just five NBA games. However, he was the CBA MVP with the Dakota Wizards in 2002 and now works for ESPN.
18-MATEEN CLEAVES (Michigan State 2000):
Cleaves' pro career was best known as the 12th man. A guy who cheered on and motivated his teammates. Not much more than that.
17-SEAN MAY (North Carolina 2005):
Injuries derailed May's short NBA career. May played just four NBA seasons but never more than 37 games in any given season. Averaged 6.9 ppg.
16-ED O'BANNON (UCLA 1995):
O'Bannon played just two NBA seasons. He is now best known for his lawsuit against the NCAA over likeness rights.
15-SHABAZZ NAPIER (UConn 2014):
Not quite fair to Shabazz since he is currently in his rookie season. Still, he's done alright for himself thus far.
14-WAYNE ELLINGTON (North Carolina 2009):
Ellington has made his way around the League and is currently starting for the Lakers while Kobe Bryant recovers from injury. He's averaged just under 7 ppg for his career.
13-KYLE SINGLER (Duke 2010):
Singler has made a nice NBA career out of being a role guy and spot starter. He shoots well from deep and plays hard. He's averaging 8.7 ppg for his career.
12-JUAN DIXON (Maryland 2002):
Dixon bounced around for his NBA career, playing for five different franchises. His best season was with Portland in 2005-06 when he started 42 games and averaged 12.3 ppg. He averaged 8.4 ppg during his 7-year NBA career.
11-TONY DELK (Kentucky 1996):
Delk was a sparkplug combo guard in the NBA, finishing with a career scoring average of 9.1 ppg. Also, he once dropped 53 points in one game.
10-COREY BREWER (Florida 2007):
Brewer has carved out a nice career as a role player. He defends, is athletic and has an improving outside shot. He's averaged 10 ppg for his career.
9-MARIO CHALMERS (Kansas 2008):
Sure, he's not been a dominant point guard in the NBA. But Chalmers does have two NBA titles as a starter. Not bad.
8-CORLISS WILLIAMSON (Arkansas 1994):
Big Nasty had a productive NBA career with the Kings and Pistons ... the latter he won an NBA title with.
7-EMEKA OKAFOR (UConn 2004):
Surprisingly just played nine seasons in the NBA. Okafor was Rookie of the Year and one of the top rebounders in the NBA. He finished his career with averages of 12.3 ppg and 9.9 rbs.
6-SHANE BATTIER (Duke 2001):
Battier recently retired after winning two NBA titles with the Miami Heat. He made a career out of hard nosed defensive play and getting under opponent's skin. He also develop a deadly three-point stroke.
5-KEMBA WALKER (UConn 2011):
Walker is one of the cornerstone players for the Charlotte Hornets. He's entrenched as the starting point guard and averages about 17 ppg over the last two seasons.
4-RICHARD HAMILTON (UConn 1999):
Rip Hamilton was a key player for the 2004 NBA Champion Detroit Pistons. His career ended last month with a 16.5 ppg average and one of the sweetest mid-range strokes in the NBA.
3-JOAKIM NOAH (Florida 2006):
Won Defensive Player Of The Year and an All-Star. He is the heart and soul of the Chicago Bulls and among the top shot blockers and rebounders in the League.
2-ANTHONY DAVIS (Kentucky 2012):
When all is said and done, he could end up as the top dog on this list. But the Unibrow's career is just beginning ... but he's already one of the NBA's most exciting and dominant players and is in the MVP discussion this year.
1-CARMELO ANTHONY (Syracuse 2003):
Melo is a two-time Olympic champion and has won a scoring title. He's one of the most gifted offensive players in the NBA today. He may have a lot of shade thrown at him due to the fact he really doesn't elevate his team to a higher level, but he is still one of the best talents in the league.