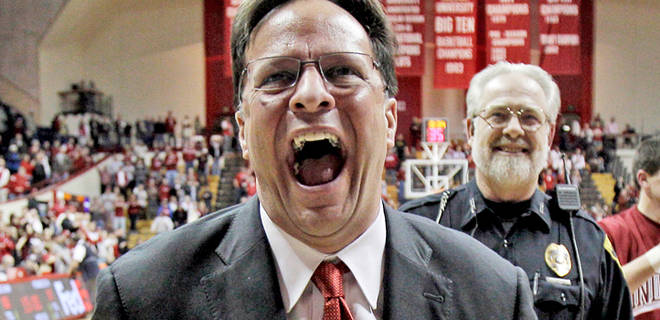 The bubble can drive a sane man looney.
It is conference tournament time, which means bids get locked up and bubble burst. With the Bubble Watch winding down, instead of looking at
everything from a conference standpoint
, we must pit the bubble teams against each other.
Here is a breakdown of what we have.
LOCKS (60 teams)
We know these teams will get in. Teams with an asterisk have won their league's automatic bids.
Kentucky, Duke, Villanova*, Virginia, Wisconsin, Arizona*, Gonzaga*, Maryland, Kansas, Utah, Northern Iowa*, Iowa State*, Notre Dame*, Louisville, Wichita State, Butler, North Carolina, Ohio State, SMU, Arkansas, Michigan State, Oklahoma, West Virginia, Georgetown, Providence, San Diego State, Baylor, VCU, NC State, Davidson, Dayton, St John's, Iowa, Oregon, Xavier, Cincinnati, Georgia, Purdue, Wyoming*, Belmont*, North Florida*, Coastal Carolina*, Northeastern*, Wofford*, Manhattan*, Valparaiso*, Robert Morris*, North Dakota State*, Lafayette*, Albany*, UAB*, Harvard*, Hampton*, Buffalo*, Texas Southern*, Eastern Washington*, Stephen F Austin*, New Mexico State*, UC-Irvine*
Plus the Sun Belt champion that will get automatic bid.

Sun Belt (
Georgia State/Georgia Southern
)
We feel pretty that these teams are in no matter what.
BUBBLE TEAMS (8 spots left)
Here is where the battle begins. According to our calculations, 61 bids are locked in. That means we only have 7 spots left and more than that ready to fill it. Let's go through our rankings to see who we have on each side of the bubble.
Of course, Wyoming stole a bid by winning the Mountain West ... and UConn can do the same if they beat SMU for the AAC title. With the bubble so thin this year, Sunday will be a big deal.
Oklahoma State
(
Season over
): Yeah, I dropped Okie State here. Why? The Cowboys have lost 6 of their final 7 games with the only win coming over TCU. Of those six losses, they lost to TCU and Texas Tech (two of the worst teams in the conference). Before this stretch (which includes a loss to Oklahoma in their first Big 12 tourney game), they had a nice resume. They beat Tulsa, Texas (twice), Baylor (twice) and Kansas. I know that the old "last ten games" criteria isn't in the mix anymore, but any human can see these Boys are struggling.
BYU
(
Season over
)
:
The Cougars hung in against Gonzaga in the WCC title game but the Zags were just too much. Now BYU is done and it will be interesting to see if they've done enough in these eyes of the committee. Right now, I have them in but that could change if some bubble teams below make some moves in their conference tournaments or if a weird team wins an automatic bid.
Colorado State
(
Season over
): The Rams, I felt, were legit in. I still think they are ... but right now I have to get rid of the "near locks" category and either lock them in or put them on the bubble. They are on the bubble. Why? Well, their best wins were over SD State and Boise State ... but they lost to both of those teams as well. They've won 8 of their last 10 and their one bad loss was a stinker to New Mexico. I just think they're in. Just not as sure as I used to be.
Temple
(
Season over
): I know a lot of bubble watches have Temple on the bubble. The "last four in" or "first four out". Not me. I like Temple a lot. They beat Kansas. They fell (hard) to Villanova and Duke. Their 13-5 conference mark was pretty good considering their losses were to SMU (twice), Tulsa (twice) and Cincinnati. Those are the top three teams in the American this season. I know that's not the most sterling resume but I like it enough to think they're in. Especially since I can look below and see some other schools not making the grade.
Boise State
(
Season over
): I've been on Boise State's side for a month now and I still like them to be in the dance. However, the Broncos semifinals loss to Wyoming has put in some doubt. Now, Wyoming's defeat of San Diego State and winning the MW does put Boise's loss in a little better light, but it knocks my confidence in them. I still think they are in ... though I wouldn't be surprised if the committee passed. I know they don't care about this, but would four Mountain West teams really make the tournament?
Texas
(
Season over
)
:
Wow! Texas led Iowa State by 10 late ... and then the Cyclones went on a 12-0 run and hit a buzzer beater to stun the Longhorns. I mean, Texas was
that
close from probably punching a ticket to the NCAAs but now is in serious trouble. Beating Texas Tech wasn't impressive but a win over Iowa State would've been big. That didn't happen. Texas really needs to hope no teams on the outside looking in go on a rampage. Lucky for them, that doesn't seem to be happening.
Ole Miss
(
Season over
): Yeah, I dropped Ole Miss as well. They've lost 4 of their last 5 including two horrid losses to Vanderbilt and South Carolina. The loss against the Gamecocks came in the SEC tournament and is really damaging. The only 'tournament' teams they've beaten are Cincinnati, Oregon, Coastal Carolina and Arkansas -- the last of which came on January 17th. They also lost to TCU, Charleston Southern and Western Kentucky. Yikes.
Indiana
(
Season over
)
:
I'm not big on good losses, but Indiana showed well in their Big Ten tournament loss to Maryland. The Terps are a top ten team and the Hoosiers hung with them for most of their quarterfinal matchup. Still, this team has been less than mediocre of the last month and if UConn can win the AAC title and steal a bid, they may be stealing from Indiana.
Now the not so lucky.
LSU
(
Season over
)
:
It was handed to them. Handed to them. LSU got lucky and got to play Auburn in the SEC quarterfinals which should be an easy win and a date with Kentucky that would up their numbers. It isn't lucky when you
lose
to Auburn instead and go home losing to your conference's #13 seed. Ouch! This puts the Tigers (LSU, not Auburn) smack dab on the bubble. This team really can't be secure in their tourney hopes. Wyoming's bid-stealing Mountain West title puts LSU in a bad spot.
UCLA (Season over): UCLA swung at it really well, but came up short against Arizona. Again, is that a good loss? Hard to say. UCLA has quite a lot to look at. They did beat Utah, Oregon and Oregon State and lost to Kentucky (very badly), North Carolina (badly), Gonzaga, Oklahoma, Utah and Arizona (twice). They also have a loss to Colorado. Factoring in all of that together will be one tough deal for the committee.

Old Dominion (Season over): If you've paid attention to this page you'd know that I haven't had ODU on my Bubble Watch very much. It is because, to me, relative to the bubble needed to win the C-USA tournament to get in. Now, if the bubble started to shape up where there really was an opening for mid-majors to get in, I had ODU in my sights. Well, you can't lose to Middle Tennessee State in the C-USA quarterfinals and expect to get sympathy. Remember, not only is Old Dominion not the conference champ, that means someone who probably wasn't in the tournament will be ... knocking out a bubble spot. That's the double jeopardy of being in a non-power conference.

Murray State (Season over): Their season is done and I just don't think they can get in. It is a shame because they have a player in Cameron Payne that could be the next small school NCAA tournament star. It is the old argument: letting the smaller conference school get a chance to face the big boys because these middle-of-the-road big five conference bubble teams had their shot. Still, when looking at everything in a vacuum, the Racers resume cannot stack up to anyone on this list. That's why they'll miss the tournament.
Miami
(
Season over
)
:
Irony. Irony is that Miami's loss to Notre Dame looked better than their second round win over Virginia Tech. So their resume is complete -- is it good enough? No. Miami does have that great win at Duke but that's virtually it. They were demolished by Eastern Kentucky and have other puzzling losses. Really, there is nothing out there that makes me put them in as a tournament team. To me, I can't knock any of the teams above them out for them. Sorry U.
Texas A&M
(
Season over
)
:
The Aggies got dumped by ... Auburn? Yep. And that's how a team burns a possible tournament ticket. The Aggies were right in the thick of the bubble and laid a huge egg. Of course, Auburn beating LSU the next day doesn't look as bad, but A&M is pretty much done.
BUBBLE BUSTED
These teams were on the bubble heading into the conference tournaments but they just couldn't get in the heavy work needed to make people notice them.
Tulsa
(
Season over
)
:
Tulsa just couldn't stave off UConn up in Hartford and that will cost them a chance at gaining a tournament berth. The Golden Hurricane were in and out over the past weeks and losing to the conference's #6 seed ... albeit the defending NCAA champions playing close to home ... just doesn't cut it.
Illinois
(
Season over
)
:
You cannot say you want to be in the tournament and then go out and get creamed by Michigan 73-55. The Illini are done. Bubble busted.
Alabama
(
Season over
)
:
The Tide are also done. It is pretty fair. Like I've said before, if you are sitting squarely on the bubble, you cannot go out early in your conference tournament to a team that won't be playing in the NCAAs. That cannot happen for a team trying to get on the good side of the bubble. Peace.
Stanford
(
Season over
)
:
Stanford hasn't looked like a tournament team at all over the last few weeks. They gave Utah a game for a while, but just couldn't pull it off. Goodbye Cardinal.
Richmond
(
Season over
)
:
They gave rival VCU all they had, but it wasn't good enough. Now the Spiders can tuck those dreams of a bid away.
Pittsburgh
(
Season over
)
:
The Panthers sure fell off the bubble. They lost their last three regular season games and then their second round ACC tournament game with NC State that they really didn't look like they were really in. Pitt's bubble is busted and will have to head to the NIT.
Rhode Island
(
Season over
)
:
Rhode Island hung on the fringes of the bubble for quite a while but never seriously threatened to get a bid. Losing to Dayton closes the door.