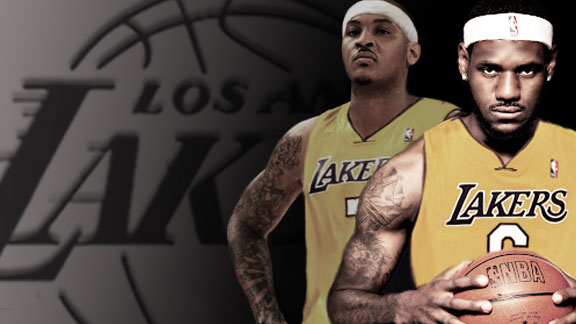 We are at the eve of draft night and the selections are taking a back seat to the free agent frenzy that will happen less than a week later. All we really know is that LeBron James and Carmelo Anthony are opting out of their contracts with the Heat and Knicks, respectively.
I firmly believe that both will eventually resign with their former teams. Well, "firmly believe" may be a bit too much. I think their old teams are the favorites to gain their services. Still, neither is an absolute formality.
I'm not going into the various teams around the league and what they have to offer both of those guys. I will, however, tell you why I think the Lakers are getting a lot less respect for getting either ... or both ... of these guys than the media is letting on.
MONEY:
No, the Lakers cannot pay them more than the Heat or Knicks can per season. That's the way the CBA is set up. Still, they can pay one of them a max contract and have the ability to pay both of them a little less than max money. Only Kobe Bryant, Steve Nash and Robert Sacre are under contract for next season. The Lakers also hold the #7 pick in tomorrow's draft. They could deal that pick, along with Steve Nash's expiring $9M salary to someone who would send back nothing but a protected pick. That would clear up enough room for the Lakers to pay both LeBron and Melo about $16M a season to start.
Unlike most of the other suitors, the Lakers already have the money ready. The rest need to make moves to clear up space.
LOCATION, LOCATION, LOCATION:
While the Knicks and Heat are seemingly glamour franchises, LA has the best of both worlds. The weather? Miami is nice but so is Los Angeles. Nearly always sunny, mild at worst and has lots and lots of beaches. New York is a media haven but Los Angeles is no slouch. The Lakers have been the glamour franchise of the NBA for 35 years. The Lakers have won 10 titles since the last time the Knicks have. Even when they are down, their games are still on TV and the Staples Center is still the place to be.
STAR TREATMENT:
I'm not talking about the perks Jack Nicholson gets. I'm talking about the way the Lakers treat their stars. Of their biggest stars, only Shaquille O'Neal wanted out ... and that had more to do with a power struggle with Kobe Bryant than anything. Even then, the Lakers dealt Shaq to the team he wanted for players the Lakers really didn't want.
At the end of Magic Johnson's and James Worthy's careers, they overpaid the stars due to what they had meant to the franchise over the years. Bad business? Maybe in the moment. But ask Kobe Bryant about that. Kobe is in his 19th season and coming off leg and Achilles injuries that forced him to nearly miss all of last season and the Lakers ... despite all their best interests cap-wise ... gave Kobe a two year extension that kept him the highest paid player in the NBA. The Lakers take care of their stars.
Even guys like Pau Gasol. Gasol wasn't dealt away this season because it would give off the smell of a pure financial decision that they didn't want to have. Gasol helped with them two titles and didn't want to just ship him off to anyone to appease their needs.
Why is that important? Well, LeBron James is upset that the Heat amnestied Mike Miller despite him being a pivotal part of their 2013 title team. He also saw the Heat dump Joel Anthony's salary and fail to use their mid-level exception due to cap concerns. While the Lakers won't just throw money all over the place, they will do what it takes financially to win. Everything they've done, from the past to Kobe's contract to not dealing Gasol points to them caring for their stars.
A NEW BIG THREE:
No matter what Kobe Bryant can offer this coming season, it is certain to be better than what most of the league can muster. Kobe, Melo and James all played on the 2008 and 2012 Team USA squads and got along just fine. Carmelo actually performed better than anyone when he wasn't the focus of defenses.
WHO IS YOUR COACH:
By the way, there is a coaching vacancy in LA. That is by design. If they bring in LeBron or Melo ... or both ... and ask who they want to coach them, that guy will get an immediate call. Mark Jackson? Byron Scott? Larry Brown? Lionel Hollins? I think anyone not named Mike D'Antoni will be on speed dial.
LEGACY:
Legacy is an interesting point here. If Carmelo wins a title in New York, he will be a legend since the city hasn't won one in over 40 years. LeBron can just add to his legacy in Miami. The Lakers have been winning before these two and will probably win after these two. Still, look at the names on the wall. Wilt Chamberlain, Elgin Baylor, Gail Goodrich, Magic Johnson, Kareem Abdul-Jabbar, Shaquille O'Neal, James Worthy, Jerry West and Jamal Wilkes have their jerseys hanging there with Kobe Bryant's set the join them one day.
Look, I'm not saying this will happen. I'm not saying they are stupid for not becoming Lakers. I am only saying that the Lakers do seem to have the same chance in the media as teams like Chicago and Houston have even though the Lakers' money situation is a lot better right now.