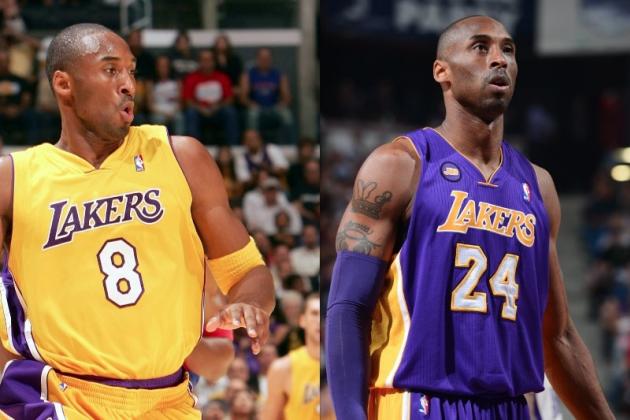 Kobe Bryant is one of the best players to ever play in the NBA. He is a first ballot Hall Of Famer and will receive all the trappings of one of the true elite players in the game. One of those things will be seeing his jersey retired at the Staples Center not too long after he retires.
But what number will be on that jersey? Number 8 or number 24?
If it was me, both numbers would be on that jersey. I mean, do you really think any other Laker will ever wear either number? Probably not. They both should be up there. However, if you got to pick one, which one?
Kobe wore the #8 for his first 10 seasons in the league (1996-97 through 2005-06) and has wore the #24 in the 8 seasons since. If Kobe plays out his contract, two more seasons, he will have wore both numbers the equal amount of seasons for his 20 year career.
If you look at his accomplishments, it is still tough. I'd lean toward his #8 achievements at first, but it is a close call. Let's look at the criteria:
CHAMPIONSHIPS:
Kobe won his first three titles with the #8 and his last two with the #24. Three beats two so that should be a no-brainer. Well, not so fast. While Kobe-8 was an important part of the threepeat from 2000 to 2002, Shaquille O'Neal was the biggest dog on that team. Kobe-24 was the Finals MVP in both of his championships and the undisputed star of those teams. Not to mention that the two titles Kobe-24 won pretty much validated his greatness and showed he could lead a team to titles. Tough call.
ALL NBA TEAMS:
Kobe-8 was on the All NBA first team in 2002, 2003, 2004 and 2006. Kobe-24 was on it in 2007, 2008, 2009, 2010, 2011, 2012 and 2013. Kobe-8 was on the second and third teams twice each.
PERSONAL ACHIEVEMENT:
Kobe-8 scored 81 points in a game. That's wild. Kobe-24 didn't do that. Kobe-24 won an MVP in 2008. Not Kobe-8.
Kobe has stated that he wants 24 to be retired. I get that. That number has seen him more as an elite player than 8 ever did. Still, the years of 8 were nothing at all to sneeze at. I really wish both could be retired.
I know this. Neither number will be worn by a Laker again.