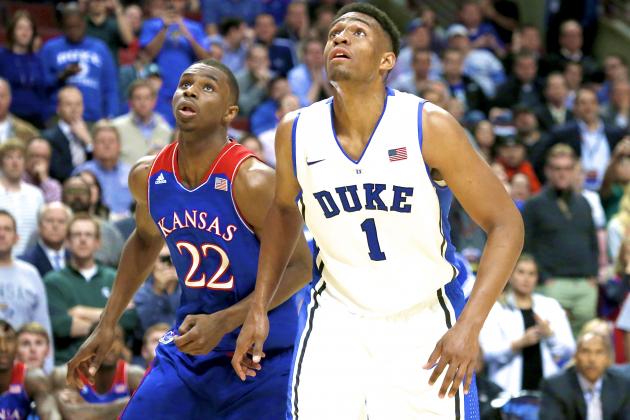 Over the years, I have realized a lot of things about mock drafts. They are pretty much useless. Sure, you can gauge where a guy is slated to go (which is actually helpful in fantasy mock drafts so you don't reach for someone you could get later on), but you never know what each team is truly thinking. Not just that, but trades almost always happen and with the NBA Draft, many trades cannot happen until after the draft itself. So while a pick doesn't seem very smart at the time, a team may be making it for someone else.
Also, when it comes to the NBA, I never mock the 2nd round. It is extremely futile. Many teams elect to take a flyer on a guy who plays overseas so they can develop them before getting them on their own roster.
That being said, here I go with my own mock draft ... and take it with a grain of salt.
1-CLEVELAND CAVALIERS - ANDREW WIGGINS, KANSAS:
I believe the Cavs were all in on Joel Embiid before he broke his foot. In their decision between Jabari Parker and Andrew Wiggins, I think they'll go for the multi-talented Wiggins. He's a good character kid who will solidify the shooting guard spot alongside Kyrie Irving. He also loves to play defense. I originally had Parker in this spot at first, but in an interview with Andy Katz, Parker admitted that he hasn't talked to the Cavs that much.
2-MILWAUKEE BUCKS - JABARI PARKER, DUKE:
This is an interesting pick, just because the Bucks drafted Giannis Anteokounmpo last year. I don't care. I say if you are a bad team, you pick the best talent available even if you already have someone in that spot. What? You can't play both at the same time? Parker couldn't see time as a stretch four? Parker is a heck of a player and the Bucks need guys like him.
3-PHILADELPHIA 76ERS - DANTE EXUM, AUSTRALIA:
Exum has moved up many mock drafts, even getting consideration at the top spot. Exum, paired with last season's Rookie of the Year Michael Carter-Williams, would form an outstanding backcourt. Plus, the Sixers have another lottery pick to add a big or a shooting wing if needed.
4-ORLANDO MAGIC - NOAH VONLEH, INDIANA:
The Magic may be the most heartbroken of all the teams that Embiid got hurt. They wanted Exum, who will most likely go ahead of their pick. The Magic will instead have to focus on one of the power forwards that are available in this area. Vonleh is more skilled than the rest at this spot. He does the big man stuff like block shots and rebound but he also has a decent jumper which guys like Aaron Gordon and Julius Randle don't.
5-UTAH JAZZ - JULIUS RANDLE, KENTUCKY:
The Jazz have had a interesting run of big men of late, but their best ones have either left (Al Jefferson, Paul Millsap) or are banged up (Enes Kanter). Randle could end that. While he isn't Karl Malone, he will remind Jazz fans of their franchise's best player. Randle is a beast inside, a rabid rebounder and great at mixing it up inside.
6-BOSTON CELTICS - JOEL EMBIID, KANSAS:
Like last season with Nerlens Noel, the Embiid watch could really underscore the draft this year. Embiid was the top pick until he broke his foot and is rumored to be out nearly a year. That makes the Celtics the most obvious landing spot. Danny Ainge has obviously gone all in with the rebuilding phase of the C's. Embiid won't be ready for a year? Who cares? To Boston, they're getting a guy that could be the best player in this draft and a big part of their rebuilding.
7-LOS ANGELES LAKERS - MARCUS SMART, OKLAHOMA STATE:
If the Lakers don't deal away this pick, Smart makes a lot of sense. He's a strong guard who can score in a variety of ways. The Lakers need a powerful point guard ... or anyone ... who can score and defend. He also has those intangibles of toughness and a winning attitude that a guy like Kobe would love to take under his wing.
8-SACRAMENTO KINGS - DOUG McDERMOTT, CREIGHTON:
McDermott isn't the next Jimmer by a long shot, but the Kings sure could use a wing man like this. A guy who can shoot and who has under-appreciated athleticism would be a great addition to a team that has a ton of guys in the frontcourt.
9-CHARLOTTE HORNETS - NIK STAUSKAS, MICHIGAN:
The Hornets want McDermott, but I have him gone in this mock so Stauskas is a fine backup plan. The Hornets need perimeter scoring and especially long range shooting. Stauskas fits that to a T.
10-PHILADELPHIA 76ERS - AARON GORDON, ARIZONA:
Someone inevitably falls in a draft, and Gordon may be that guy. He's a poor man's Blake Griffin with a decent defensive game but a limited offensive arsenal but he can develop. Along with Exum earlier in the draft, Carter-Williams as the reigning Rookie Of The Year and Nerlens Noel hopefully making his rookie debut this upcoming season, the Sixers would have a nice haul of youth.
11-DENVER NUGGETS - JAMES YOUNG, KENTUCKY:
Young really came into his own during the NCAA Tournament. He's a deadly shooter who showed a very athletic side to him. Denver needs a wing like this for their attempt at Brian Shaw's triangle.
12-ORLANDO MAGIC - GARY HARRIS, MICHIGAN STATE:
There are many ways Orlando could go here, but I don't think they'll go with the waiting approach of a Dario Saric. Just a hunch. Harris is mature for his age, a nice defender and a guy with a nice stroke. Yeah, he would form a small backcourt with Oladipo but his talent is tough to pass up here.
13-MINNESOTA TIMBERWOLVES - ADRIEN PAYNE, MICHIGAN STATE:
Harris' teammate Payne would be a nice addition to the Wolves. Like it or not, Wolves fans, but Love is gone after next season. Payne certainly isn't Love, but he is a big man who hits the glass and has NBA range.
14-PHOENIX SUNS - DARIO SARIC, CROATIA:
Saric is a risky pick. Oh, scouts love him but he recently signed a three year deal with a Turkish team (the third year has a opt out) which means he can't come to the NBA for two more years. A team that picks him knows that and fans of that team better understand the wait. The Suns can afford to do that. They are a team seemingly on the rise with a bunch of cap room to get better now that way.
15-ATLANTA HAWKS - RODNEY HOOD, DUKE:
The Hawks are in a position to take the best player on the board and Hood, to me, is it. He brings the Hawks a lengthy shooter who can bring scoring off the bench now and could develop into a Luol Deng kind of player. Atlanta seems to be on the uptick and adding scoring is a good move.
16-CHICAGO BULLS - ELFRID PAYTON, LA-LAFAYETTE:
I know that this is a lot lower than most mock drafts have Payton and he probably will go higher than this. But this is my mock draft and where I feel he should fall. I will say that it is hard to predict anything the Bulls do. Will they draft a guy they can stash overseas to clear up cap space for LeBron James or Carmelo Anthony? You'd think they would. Or they could just make this pick and then deal it away for a future pick just to clear the same space. Just for the reality of the situation, Payton will at worst be a impact offensive talent to back up Derrick Rose ... or be a guy that has to take Rose's minutes if he still isn't himself.
17-BOSTON CELTICS - SHABAZZ NAPIER, UCONN:
Since Embiid will be the Celtics "stash" player, they'll pass on the Euros and take Napier, a guy who can has flown up the draft rankings and is a proven winner. He is a guy that can step in if the Celtics do trade Rajon Rondo (they will at some point) and the fact that he played at nearby UConn doesn't hurt either. Boston sees what Kemba Walker is doing in Charlotte and think Napier can be that type of guy.
18-PHOENIX SUNS - JUSUF NURKIC, CROATIA:
Another Croatian? I like this pick here in nearly every scenario except the one that I have in this draft (they already drafted a player they'll have to stash. However, he is a Marcin Gortat type of player which they loved when Gortat was in Phoenix. And while Nurkic can be "stashed", they don't necessarily have to do so.
19-CHICAGO BULLS - T.J. WARREN, NC STATE:
The Bulls had trouble scoring last season. Warren scores. Again, the Bulls will most likely look to deal away one or both of their picks so figuring out their thinking is impossible. However, keeping with the mock, Warren gives them what they need.
20-TORONTO RAPTORS - TYLER ENNIS, SYRACUSE:
Toronto needs this. Not only is Kyle Lowry likely to be gone ... hey ... Ennis is Canadian! That aside, Ennis brings the Raps a guy who exudes confidence as soon as he walks in the door and can run a team. He may have some holes in his game right now, he has the kind of attitude to improve.
21-OKLAHOMA CITY THUNDER - P.J. HAIRSTON, NORTH CAROLINA:
Hairston is a guy who can space the floor with already founded NBA range and NBA body. With Thabo Sefolosha probably gone, Hairston can come in and fit the role as a three-point shooter and defensive stopper. Add in the fact that he spent last season in the D-League, he has more NBA-type experience than anyone in this draft.
22-MEMPHIS GRIZZLIES - ZACH LEVINE, UCLA:
I think Levine becomes a guy who drops as well. He's a nice combo guard ... in the other way (usually combo guards are small two guards and not big point guards) ... and one of the draft's top athletes. The Grizz need depth, but their an analytic team and I'm not sure where Levine falls on their charts.
23-UTAH JAZZ - JORDAN CLARKSON, MISSOURI:
Since Utah went big with their first pick, I expect them to go small here. He's a big point guard but could move over to the two-guard spot and play alongside Trey Burke.
24-CHARLOTTE HORNETS - CLEANTHONY EARLY, WICHITA STATE:
I think the Hornets want to get as many shooters as they can out of this draft. If anyone from Warren, Hairston or Hood fall here, they'll pounce on it. Since they are all gone, Early is a nice addition. A great shooter and a mature player that will make for a nice addition for a team that made big strides last season and want to make bigger ones this year.
25-HOUSTON ROCKETS - KYLE ANDERSON, UCLA:
Who knows what the Rockets will do? They believe they are in both the Carmelo Anthony and LeBron James sweepstakes. Still, they have to draft someone and Anderson fits the bill. He's a guy that will be coveted if they must deal this pick away and he'll fit in very well as a stretch four in this offense.
26-MIAMI HEAT - MITCH McGARY, MICHIGAN:
Word is that Miami wants to draft Shabazz Napier because LeBron tweeted about his admiration of him during the NCAA tournament. Napier isn't likely to drop here so Miami needs to focus on a guy that can help them. McGary is a tough as nails guy with a decent jump shot ... kind of like a Udonis Haslem. Miami's looking for depth here and they were killed in the Finals by a lack of point guard and center play. McGary won't be an All-Star, but he won't be kicked around.
27-PHOENIX SUNS - K.J. McDANIELS, CLEMSON:
This is the Suns' third first round pick and the first two may not play a minute this season. McDaniels isn't the big guy they may need, but he is an athletic wing who can fill it up.
28-LOS ANGELES CLIPPERS - JARNELL STOKES, TENNESSEE:
Stokes would bring the Clippers a tough guy that can crash the boards and do all the little things inside.
29-OKLAHOMA CITY THUNDER - PATRIC YOUNG, FLORIDA:
Young is a big dude that does a lot of work inside. OKC needs that since they have yet to find anyone who can take the job away from a fading Kendrick Perkins. He is NBA ready and that's big for a team that fancies itself as a title contender.
30-SAN ANTONIO SPURS - NIKOLA JOKIC, SERBIA:
Don't question the Spurs methods. Just go with it.
Again, it is stupid to make a 2nd round mock draft on a blog ... but this is a very deep draft and there will be several guys who will be drafted in the 2nd round that will have long careers. The names alone can grab you: Russ Smith, CJ Fair, Glen Robinson III, James Michael McAdoo, Bryce Cotton, Jerami Grant, Johnny O'Bryant and Spencer Dinwiddie. Plus the plethora of foreign players that usually litter the second half of the draft as stash and develop guys.