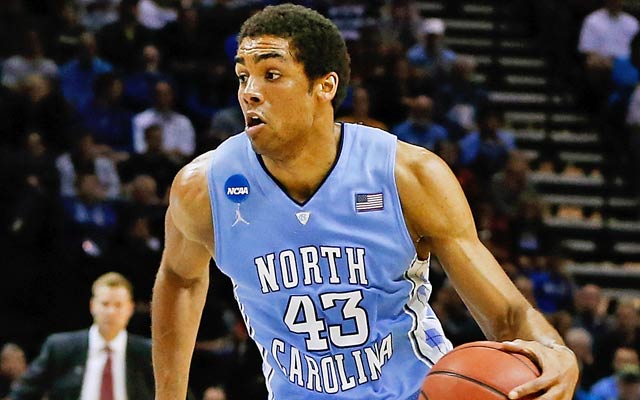 This hasn't been a banner season of North Carolina basketball. From the PJ Hairston thing to the losing in the Round of 32 thing and the Rashad McCants thing, the Carolina brand has taken huge hits.
James Michael McAdoo may actually hurt the Tar Heels harder, however.
The Hairston thing was his fault. Losing to Iowa State to end the Heels season did place hope for a 2014-15 team that has a nice recruiting class coming in and hope for big things. The Rashad McCants situation will linger, but McCants' isn't really the most credible guy right now. But McAdoo's decision to forgo his senior season and enter the NBA Draft ... where no one picked him ... may hurt the Heels for the rest of Roy Williams' time in Chapel Hill.
See, McAdoo won co-MVP of the McDonald's All American game in high school. He was a key cog to a very good Tar Heels team in 2011-12 that was a Kendall Marshall broken wrist away from being a possible title team. That draft season, McAdoo was actually looked at as being the better prospect of the Harrison Barnes, John Henson and Marshall draft class.
Unlike guys like Brandan Wright and Marvin Williams, he decided to stay after his freshman season and become the centerpiece of the Heels the next season. Instead of taking a likely lottery selection salary, he wanted to stay in school. He wanted to be the man. He wanted the Carolina Experience.
After his sophomore season, his draft stock fell a bit. He didn't have a back-to-the-basket game. He didn't like contact. His was sort of a tweener. And due to the roster the Heels had, McAdoo played out of position at center. Still, the 2013 draft was horrible. One of the shallowest drafts in memory. If McAdoo was going to jump ... jump now!
He didn't. He loved school. He wanted to work on his game. He came back for his junior season and had a better year. It wasn't a star power year, but he did have a nice run during ACC play. Still, he didn't finish after contact, his free throw shooting was horrid and he had huge lulls in games. Many figured he would be a four-year guy since the 2014 draft was loaded.
Instead he declared.
He wasn't drafted. Not in the lottery like he would have in 2012. Not in the first round like he would have in 2013. He wasn't drafted at all.
When you look at the Roy Williams era, that stings. As Tar Heels fans, we love to point to Michael Jordan, James Worthy, Rasheed Wallace, Jerry Stackhouse, Vince Carter, Antawn Jamison, Bob McAdoo, Walter Davis and others about how our UNC guys just flourish in the NBA. That was all the Dean Smith guys. The Roy Williams guys have been a mixed bag.
Sean May crapped out. Raymond Felton has had a bleh career that has focused on what he can't get done in his journeyman NBA life. Marvin Williams was a bit of a bust. McCants' personality knocked him out of the league. Brandan Wright has his moments, but isn't a stud. Ed Davis and Wayne Ellington haven't done much. Tyler Hansbrough is basically an enforcer. Tyler Zeller is a guy that looks good for a few games and barely plays the next week. John Henson and Harrison Barnes have the upside but haven't shown if they will get there yet. Kendall Marshall went from lottery pick to out of the NBA in one year, though he did catch on with the Lakers who were signing anyone just to field a team. Reggie Bullock barely saw the court for the Clippers in his rookie season.
The only real successes are Danny Green and Ty Lawson, and Green really lucked into hooking on with the Spurs and worked his way into his good fortune. Lawson is a near All-Star with the Nuggets. Green stayed four years while Lawson stayed an extra season (his junior year) and led the Heels to a title.
Look, every school has guys like JM McAdoo. Guys whose freshman hype slowly fades away and they just turn into good college players. Any Tar Heel fan could see that McAdoo was frustrating at times to watch and could never understand why he just couldn't take it to the next level. NBA guys, like Heels fans and maybe McAdoo himself, figured that there was no next level and that this was it.
Again, McAdoo was a big time recruit. So was Barnes, Henson, Hansbrough and Ellington. When recruits look at the end game of the NBA, why would they look to UNC right now? Kentucky and Kansas keep backing a truck up to the NBA draft and dropping guys off all over the place. UConn and UCLA have been as well. Look at the top of the draft last night. Wiggins was recruited by the Tar Heels. So was Jabari Paker. Julius Randle. Dante Exum. Noah Vonleh. None of the big guys on draft day became Heels. When you look at the development of Heels into NBA stars, you cannot blame them. Especially when the schools the Heels nationally recruit against ... Duke, Kentucky and Kansas ... are churning out #1 overall draft picks.
This is a big time for Heels recruiting. Justin Jackson, Theo Pinson and Joel Berry form a solid 2014 class that shows Ol' Roy hasn't lost that touch. But there is nothing set in stone beyond that and the Heels are in the running with studs like Diamond Stone, Seventh Woods, Stephen Zimmerman, Ivan Rabb, Harry Giles and Amir Coffey. Guys like Woods and Giles would be nearly locks a while ago could go elsewhere.
Again, every school goes through this. There are guys all the time that come out with bad advice and ruin their basketball lives. Still, the Heels would feel better if they could get a big time success story in the NBA or the star factory that once lived in Chapel Hill could fall off a bit.