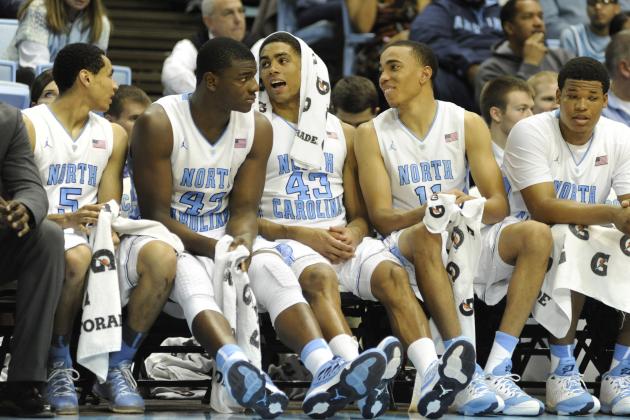 The Tar Heels will suit up to battle the Iowa State Cyclones in the third round of the NCAA Tournament tomorrow. UNC will try to get back to the Sweet 16 ... but it also could be the final game of this season. Say what you want about this season and how it has gone down, but aside from this tournament, it is in the past.
So let's look ahead. What will the 2014-15 Tar Heels look like?
POINT GUARD: Nate Britt (So)
This is the biggest guess, but I think Britt gets the nod. Point guards entering their second season under Roy Williams tend to "get it". Look at Marcus Paige this year, or Raymond Felton in 2005 (his junior season, but his 2nd under Ol' Roy) or Ty Lawson in 2008, or Kendall Marshall in 2012.
While Britt isn't in those guys class, he has shown signs of being a darn good player. Britt is decent defensively, moves the ball up the court aggressively and seems to be a pretty cool cat with poise. He's not the greatest of shooters, but the fact that his mid-range jump shot has been pretty good this season shows he has potential for it.
BACKUPS: Joel Berry (Fr), Stillman White (So), Luke Davis (Sr)
Berry will be a better point guard at Carolina than Britt. He's in that Lawson mold of a tough kid. He's in that Paige mold as a guy who can score. And he's got that passing ability like Felton did. Williams hates having to play freshman point guards (though he had to do so with Lawson, Marshall and Paige) so expect Berry to start on the bench. White returns after a two-year Mormon mission. The last we saw of White, he was starting for the Heels in an Elite 8 showdown with Kansas in 2012 due to Kendall Marshall's wrist injury. He showed huge stones during that two game run as the Heels starter (he also started the Sweet 16 game against Ohio) and Williams likes his scrappiness. Davis, a walk-on, has been used this season in very small spot duty. Most likely, the Heels will use a rotation of Britt, Paige and Berry at the point guard spot.
OFF GUARD: Marcus Paige (Jr)
Paige is the Heels top scorer this season and should return for his junior season. Roy Williams seems to completely trust him and would love to start him at the point guard spot. The problem is that UNC doesn't really have anyone they can slot in that shooting guard spot next year. With Paige on the floor alongside Britt, the Heels really don't suffer from their offense running poorly. In fact, it seems the offense gets faster and more efficient. Paige will be the man running the show regardless of if Britt or Berry is on the floor with him.
BACKUPS: Theo Pinson (Fr), J.P. Tokoto (Jr), Justin Jackson (Fr)
Tokoto will probably start at the small forward spot, so he will only shift over to the shooting guard spot during foul problems or if Williams wants to go big. Pinson is like Tokoto. He's a freak athletically who can score. Pinson won't be ready to start for this team, Tokoto is in another position and Jackson doesn't really fit totally in that role. To be honest, you could see Joel Berry in this role if Williams gets pressed. This is a thin position that guys will get shifted to due to their riches at other positions.
WING FORWARD: J.P. Tokoto (Jr)
One of my favorite surprises this season has been Tokoto. During his freshman season, he had games where he just looked so bad. So lost. He was a freak athlete that couldn't fit in anywhere. But kudos to Tokoto for working on his game last summer and stepping into a role the Heels really weren't ready for him to take. P.J. Hairston was supposed to be the starter but his poor choices caused his Heels career to end before the season and Tokoto filled in admirably.
He's a very good defender who attacks the boards and, like we've said, can sky for some big plays. He led the Heels in steals this past season (no one was even close) and he finished 2nd in assists. He isn't a consistent perimeter shooter, but he obviously got better. He's absolutely horrible at the free throw line ... but so is everyone not named Paige or Britt. Tokoto will be more important next season as he will see a lot of time at the off guard spot.
BACKUPS: Justin Jackson (Fr), Theo Pinson (Fr), James Michael McAdoo (Sr), Isiah Hicks (So)
There will be a lot of guys who fill this role. Tokoto will start there, but Williams could switch around guys along with his other forward and center spots. Jackson is a top talent who ... I think ... will really shine next season in the same way Kennedy Meeks did this year. That will be big for the Heels so they don't have to have to play certain guys too many minutes. Pinson won't really fill this spot unless UNC runs two point guards in the back court and he is on the court. McAdoo could see more minutes here if the two freshmen can't step up. It will be in name only as he could be on the court with Bryce Johnson and either Meeks or Joel James.
POWER FORWARD: James Michael McAdoo (Sr)
I think McAdoo will be back for his senior season. Not only did he buck the trend by returning for his sophomore year when most people thought he should have left, he would be better served to stay one more season and enter the 2015 draft that isn't as stacked as the upcoming one.
When the Heels went on their late season run, McAdoo played great. I think he could have that Tyler Zeller kind of impact on this program. Zeller was a pretty good player who showed signs of getting it ... and then really broke out his senior season and won ACC Player Of The Year. McAdoo has that feel to him.
BACKUPS: Bryce Johnson (Jr), Isiah Hicks (So), Jackson Simmons (Sr)
The Heels are stacked up front. So stacked that Johnson, who should be starting, has to come off the bench. Johnson is another freak athlete who really hits the boards, blocks some shots (leads the team) and led the team in field goal shooting. Position be damned, you find a place to put him on the floor. The Heels could go big with Meeks, Johnson, McAdoo and Tokoto along with Paige and dominate the boards. I love Hicks and though he hasn't shown much in his freshman season, he is a stud who will turn into a beast in the next two seasons. Simmons is Roy's trust guy. He always hustles and plays hard even though he lacks much athleticism.
CENTER: Kennedy Meeks (So)
Meeks took over the opening at the center spot midway through the season. He's not a high riser, but he's a big body with soft hands and an ability to both pass and hit a mid-range jumper. For a guy who isn't much of a leaper, he does a great job on the glass. Reminds me a lot of Sean May. Because Meeks is surrounded by guys like Tokoto, Johnson and McAdoo, his lack of athleticism isn't a tremendous problem.
Behind Meeks is the other guys who auditioned for the gig. James originally had the starting job but doesn't have the offensive ability that is needed. James is a man inside and takes up space, but he is extremely raw. Desmond Hubert will be a senior and we know what he will bring. He's a defensive guy who can really get up and down the court. Williams loves his hustle and ability to change shots. Hubert, however, is much worse offensively than James. Hubert has bad hands, no shot and gets his points primarily on put-backs.
BACKUPS: Desmond Hubert (Sr), Joel James (Jr)
Looking at next year's team, it seems that it will be a lot like this year's team. The only player we know is gone is senior Leslie McDonald. McDonald was a long range shooter that was streaky at best. His talent alone will not be tremendously missed, his ability to knock down shots will be. That fact means next year's Heels will be a team predicated on their size and their dual point guard skills. Kind of like this year.
What will be different is the wing depth. They didn't have that this year. With Hairston suspended, only McDonald and Tokoto were true wings on this team. Jackson and Pinson add to that and hopefully they can equate to solid wing options.
What Roy Williams should love is that this team will be very athletic. With Paige, Britt and Berry rotating in the backcourt ... Tokoto, Pinson and Jackson rotating on the wing ... and combos of McAdoo, Johnson, Meeks, Hicks and Hubert in the frontcourt and this team should be able to run teams out of the gym.