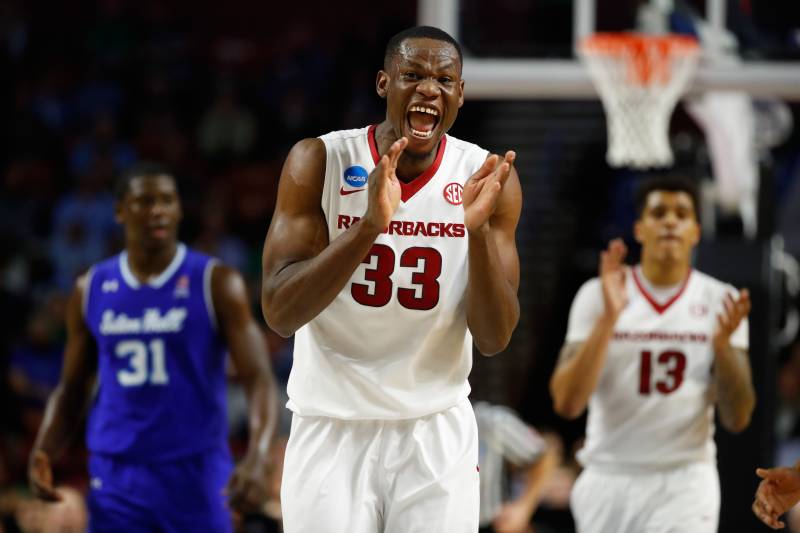 Just a quick recap of what I saw in my Sportz Room -- filled with TVs that I can watch all four games going on at the same time.
GAME OF THE DAY: Michigan vs Oklahoma State.
Even brushing away all that the Wolverines have gone through in the last ten days, this was set up to be a great game to watch. At this time in the tournament, it's rare to have to really solid offensive teams face off in what looked like an evenly matched contest. And it was. Both teams scored, the game was close and it came down to a final point (okay, a four-point lead was shaved at the buzzer by a three). Michigan made 16 three-pointers to advance to play Louisville ... which should be a treat of its own.
UPSET OF THE DAY: USC vs SMU.
USC was getting drubbed in this ... just as they were against Providence in the First Four ... but made a huge comeback. This was different. A lot of people had SMU as a sleeper team going deep into the tournament while USC was a surprise to some to even get into this thing (sound familiar?). Now the Trojans are heading into a showdown against Baylor and could find themselves in the Sweet 16.
CONFERENCE OF THE DAY: Pac 12.
The Pac 12 saw Oregon, UCLA and USC all win. Oregon and UCLA flexed their muscle (though the Bruins found themselves in a battle for the middle third of the game). USC continues the trend of First Four teams winning in the tournament. This is huge for a league that lost 5 of 7 first round games a year ago and are looking for their first Final Four team since 2008.
CONFERENCE WITH A BAD DAY: Big East.
Not the greatest day for the Big East. Creighton was "upset" by Rhode Island in a game they really didn't look that into. Marquette was in a spirited fight with South Carolina until the Gamecocks just ran 'em out of the gym. Seton Hall played Arkansas down to the wire but a traveling call and controversial flagrant foul call ended their shot.
DUD OF THE DAY: Michigan State vs Miami.
Miami is better than this. In a tournament where chalk really ruled, it is hard to explain how a No. 8 seed gets blown out by a No. 9 seed that easily. The Hurricanes just didn't look good at all. Michigan State just dominated this one.
DOMINANT PERFORMANCE OF THE DAY: North Carolina.
The top seeds UNC and Kansas really showed why they are among the favorites. But the Tar Heels had no trouble with Texas Southern as they looked like they really wanted to get the taste of that Duke loss out of their mouths.
UNDERLYING STORYLINE OF THE DAY: The crowd.
There are some that don't think it is fair that the big schools seemingly get favorable sites to play in and their fan base just dominates the crowd. Sure, but its not a bad thing either. Look at Friday in Indianapolis and Greenville.
Indianapolis saw lively crowds as Louisville and Kentucky were at those sites as you'd expect, but Northern Kentucky, Dayton and Wichita State also represented hard in Hoosierville. The Dayton-Wichita game had such a lively crowd that it made a lumbering game so much more fun. Same in Greenville where North Carolina and Duke fans saw their teams cruise to wins but the place came alive when South Carolina finally won its first tournament game since 1973.
The fun will continue. Think about the crowds for these games on Sunday:
-Duke vs South Carolina (Greenville, SC)
-North Carolina vs Arkansas (Greenville, SC)
-Kentucky vs Wichita State (Indianapolis)
-Louisville vs Michigan (Indianapolis)
-Kansas vs Michigan State (Tulsa)
-Baylor vs USC (Tulsa)
-UCLA vs Cincinnati (Sacramento)
-Oregon vs Rhode Island (Sacramento)