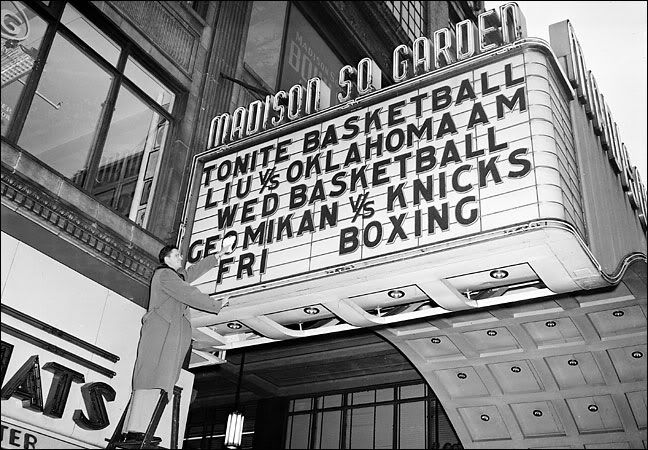 Start spreading the news ...
TEAM TO BEAT: Villanova.
The defending champs are defending it well. The Wildcats have been the best team all season long and are looking to become the first team to win consecutive national championships since Florida did so a decade ago.
TEAM THAT WILL WIN THE REGION: Villanova.
Everyone is salivating over a possible regional final between Villanova and Duke. There's a lot of basketball to be played and remember that in the last two weeks of the season, Duke lost as many games in a four game stretch as 'Nova did all year.
TEAM TO WATCH FOR (LESS THAN A NO. 3 SEED): Virginia.
The Cavaliers don't have the NBA talent they've come into the tournament with the last two seasons. But they do have that pack-line defense which is so difficult to prepare for. The Hoos have played No. 1 seeds North Carolina twice and Villanova once so they'be been in big games.
YOUR CINDERELLA: East Tennessee State.
T.J. Cromer will be one of your favorite players in a few days and the Buccaneers can be a frenetic bunch. They get Florida and the Gators really aren't playing their best ball right now. Sure, getting past Virginia could be tough but it isn't impossible.
WORST SEEDING ERROR: SMU.
The eye test tells you that the Mustangs are better than a No. 6 seed. I know the American isn't a power league, but there are some good teams in there and SMU ran that league. They are thin, but the six guys that do play are good. The position-less basketball they play is fun to watch and difficult to deal with.
HOME COURT ADVANTAGE: Duke.
The Blue Devils will get to play south a bit in Greenville, SC before heading up to New York where they have a huge alumni base. Duke loves New York and they just spent last week winning four games in four days (toppling North Carolina, Louisville and Notre Dame in the process) in Brooklyn.
MUST WATCH GAME: Florida vs East Tennessee State.
Like I said, Cromer is fun to watch and Florida is one of the neat teams to see if you haven't watched them much. This is one of those upset alert games that you may want to highlight in your TV Guide (did I just show my age then?).
MUST WATCH (POTENTIAL) SECOND ROUND GAME: Baylor vs SMU.
Two athletic teams that are close in proximity (old SWC foes, actually) and who can go after it.