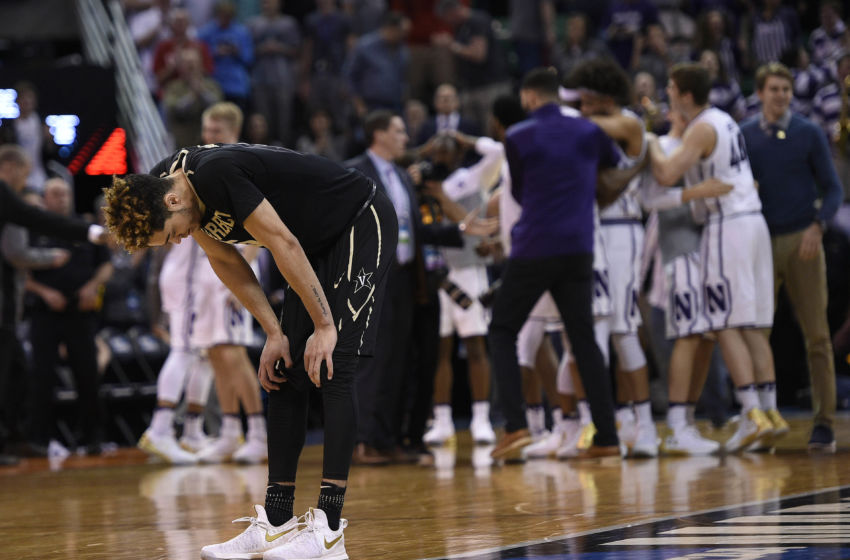 Just a quick recap of what I saw in my Sportz Room -- filled with TVs that I can watch all four games going on at the same time.
GAME OF THE DAY: Northwestern vs Vanderbilt.
That place was bananas as the Northwestern alumni converged on Salt Lake City to root on their Wildcats against a Vandy team that worked their way back to the tournament. It was close all game long and, unfortunately, had a mistake by the Commodores sort of put an ick on it. Vandy's Matthew Fisher-Davis fouled Northwestern's Bryant McIntosh on purpose with less than 15 seconds left ... even though the game was tied. McIntosh drained both free throws and Northwestern advanced.
UPSET OF THE DAY: Middle Tennessee over Minnesota.
On a day filled with chalk, Middle Tennessee's win over Minnesota has the be considered the biggest upset of the day. It really wasn't surprising, however, since the Blue Raiders upset Michigan State in last year's tournament and Minnesota made quite the turnaround to get into this year's dance.
CONFERENCE OF THE DAY: Big East.
The Big East went 3-0 today, with Villanova, Butler and Xavier all winning. Nova had a bit of a struggle with The Mount before moving with Xavier providing an upset of Maryland.
CONFERENCE WITH A BAD DAY: Big Ten.
No conference had a horrible day and the Big Ten should celebrate Purdue, Northwestern and Wisconsin winning but the two seed upsets happened on the conference's watch. No. 5 Minnesota lost to No. 12 Middle Tennessee while No. 6 Maryland was upended by No. 11 Xavier.
DUD OF THE DAY: Villanova vs Mount St. Mary's.
It was close at the half ... but the defending champs ended up spanking The Mount in the second half. Let's just say that it was a very good day of games.
DOMINANT PERFORMANCE OF THE DAY: Villanova.
The top overall seed looked great in the second half against Mount St. Mary's.
UNDERLYING STORYLINE OF THE DAY: Boring.
We always love to look to the NCAA Tournament to see those bracket busters and they just weren't there on Thursday. Middle Tennessee and Xavier did pull upsets but they certainly weren't shockers.
The games were really good, though. There were a lot of competitive games that just didn't provide upsets. Even Villanova and Gonzaga were challenged for a bit before flexing their muscles. Only two games were decided by one possession so we didn't have much of a buzz-worthy moment. Yet.
FINAL THOUGHTS:
*
Maybe tomorrow will be better?