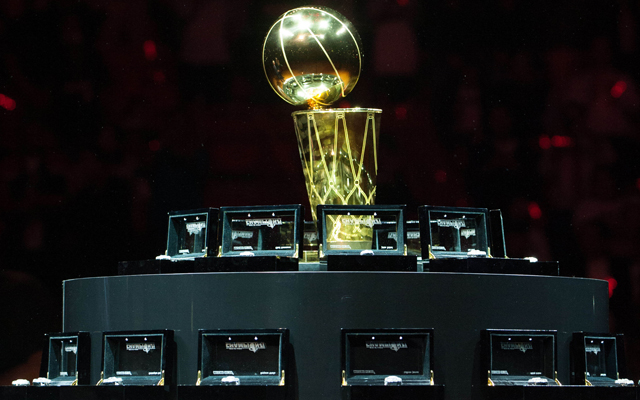 It is NBA Playoffs time once again and ... well ... uh ... uh ... my beloved Lakers aren't in it. Not even close. And it feels weird, although very expected.
For 16 teams, however, the playoffs are an exciting time. For teams like the Heat, Spurs and Thunder, it is what they've waited all year for -- a shot to get back to the Finals. For teams like the Pacers, Rockets and Clippers it is their chance to get it all together and make an outside run for a title. For others like the Wizards, Raptors and Bobcats, it is a exciting time for their cities as they return to the playoffs.
There is no Lakers, as I've said. No Celtics. No Knicks. No Pistons. No Sixers. The 1980s youngster that lives in me cannot believe that. But let's look at all eight series to see who I got advancing.
EASTERN CONFERENCE1-INDIANA PACERS vs 8-ATLANTA HAWKS:
While the Pacers are the top seed in the East, it isn't like they've just rolled into it. The Pacers are struggling a bit. Maybe the wear and tear of the season? Maybe a bit of "let's get this thing going" set in? Whatever it is, it needs to go away. The Hawks aren't a bad team at all and can give Indy some troubles, as they split during the regular season with Atlanta winning their last two meetings. Still, I think Indiana may get it together as their focus on winning a title becomes bigger than whatever their issues are. By the way, the NBA still doesn't give the Pacers any respect as two of their scheduled five games will be on NBATV and not on TNT or ESPN/ABC.
Pacers in six
2-MIAMI HEAT vs 7-CHARLOTTE BOBCATS:
The Miami Heat have been in that same "ick" feeling that the Chicago Bulls of 1993 or 1998 and the Lakers of 2002 were in: defending two-time champions just trying to slosh through the season so they can get to the playoffs and three-peat. I don't blame them. On the other side, the Bobcats (soon to be Hornets) are having a great season. This was a team that won 28 games over the last two seasons combined. They surprisingly won 43 this year and are making only their 2nd trip to the postseason. House money all around here. Even with a loss in this series, they will have an offseason filled with promise of a good, young team that should get better along with the very popular rebranding of the franchise as the Hornets. Miami has owned Charlotte this year and it will be the same again.
Heat in four.
3-TORONTO RAPTORS vs 6-BROOKLYN NETS:
I'm sure everyone had the Raptors pegged as the Atlantic Division champs when the season started, right? No? The Dinos get the Nets, who were the popular preseason pick for the division in the first round. Despite most people's disinterest, the Raptors are playing at a high level right now and have won 9 or 12 entering the playoffs. The Nets closed out pretty lame, but have really recovered from a hellish 10-21 start that saw a lot of rumor buzzing around the club. That means BK rolled off a 34-17 streak since then and seem to be responding the Jason Kidd's coaching. I'm going to go with the 90% of people who continue to disrespect the Raptors by picking the Nets in this one just because I'd like to see a Heat-Nets conference semifinal matchup.
Nets in six.
4-CHICAGO BULLS vs 5-WASHINGTON WIZARDS:
Who had Washington as the 5th best team in the East? The Wizards are in the playoffs for the first time since 2008 back in the Gilbert Arenas/Antawn Jamison days. They haven't won a playoff series since 2005 when they beat ... the Chicago Bulls. Give the Bulls a lot of credit. They finished as a 4th seed despite losing Derrick Rose again early on in the season. Their defensive effort has gotten them here along with an MVP-type season from Joakim Noah. That makes this series with the high-flying Zards all the more interesting. What wins? Slick offense or punishing defense? I pick defense this time due to Chicago's experience and the fact that defense isn't as streaky as shooting is.
Bulls in six.
WESTERN CONFERENCE1-SAN ANTONIO SPURS vs 8-DALLAS MAVERICKS:
Welcome to the Western Conference! This is where a matchup like this can happen. A 49-win team is the 8th seed (for a comparison, the Mavs would have been the 3rd seed in the Eastern hierarchy). The Spurs have that single-mindedness of letting a championship slip away from them last season. Unlike Miami or even Indiana, they haven't suffered a we're-going-through-the-motions-because-we-are-just-waiting-for-the-playoffs sluggishness. They've secured home court for the entire postseason and know that Game 7 will be on their home floor. The Mavericks are back in the playoffs with Dirk Nowitzki showing why he's a first ballot Hall Of Famer. Both teams are rather old so it should be an old fashioned slug-fest. Still, I think the Spurs are on a mission.
Spurs in five.
2-OKLAHOMA CITY THUNDER vs 7-MEMPHIS GRIZZLIES:
Kevin Durant is the league's MVP, no doubt. He carried this team to this point in the brutal Western Conference. Waiting there is a Memphis squad that has really come around after dealing with a weird coaching change and injury issues. Remember that it was these Grizzlies that were in the Western Conference Finals last year --- not the Thunder -- after their conference semifinals series last year. This should be an awesome series just like a season ago. Still, I'm putting my money on KD, even if Russell Westbrook isn't 100%.
Thunder in six
.
3-LOS ANGELES CLIPPERS vs 6-GOLDEN STATE WARRIORS:
This series should be an 11-game set with no off days. Two passionate fan bases that are hoping for big things after looooong waits. SoCal vs NoCal. Both young teams with dynamic point guards and high flyers surrounding them. Shot blockers, gunners who are both coached by former NBA point guards. SportsCenter highlights all over the place. To me, the basic line will be if the Clips can hold their own on the perimeter against the Warriors need to keep Lob City from stomping on them. I'm leaning on the Clippers to pull through. Blake Griffin has been pretty special this season and may be too much for the Warriors to handle.
Clippers in (hopefully) 7.
4-HOUSTON ROCKETS vs 5-PORTLAND TRAIL BLAZERS:
Here are two teams that were on everyone's lips when the season first started but kind of went by the wayside when the calendar turned to 2014. The Rockets were the new "it team" when Dwight Howard joined up with James Harden and were a Finals favorite. The Blazers flew out to a 24-5 record which shocked everyone. Since then the Rockets' story wasn't as interesting and they settled in their rightful place behind Western stalwarts Spurs, Thunder and Clippers. The Blazers followed that blazing start by going 30-23 the rest of the way including a stretch where they went just 21-22. This will be a three point shooting frenzy both ways but I think the Rockets are built better for this series.
Rockets in six.