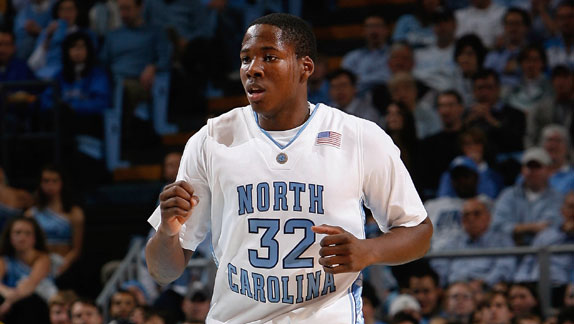 Okay, the college hoops season has officially begun. Well, it will tonight. About 7:00pm, the North Carolina Tar Heels will take their retooled team against the Florida International University Isiahs. This will probably be FIU's biggest moment in the sun which is why they got Isiah Thomas in the first place.
Enough about that. Tonight is more about the defense of a championship. It's hard to say "defending champs" when Tyler Hansbrough, Ty Lawson, Danny Green and Wayne Ellington are now in the NBA, but it's the same Hall of Fame coach with the same jerseys on. In fact, the Heels team that suits up tonight will probably yield better NBA talent that the team that won it all last year.
The one thing that these Heels have this year that the didn't have last year is experience. Yes, Deon Thompson is back and he's been a starter for most of his career. The only other player that was formerly a long-time starter is Marcus Ginyard, and he missed most of last season with a foot injury. Everyone else is taking on a bigger role.
Ed Davis, the darling of the Final Four to NBA scouts, is poised to become a star. He would have been a high lottery pick if he came out last season and could be a top three pick next year. Fellow sophomore Larry Drew II has the task of following ACC Player of the Year Ty Lawson ... who followed up Raymond Felton. A lot will be asked of Drew since he's the lone point guard with any experience, albeit as backup to an irreplaceable Lawson.
Everyone else is being asked to step up. Roy Williams would love if John Henson can come in and take the starting small forward positions. Henson, Davis and Thompson would form an unbelievable front line. Henson's fellow freshmen Travis and David Wear will add to that depth with their size and fundamental skills.
The wildcard is sophomore Tyler Zeller. Remember that Zeller soared at the beginning of last year as he replaced an injured Hansbrough. But a wrist injury in the second game of the season caused him to miss most of the rest of the season. Despite red-shirting, he came back to play the last few games and in the tournament so he could be part of a championship team. If Zeller, a 7-foot high flyer, can get back to where he started ... which word is that he is ... then this team could be unbelievable.
Well, the frontcourt could be. The backcourt consists of the iffy Drew and solid, but unspectacular Ginyard. Freshmen Leslie McDonald and Dexter Strickland, who would be the guy to take over if Drew can't cut it, will see a lot of minutes. The backcourt wildcard is Will Graves. Graves was actually the Heels' best long range shooter last year but he was suspended by Coach Williams for an undisclosed infraction. Now back, Graves is looking forward to being the guy that can stretch the defense in order to let those big men the freedom to dominate.
This should be a fun year for Heels fans. This is a very good team with awesome talent ... and none of the pressure! The last two years have been tough because Carolina fans entered the season wanting to fast forward to the NCAA tournament. There is no pressure on this team since they are so young. They'll make mistakes and they'll make us jump out of our seat. Oh, we want another championship and this team could bring us one ... but it's alright if they don't.
Oh, Harrison Barnes ... come join in the fun.