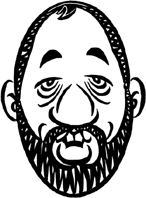 There are reports on the FIBA website that Vlade Divac will retire sometime before the NBA season starts back up. A back injury that sidelined Divac most of this past season is the reasoning for the retirement.
Divac is a very interesting player in my life. I've never formally met him....though I did talk to him once. He had his AOL Screename available for people to IM him back in the mid-late 1990s....so I hit him up one night. Just hollered at him...told him I was a fan of his and just to say hi. He repectfully chatted with me for a sec.
At that time, he was on the internet a bunch. His homeland, the former Yugoslavia, was in a horrible civil war and he was keeping tabs via the internet of what was going on. Divac is most likely the biggest athlete to come out of Yugoslavia...and was one of the guys who helped usher in the European Invasion.
As the starting center for Yugoslavia, he was joined with future NBA players Drazen Petrovic, Dino Radja and Toni Kukoc to form one of the top international teams...winning a silver medal in the 1988 Olympics. He was a star for Partizan Belgrade....averaging 20 ppg and 11 rbs. He then became the 28th pick in the 1989 NBA Draft.
Divac was the center that replaced Kareem Abdul Jabbar. Jabbar retired after the 1989 Finals....and Divac inherited the job. Tough for someone who barely knew the language. Back in those days, when Euros were selected in the draft...you waited years before you even get to bring them in [see: Sabonis, Kukoc]. Divac came right in....and right under Magic Johnson's wing....becoming a fan favorite as the Lakers made an unlikely Finals appearance in 1991.
Really, Vlade was the face of theLakers between Magic's retirement and Shaq's arrival.
Of course, Shaq's arrival in Los Angeles meant Vlade was on the way out. He was traded to the Charlotte Hornets for the draft rights to some kid named Kobe Bryant. While in Charlotte...he continued to be a fan favorite. It was in Charlotte [where I was a 20 yr old] that I had that IM convo I mentioned earlier.
As a free agent in 1999, Divac went on to Sacramento and became an important cog in what would be to most sucessful era of Sacramento basketball. In 2001, Vlade made his only appearance in an All Star Game. A year later, his Kings would lose Game 7 to his ex-Laker team in the Western Conference Finals.
He was a gold medalist in the World Championships in 1990 and 2002 with Yugoslavia...basically bookending the Dream Team's reign. He wanted to finish his career with Partizan Belgrade, the Serbian team he left to pursue a dream in the NBA.
I always thought of him as a "Larry Bird Center". Meaning he wasn't the best athlete...but he was just smarter than whomever he was up against. He had many tricks up his sleeve, whether a no-look pass, an up-and-under, or a flop. While he wasn't a powerful post player....he was just as good with his back to the basket as he was facing up for a jumper. His classic baseline spins can still fool the best of them.
What is his legacy? Well, dude had his wedding on national TV in Yugoslavia. He very well may be a Hall Of Famer...due to his international importance. He have two sons...and adopted a daughter and has the Divac Fund which helps raise money for children affected by war torn Serbia.
He has spoken of still staying in Los Angeles [his kids are in school there] and even hinted about a possible coaching gig with the Lakers are they are breaking in 17-year old Andrew Bynum. Either way, it is sad to see Vlade leave. Whether you rooted for him or not....you really couldn't hate the guy. He tried hard...flopped a little...and had fun.
Every one of his 16 years of NBA basketball.