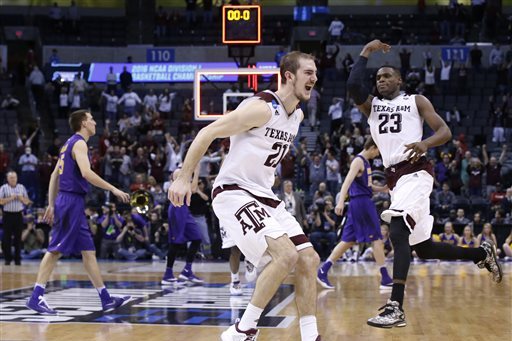 Just a quick recap of what I saw in my Sportz Room -- filled with TVs that I can watch all four games going on at the same time.
GAME OF THE DAY: Texas A&M vs Northern Iowa.
With about 40 seconds left in this game, this certainly didn't look like a candidate for Game Of They Day. Yet, it is. How did Northern Iowa lose this? How do you lose a 12 point lead with 40 seconds left to play? I have never seen this kind of meltdown in my life. It was amazing.
UPSET OF THE DAY: Wisconsin vs Xavier.
This was the lone true upset. Xavier was the only lower seed to lose today, which is odd since these were the guys who had that wild Friday. Wisconsin's three pointer at the buzzer to win was rather shocking since many had Xavier as a sleeper title team.
CONFERENCE OF THE DAY: ACC.
The ACC is now 12-1 in the NCAA Tournament and have locked in a record six of the Sweet 16. Oddly, there is an outside chance that all six could make the Elite 8.
CONFERENCE WITH A BAD DAY: Atlantic 10.
The A-10 is no more. Both VCU and St. Joseph's put up valiant efforts against Oklahoma and Oregon, respectively, but they fell late.
DUD OF THE DAY: Villanova vs Iowa.
The hard thing about this is that it was the lone game on when it tipped off around noon. Iowa, who was ranked No. 3 in the nation a little over a month ago, never was in this one and the Hawkeyes were soundly spanked.
DOMINANT PERFORMANCE OF THE DAY: Villanova.
This is a school that has underperformed in the tournament of late, so the way the Wildcats just dismantled Iowa early and made this game a laugher.
UNDERLYING STORYLINE OF THE DAY: A bit of chalk.
Again, only one upset today. All No. 1 seeds have survived to the Sweet 16.
FINAL THOUGHTS:
*The ACC has 6 teams left. Everyone else? Big 12 (3), Big Ten (3), Big East (1), SEC (1), Pac-12 (1), WCC (1).
*So Indiana plays North Carolina on Friday. At 10:00pm. In Philadelphia. Ridiculous.