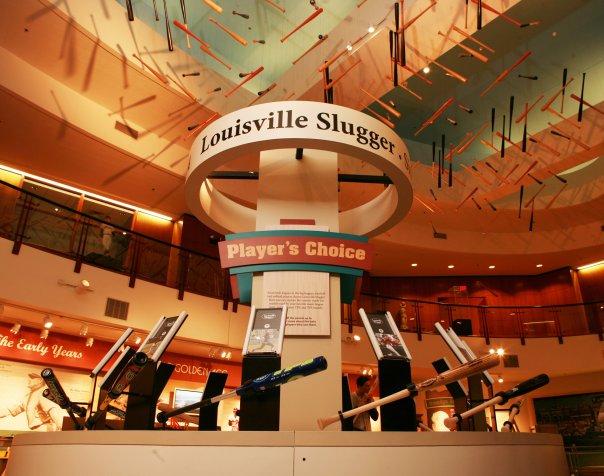 Louisville Slugger Museum in Louisville, KY
TEAM TO BEAT: Kansas.
The Jayhawks have been among the top of the rankings all year long. They have everything you want in a champion. Experience, athleticism, frontcourt, backcourt. They aren't an NBA-talent heavy team, but they play so well together. A team will have to beat them to advance; Kansas won't beat themselves.
TEAM THAT WILL WIN THE REGION: Kansas.
There are some good teams in the South, but none of them are Kansas. Well, except for, ya now, Kansas.
TEAM TO WATCH FOR (LESS THAN A NO. 3 SEED): Maryland.
Talent wise, this may be the best team in the region. Diamond Stone can be a beast. Melo Trimble can take over games. Guys like Rasheed Sulaimon and Robert Carter can wreck havoc. The Terps can be all or nothing in this tournament.
YOUR CINDERELLA: Temple.
This bracket has a few nominees, but the Owls are my pick. Temple won the AAC regular season title (even over heavy favorite SMU). They won key conference games (sweeping Cincinnati and UConn during the season) and have played North Carolina, Utah, Wisconsin and Butler. They get Iowa first who have lost 5 of 6 and are struggling mightily. If the Owls can win that, they could get Villanova in a huge Philly matchup.
WORST SEEDING ERROR: Hawai'i.
Hawai'i comes in as a 13th seed, yet are 27-5 with two of those losses to Oklahoma (by just 3) and Texas Tech.
HOME COURT ADVANTAGE: Kansas.
Really, no one has a great homecourt advantage here. Villanova and Temple play up the road in Brooklyn, but then would travel to Louisville. So KU's trek to Des Moines and Louisville makes them the home favorites.
MUST WATCH GAME: Colorado vs UConn.
Does anyone want to miss a UConn game right now? The Huskies are a firecracker. But Colorado is that fundamentally sound team that won't make the kind of mistakes that UConn feeds off of.
MUST WATCH (POTENTIAL) SECOND ROUND GAME: California vs Maryland.
The Miami-Arizona game would be nice too, but Cal-Maryland may have more NBA talent on the floor at once in the entire region. Heck, maybe the nation. .