The Colts quarterback situation should be
the envy of the entire NFL.
The NFL's Final Four is upon us, which means we get to see four of the best QBs in the game compete for a title. Tom Brady wants another ring to match the four Joe Montana and Terry Bradshaw have before he rides off into the sunset. Aaron Rodgers wants a second one to solidify his place among the all-time greats. Russell Wilson wants to repeat as champion. Andrew Luck wants his first crack at it and enter into his destiny.
But there are 28 other teams that have cleaned out lockers and looking to see what they need to do moving forward. Some of them have huge QB problems. Some don't know it yet. Let's look to see what everyone is up to heading into this offseason.
1-COLTS:
Andrew Luck is their guy and is the leader of the next generation of QBs. This doesn't mean he's better than Tom Brady or other guys on this list (at least not right now), but the Colts are set for another 10 years.
2-PACKERS
: Aaron Rodgers may very well be the MVP for the season and one of the elite QBs in the game. He's a Super Bowl winning QB who has supreme confidence in himself ... as does anyone else in the Packers organization. He's in him prime, though he has been banged up a bit in recent years.
3-PATRIOTS:
Tom Brady showed that he is still one of the best out there. However, Brady won't be around forever and as Peyton Manning just showed us, sometimes it creeps up faster than you think. I'm sure the organization has thought about the post-Brady years but not until they milk that cow for all it has.
4-RAVENS:
Joe Flacco has won a Super Bowl and is one of the all-time great playoff road QBs. He has a huge contract and is the now and future of the Ravens. They're set.
5-SEAHAWKS
: Russell Wilson has one Super Bowl championship and is trying for a second. Winning back to back would put him with guys like Starr, Griese, Bradshaw, Montana, Aikman, Elway and Brady. He may not be the ultimate passer like a lot of those guys or his contemporaries, but he wins.
6-STEELERS:
Ben Roethisberger is a two-time Super Bowl winning QB who is entrenched in Pittsburgh as the man. The only concern is that he is he will be 33 years old when the new season begins and his body has taken a lot of shots over the years.
The Falcons love Matty Ice
but he needs to take the
next step.
7-FALCONS
: No, Matt Ryan hasn't had the success the names around him on this list, but this is a list of situations. Atlanta loves their QB. If the talent upgrades around him then he can make that next step and make a strong playoff run. He'll be 30 this year which keeps him right in his prime.
8-GIANTS
: Eli Manning has kind of gone off the grid the last two seasons. Still, he's a two-time Super Bowl winning QB who still has a few more prime years left.
9-COWBOYS:
Tony Romo had that kind of season that Cowboys fans have been waiting for. He's productive and he won a playoff game. But he also suffered a back injury and those things don't just go away. Also, he heads into the 2015 season as a 35 year old.
10-CHARGERS:
Philip Rivers was having an MVP season over the first half of the season. San Diego ended up missing the playoffs, but Rivers still is a keeper.
11-LIONS:
I like Matthew Stafford a lot. He's a very, very good player and has brought the Lions success. But he's very erratic and it isn't known if he's an elite franchise guy or just ... a guy.
12-PANTHERS
: Cam Newton may be a bit moody. He may not be your typical QB. He may win ugly. But he's also led Carolina to consecutive NFC South titles (no one has ever done that). He's only 25 and his quick return from a scary automobile accident is remarkable.
13-SAINTS:
Drew Brees is still an awesome player, but he just turned 36 years old. He only has a few more left in him and the last couple haven't resulted in a playoff berth. Still, barring an opportunity in the draft, I don't see the Saints moving on from Brees for a little bit.
14-BENGALS:
Andy Dalton has let Cincinnati to the playoffs in each of his four seasons. They lost their first game every time. Which looks better? While being a perennial postseason team is great, they are stuck in the mud. Some in the Queen City think it is time to find a different option while others don't want to go back to the Akili Smith/Dave Klingler days.. It seems, though, that the Bengals cart is hooked into Dalton.
15-BRONCOS
: As I type this, Peyton Manning is still the starter in Denver. But with his poor showing in the playoffs, his age, a coaching change and maybe a roster overhaul, he could have played his last game. Even if he hasn't, there is no long term plan in Denver. Brock Osweiler is okay, but the Broncos aren't wanting him to be that guy.
16-DOLPHINS:
Ryan Tannehill looks like he is the man in Miami. While he isn't in the same category as most ahead of him, he is reliable and showed he can be the guy going forward. He broke the record for most completions in a season by a Dolphins quarterback. You do remember Dan Marino used to be the man here, right?
17-CHIEFS
: Alex Smith just motors on. No frills, but he wins.
18-EAGLES:
Nick Foles was certainly the guy. Then Mark Sanchez was doing okay. But Foles is the man. Right? His amazing 27 TD-2 INT season of 2013 didn't repeat itself in 2014 (13 TDs, 10 INTs in just eight games). He's still the guy there, but he isn't locked in.
Can Kaepernick get the Niners
back to the Super Bowl?
19-49ERS:
Like RG3, the question around Colin Kaepernick is if he's an athlete that plays QB or a QB who is an athlete. Kaepernick hasn't looked like the same guy he was during his breakout season of 2012. A new coaching staff may help ... or it could hurt. Still, he's the guy for now.
20-VIKINGS
: Teddy Bridgewater had a solid season. He went 6-6 and threw for nearly 3,000 yards in just 12 starts (13 games). Not bad for a guy who lost Adrian Peterson early on and were playing outdoors in Minnesota as a rookie. Not sure how good he will be, but he looked solid.
21-JAGUARS
: Blake Bortles is their guy after using a No. 3 pick on him. He struggled his rookie season, but showed some promise. Time will tell if he's a franchise guy.
22-BEARS:
Man, did Jay Cutler have a rough season or what? The thing is that they are deeply invested in him so dumping him could really hit the cap and set them back a few years. New coach John Fox wouldn't have signed on if they had no plan. Still, you cannot have the kind of season and results of 2014 and expect this thing to go on too much longer.
23-RAIDERS
: Derek Carr showed some nice promise in his rookie season. Still, who knows who the new coach will be and the roster is not a desirable one.
24-REDSKINS
: Will the real RG3, please stand up? Is it the guy who blasted on the scene in 2012? Or the guy who is shaking off injury like in 2013? Or the guy that just looked lost in 2014?
25-BROWNS:
As things go right now, management wants Johnny Manziel to be the starter. So they have their man, even if they don't know what they really have. He looked bad this past season, but maybe he can improve with the starting job his to lose and total dedication to that.
26-CARDINALS
: Arizona showed confidence in Carson Palmer and then he suffers yet another major injury. They have had guys that did their best, but none are franchise worthy QBs. Arizona wanted Palmer to bridge them to the next guy but that time may need to be now and the next guy may not be on the roster yet.
27-RAMS:
Seriously, how can the Rams keep Sam Bradford as their guy? Sure, he was a No. 1 overall pick but he just can't stay healthy. When he plays, he's decent. But is decent enough success for a guy that has had several major injuries?
28-TITANS
: I've been a Jake Locker guy, but dude can't stay healthy. And it's getting old. Tennessee has other nice young options like Zach Mettenberger who could develop into something. Still, they really don't have that guy yet.
29-TEXANS:
Ryan Fitzpatrick is certainly not a long term answer. When they held the top pick a year ago, they decided not to draft a QB (probably smart) and wait down the road. At some point, this needs to be addressed.
30-JETS:
The Jets most likely will look to the draft (again) to find their franchise QB. Michael Vick is a free agent and isn't the answer long-term if they choose to resign him. Geno Smith just hasn't gotten it done. With a high pick, the Jets will look for another rook. Hopefully no Rex Ryan will mean this one could develop.
31-BILLS:
Not good at all. E.J. Manuel was basically thrown out with the trash early this past season. Not only did they pull the plug on him earlier than most figured, they grabbed a guy who was retired (Kyle Orton) to take over the team. Orton has re-retired which leaves the Bills looking for another answer. Oh, and Rex Ryan is going to be the new head coach which worked well for Mark Sanchez and Geno Smith in New York. This could get ugly.
32-BUCCANEERS
: Right now, things look grim. But with the top pick in the draft, that could change quickly. Will it be Jameis Winston moving down from Tallahassee to resurrect the Tampa Bay franchise?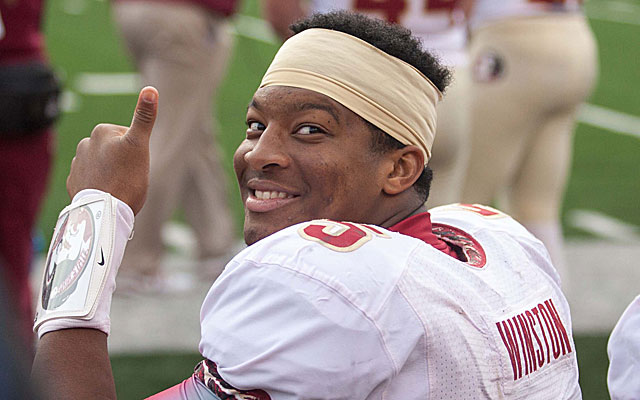 Jameis Winston could be the savior for some NFL team.