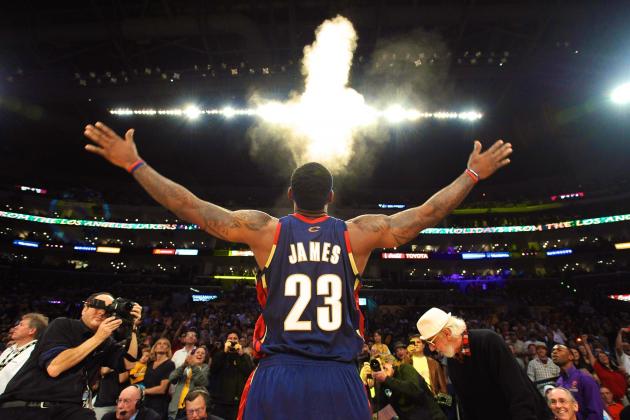 LeBron is back in Cleveland. But can he bring with him
the success he had in Miami?
Later this month, the NBA season will be underway. So let's look at how I ... the Sportz Assassin ... see the Eastern Conference unfolding (check the
West here
).
1-CHICAGO BULLS
Good: The Bulls are a tough bunch. They are defensively sound and won despite being limited offensively. They get Derrick Rose back, who looked great for Team USA. They also get Doug McDermott to be the off-ball scoring threat they've longed for. Oh, and Pau Gasol is a perfect compliment to Joakim Noah on the baseline. I really like this team.
Bad: Rose has played just 49 games in three years for the Bulls. This is a decent team without him, but Rose turns them into a legit contender. Can you trust him to stay healthy?
2-CLEVELAND CAVALIERS
Good: You go from missing the playoffs to adding LeBron James and Kevin Love. How can it get any better than that? Oh yeah, you resigned Kyrie Irving to a long term deal and surround them all with guys like Mike Miller, Shawn Marion and Brandon Hayward.
Bad: Aside from LeBron, none of their starters ... okay Anderson Varejao ... has played in the postseason. There will be an obvious learning curve that may stunt their growth at times. Plus, there will be a big honeymoon period right now so there isn't the pressure to bring home an immediate title like there was for LeBron in Miami.
3-WASHINGTON WIZARDS
Good: The young Wizards finally found success last year and hung on to Marcin Gortat in free agency. They also added Paul Pierce, which gives them huge playoff experience as well as a guy that can rise to the occasion.
Bad: Not much, except for the fact that they have arrived and are now expected to win. Can they handle that?
4-TORONTO RAPTORS
Good: Kyle Lowry returns. So does a very talented and cohesive roster. DeMar DeRozan gained valuable experience with Team USA.
Bad: No one will respect them, which is fine. While they are a team that plays together, do they have enough go-to guys to make a difference when the playoffs come around?
5-MIAMI HEAT
Good: Miami isn't bare. They still have Chris Bosh (who could shine now that he is probably the top option), Dwyane Wade and Mario Chalmers. They added Luol Deng, Shabazz Napier and Josh McRoberts. Erik Spoelstra is a darn good coach who gets a chance to show it wasn't all about LeBron.
Bad: Losing LeBron James will hurt any team, I don't care what the roster looks like. Wade looked really bad in the Finals and now you're asking him to carry more of a load. James carried the Heat during major stretches of the past two seasons. Who will do that now?
6-CHARLOTTE HORNETS
Good: The Buzz is back! Also, they have Lance Stephenson who brings that key wing scorer they've been missing. The Hornets have a nice blend of go-to talent (Stephenson, Al Jefferson, Kemba Walker), young developing talent (Noah Vonaleh, Cody Zeller, Michael Kidd-Gilchrist, P.J. Hairston) and nice role guys (Bismack Biyombo, Brian Roberts, Jason Maxiel).
Bad: Can you totally trust Stephenson? Especially since the last time we saw him he was blowing in LeBron's ear. While there is a lot of young talent, not all have panned out the way we thought.
7-BROOKLYN NETS
Good: A team with Kevin Garnett won't go out without a fight. This will be Joe Johnson's team, it seems. In the bad East, it won't take much for them to sneak into the playoffs.
Bad: This is a franchise crumbling, it seems. The owner wants to sell, the aging roster is falling apart and injuries are always a threat. If Brook Lopez goes down again and Deron Williams can't get back to health, they will be in trouble.
8-ATLANTA HAWKS
Good: Well, they're bringing back their logo from the 1980s. That's awesome. They're also bringing back the gang that took the top seeded Pacers to the brink of elimination in the first round. I love Adrian Payne and Thabo Sefolosha brings experience and defense.
Bad: The Hawks are kind of stuck in this realm. Getting talent to come to Atlanta will be difficult with the scandal in the organization about ownership and Danny Ferry's actions.
9-NEW YORK KNICKS
Good: The Raymond Felton era is over, again, in New York which is good for them. Jose Calderon could be a much better fit. The Carmelo Anthony era continues. Phil Jackson gets his first real crack at creating the roster as he sees fit.
Bad: Tyson Chandler, though aged, had gone back to Dallas. Derek Fisher, fresh off the court, is the new head coach despite having zero coaching experience. Aside of Calderon, nothing was really added to this roster to make me think anything will change.
10-INDIANA PACERS
Good: This team was the top seed last year and returns David West and George Hill.
Bad: Paul George's leg broke and he'll miss the season. Lance Stephenson left via free agency. Roy Hibbert regressed last season and looks like a shell of himself. They brought in Rodney Stuckey and that's it.
11-DETROIT PISTONS
Good: Of all the "bad" teams in the East, the Pistons have the talent to stay out of the bottom of the standings. Andre Drummond, Brandon Jennings, Josh Smith and Greg Monroe is a better lineup than the teams below them. Stan Van Gundy isn't everyone's favorite coach, but he gets a lot out of his guys.
Bad: They overpaid for Jodie Meeks and it is very debatable that the roster can't play together. With SVG running things in Motown, this may be the year he sees what he has and makes the big adjustments next offseason.
12-BOSTON CELTICS
Good: Rajon Rondo is still there. So is Brad Stevens. And the leprechaun. Let the Marcus Smart era begin.
Bad: Rondo is hurt again and probably is on the way out once Danny Ainge gets a deal he likes. Despite being in tanking mode, they really don't have much in the way of big time young talent outside of Smart.
13-ORLANDO MAGIC
Good: Nikola Vucevic is one of the best young centers in the NBA. Aaron Gordon will make Orlando fans remember the days of big time dunkers like Dwight Howard and Shaq. I like Elfrid Payton a lot and want to see how he plays with Victor Oladipo.
Bad: Channing Frye is a nice pickup if he can stay healthy and add something more than his shooting. Will Oladipo and Payton clash?
14-MILWAUKEE BUCKS
Good: Jabari Parker is there and he gets to run the show. I like Giannis Antetokounmpo and think those two will form a nice tandem for the future, along with John Henson. There's other talent there to keep them afloat.
Bad: But not enough. Plus I'm not a fan of how they handled the coaching situation. Jason Kidd takes over a young team and not the experienced team he had in Brooklyn last season. Is he good enough to make that difference.
15-PHILADELPHIA 76ERS
Good: Draft speak here, but they have a lot of assets. While this team isn't very good right now, they do have guys like Michael Carter Williams, Nerlens Noel and Joel Embiid.
Bad: Beyond that, not much. This is the plan for the 76ers, to get really bad and get a young nucleus similar to what Oklahoma City did.