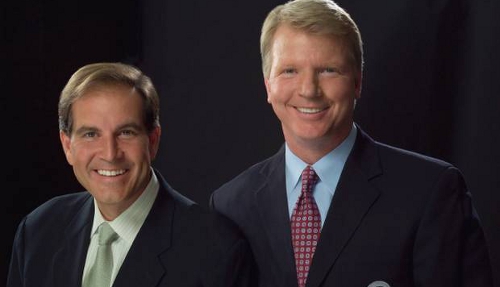 For at least one season, CBS will air eight Thursday Night Football games for the NFL. NBC will still air the Kickoff Game on Thursday of Week 1. CBS will then show a Thursday game for Weeks 2 through 9. Then the NFL Network will show Thursday games in Weeks 10 through 15 with two Saturday games for Week 16.
NFL Network will simulcast the CBS Thursday games while CBS will produce the remaining slate of games that the NFL Network will televise. Jim Nantz and Phil Simms will call the Thursday games on CBS and NFL Network.
This is a huge deal for everyone involved. For the NFL, their plan worked. They came up with a full season of Thursday games to showcase on their own NFL Network with the hopes to sell it off to one of the networks. CBS, ABC, NBC, Fox and Turner Sports all wanted in on this with CBS winning this round. The deal is just for one season with the NFL having an option for 2015. However, the fight begins. You know that when this deal expires either after the 2014 or 2015 season that the networks will go after this package.
It is similar to what happened to Sunday Night Football. Remember that the NFL began Sunday Night Football in 1987 with ESPN broadcasting a slate of eight late season games. The NFL then expanded that to the entire season in 1990 with TNT airing the first eight games and ESPN airing the final eight. In 1998, ESPN would air the entire season of Sunday Night games. Then in 2006, NBC picked up the slate and the NFL have turned it into their must-see matchup of the week.
The NFL would love to repeat that story with the Thursday package. While logistically more difficult to schedule, the Thursday package still is a very attractive deal as networks love having live sports to sell to advertisers.
CBS wins because it could really own Thursday nights, the most watched night for network television. Not only will they have an already proven entity of NFL games, but it also will eat up at least three hours of air time. While I'm sure CBS isn't totally thrilled to have their games simulcast on NFL Network, I understand the setup.
For fans, it is an obvious win. Not only do people who do not get the NFL Network now receive more football on their TV, they also get an upgrade in production quality and announcers. Nothing against what NFL Network has done or their announcing team, but Nantz and Simms are among the top in their field. Plus, the NFL could try and make sure CBS gets desirable games.
The only losers? Well, fans of
The Big Bang Theory
and
Two And A Half Men
may have to see their shows move back to Monday nights.